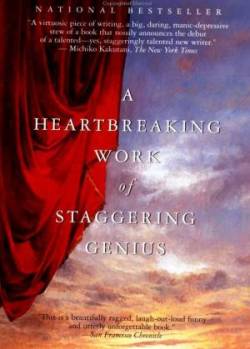 After the sad passing of Sameer and Vinay, I wanted to share a story with a happier ending. Dave Eggers, founder of McSweeney's and the Brooklyn Superhero Supply Co., wrote about our mutual friend Shalini Malhotra's accident in his memoir A Heartbreaking Work of Staggering Genius.
Shalini used to edit the first desi zine I ever worked on, Hum (Us), a slim black and white mag published from South Park in SoMa, SF. She started out in a cubicle next to Might and Mark Frauenfelder's bOING bOING, the blog's predecessor. These were the days before well-funded startups crowded the buildings around the park. They were replaced by VCs, then vintage clothing stores sprouting like fly agaric after the first bubble.
A wide-eyed sweetie, Shal used to trade in charm and backrubs so Dave and Dave from Might would help with mag layout. She hung out with a fun crowd. Eggers went on to hipster acclaim. Mark played ukelele and later moved to a South Pacific island with his lovely wife Carla Sinclair, who once posed for Playboy's 'Girls of the Internet.'
Hum was the first second-gen publication I write for — right after a summer on alt.culture.us.asian-indian, before Sepia Mutiny, before Ultrabrown. The mid-'90s were exhilarating, a good time for zines, before the era of blogs. Subscriptions never quite covered costs, but we loved our subjects intensely. It all came to a halt after Shal's accident, which Eggers described in his book:
'Shalini's been in an accident… You know that deck that collapsed in Pacific Heights? She's in a coma…' There were maybe twenty people on it when it went, the supports giving way, and all the young people floating down…
· · · · ·
We all got the call that evening and flew back immediately to see our Shalini. She looked like an alien with an impossibly swollen head sprouting tubing like Brazil, her body taking in fitful, fragile breaths:
Her face is broken, her eyes closed, inflamed, huge, red and purple, blue and red and purple and yellow and green and brown, her eye sockets black… they shaved her head and removed part of her skull to alleviate the brain' swelling… Her arms are smooth and brown, without a mark…

We meet Shalini's friends, her aunts, uncles, men in suits and gray-haired women in saris… sometimes we feel welcome among the relatives, and other times we do not feel as welcome… We are not to smile, not to laugh, at anything, unless the family smiles or laughs first… We are not to… take up too much time once inside, keeping waiting the college roommate or uncle from India… after you have gone in to see Shalini, and have seen her cuts healing and have held her perfect small hot hand, you must stay in the hallway, talking to anyone who might want to talk…

One day I bring… the tiny mohair bear that I have kept in the door compartment of my car for years, since my mother passed, because I think that there is something of her in this bear… I will nestle the bear in between her arm and torso… and will let myself believe that it means something… That the bear will be magic and I will save the day and bring Shalini back…
We'd been told to come say our goodbyes — the doctors had given her only a 5% chance of survival. And she beat the odds. Her regeneration was astonishing. She was resurrected without even a major personality change, all too common with head injuries:
Her eyes are open… she's really watching us. the stunned, mute look of a newborn. God her eyes are huge… The world is in bloom. She is back, we have not lost her… maybe in a few days… chatting, creating, assembling, and finally resuming the backrubs… We tell her to wiggle her toes and she waves her foot back and forth… It's Jesus and Lazarus and Christmas.
· · · · ·
Aside from physical complications, the main thing Shal lost was her short-term memory, something like 50 First Dates. She couldn't live unassisted and kept a journal at hand to write down events in ten-minute blocks. But she's well loved and has had excellent treatment, as her parents are doctors. And after the survival chances her specialists had originally given us, everything else was a gift, mere frosting. We were ecstatic to have her back, though we've lost touch over time.
I prefer to think of her not as someone with short-term memory issues, but an ur-blogger. In this decade she'd have run a large South Asian blog, charming and cajoling writers, notepad always at hand. As computers shrink, she will eventually get one small, quick and prodigious enough to be a nearly invisible mimetic assistant. And then she'll be running the world again with friendship and backrubs.