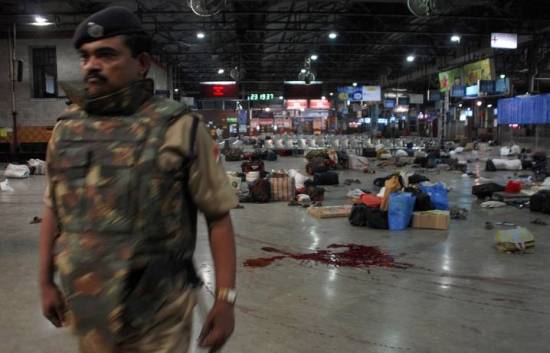 A large-scale S. Bombay terrorist attack is going on right now using automatic weapons, hand grenades and possibly a taxi bomb. Commandos and military are supposedly being rushed in. Gunfire is still being heard on live TV. ToI:
Three people, employees of Taj Hotel in South Mumbai, were killed after being fired upon by terrorists and an equal number of people died in a bomb blast in a taxi at Dockyard Road. The top floor of Oberoi was said to be on fire amid reports of blasts in the area and blood-smeared bodies were being brought out of the Taj lobby.

Firing and blasts were also reported from Mazgaon, the Metro Junction, Crawford Market and Colaba. There were reports of a blast in a taxi on the Western Express Highway, near Vile Parle, but there was no confirmation.

The firing and bombing apparently started close to the Gateway of India. The gunbattle then moved on towards CST and raged on for over 45 minutes from 10 pm. [ToI]
DNA:
Firing was reported at Colaba, Nariman Point and near Chhatrapati Shivaji Terminal, formerly Victoria Terminus, and it was still continuing. Some people were injured in the firing near Trident hotel, formerly Oberoi hotel, and taken to a nearby hospital in police vans and ambulance.

A police official said he saw two people, armed with automatic weapons, at CST. "They opened indiscriminate fire and fled inside. They are reported to be holed up between platform seven and eight"… [DNA]
CNN/IBN live video stream (alternate link) reports gunfire from Nariman House, Cama Hospital, Metro cinema, Leopold Cafe. BP gas station blown up. 10 dead. Oberoi, Dadar stations evacuated, VT trains stopped. Terrorist gunfire also reportedly came from a Qualis van with police markings.
NDTV live stream reports terrorists are trying to force their way inside Bombay Hospital.
Aaj Tak live stream (Hindi).
Update: IBN reports two alleged terrorists in a silver car were shot dead at Girgaum Chowpatty. One police van confirmed hijacked by terrorists. Terrorists doing drive-bys from high-end stolen cars such as Skodas. 4 terrorists captured. Cops sent to airport, Mantralaya state gov't building. 60 dead. Terrorists carried backpacks likely containing explosives.
Update 2: Firing reported at J.W. Marriott in Juhu.
Update 3: 2 large blasts in Oberoi lobby and 2 large blasts in Taj.
Update 4: American, British citizens among those being held hostage on a single floor at each of the Oberoi and the Taj.
A witness at the hotel told a local television station: "They wanted anyone with British or American passports. They wanted foreigners." [ToL - hat tip: D.]
Update 5: Photo of alleged terrorist carrying weapon, backback: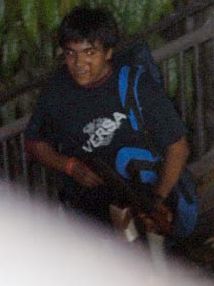 Update 6: Gunfire reported at Ramada Hotel next to Juhu Beach. 4 policemen reported killed. Boat filled with explosives found near Gateway of India.
Update 7: NDTV reports well-known encounter specialist Vijay Salaskar has been killed in a shootout. Anti-Terror Squad chief Hemant Karkare shot thrice in chest, killed.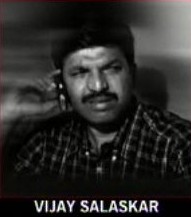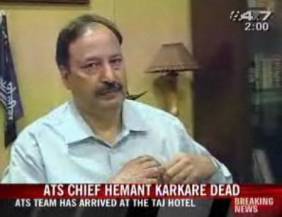 Police preparing raid inside Taj Hotel.
Update 8: Gunfire at Bademiya kebab stand behind the Taj. First-person report from Oberoi:
… the attackers specifically asked for American and British tourists. Alex Chamberlain, who is working in Mumbai, said the terrorists allowed him to leave along with other diners at the besieged Kandahar restaurant in the Oberoi, now known as the Hotel Trident, after he kept his nationality a secret.

He told Sky TV that the terrorists shot a waitress in the arm before allowing diners to take the stairs down to the lobby… the smoke - from either a hand-grenade or a smoke bomb - was so thick that those making their way down from "the 18th floor or wherever we were" feared they would choke to death. [DNA]
Fire spreading in Taj Hotel's iconic dome.
Flickr photos by a witness. Twitter from Bombay.
Update 9: NDTV reports the army has surrounded the Oberoi Hotel, commandos preparing raid. 9 terrorists captured alive. Oberoi guest who escaped says 15 terrorists are holed up inside with explosives and detonators.
Update 10: Eyewitness report from foreign passport holder:
Two youths in their 20s came to the restaurant of the hotel and took 15 people to the roof of the hotel, Rakesh Patel, a businessman from London who lives in Hong Kong… "The two young boys came to the restaurant and took us upstairs. We were taken to the 18th floor from where we escaped", he said. [ToI]
How the cops were killed:
"Our chief Karkare, my senior officer Salaskar and ACP Kamte died while engaging terrorists outside the Cama hospital"… [Rediff]
NDTV reports the terrorists' rifles are equipped with 'dual magazines' (double capacity?)
This could turn into a protracted hostage situation and/or they could be planning to blow up the hotels from the foundations.
Update 12: NDTV reports 35 commandos and a canine bomb squad just entered the Oberoi. Escaped Briton:
The group of about 30-40 people were then "marched up like sheep" by a "young guy with a sub-machine gun, who was about 22-23″… when he came out into the street there were about 20 police officers there "looking just as scared as any of us"… [Sky]

One British guest… had been among a dozen people herded together by two heavily armed men and taken up to the hotel's upper floors. "They were very young, like boys really, wearing jeans and T-shirts"… [AFP]
Taj's executive chef texted from inside saying he's ok.
Update 13: NDTV reports an ongoing shootout at the Oberoi, 7th and 8th floors. Many of the Taj guests have escaped. An Italian was let go:
"They were talking about British and Americans specifically. There was an Italian guy, who, you know, they said: 'Where are you from?" and he said he's from Italy and they said 'fine' and they left him alone. [AP]
Hostages are being held at Cama Hospital.
Photo of the carjacked police van from which terrorists are firing: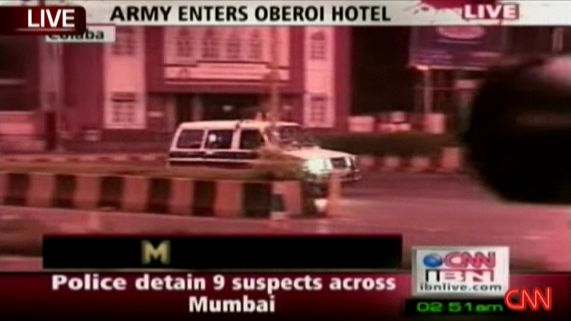 Google map of attack locations.
Update 14: The Taj fire burned for a long while with no fire engines attending due to grenades and bullets from above: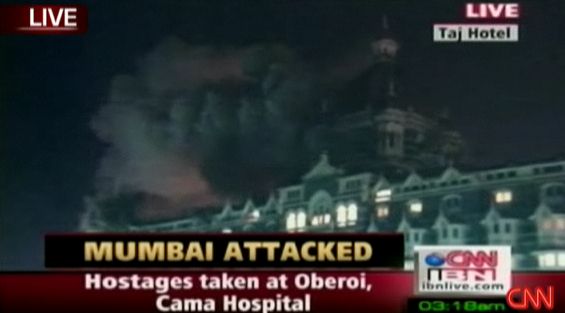 It is now largely out. Some firemen are rescuing Taj guests with a cherry picker: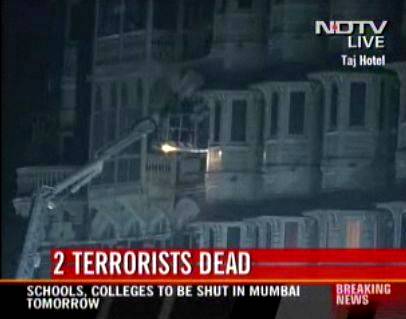 Amit Varma of India Uncut is holed up right now at a hotel near the Taj:
We stepped out again, and as we did so, we heard gunshots, and saw people running towards us from the left side. One of the hotel employees rushed out and told us to get back in. "There must have been an encounter," he said. "Get back in, you'll be safe inside"… We watched transfixed, and as the apparent scale of the incidents grew, we realised we couldn't go home. We asked if they had a room vacant; they did, so we settled in, switched on the TV, and watched in horror. [IU]
2 terrorists have been killed inside the Taj, 2 still shooting.
This M.O. is more domestic terrorist than Al Qaeda.
Update 15: CNN/IBN reports gunfire is still going on in Nariman House, close to the BP gas station which was blown up. Jewish and Israeli families are trapped in Nariman House, now called Chabad House. Speculation of foreign involvement:
The terrorists… apparently arrived by sea with their explosives (their boat was later found by customs officers),…Foreigners and policemen appeared to have been the main targets. Though no guesses were made about the identities of the terrorists, eyewitnesses said some of them spoke Arabic, and included Nigerian or Somali mercenaries. [DNA]
Fireman scaling the Taj with regular ladders to extract people trapped in the dark: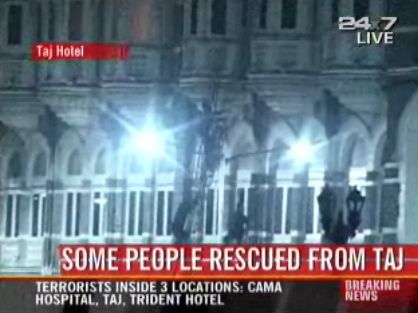 Taj guests climbing down the ladders: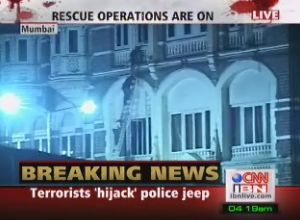 Update 16: The Taj is ablaze again. 3 MPs and many foreign politicians were staying at the Taj:
A number of European Parliament Committee on International Trade delegates were staying in the Taj Mahal hotel when it was attacked. British Conservative MEP, Sajjad Karim (who was in the lobby when gunmen initially opened fire there) and German Socialist MEP, Erika Mann (politician) were last heard of hiding in different parts of the building. Also reported present was Spanish MEP Ignasi Guardans Cambó, who was barricaded in a hotel room. Another British Conservative MEP, Syed Kamall reports that he along with several other MEPs left the hotel and went to a nearby restaurant shortly before the attack. Kamill also reported that Polish MEP, Jan Masiel, was thought to have been sleeping in his hotel room when the attacks occurred and has not been heard from since, and that a Hungarian MEP's assistant had been shot. [Wiki]
Update 17: Another photo of two alleged terrorists carrying rifles and rucksacks: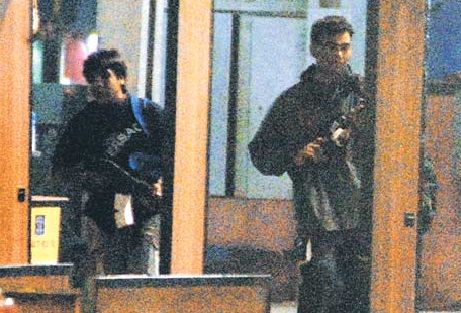 Regular cops don't carry semiautomatic rifles. 11 have died:
The policeman had realised his colleagues had left him alone and moved to the other side of the hotel. He told me his rifle could fire only one round and ran away leaving me and an Italian photographer… on our own. [DNA]
NDTV reports more gunfire at the Taj, in the new wing. Commandos are swarming the Taj's main lobby.
Update 18: Over a hundred are still trapped in the Taj and the 19th floor of the Oberoi.
Those trapped in Nariman House / Chabad House was briefly in touch with the Israeli Consulate:
… much of the gunfire [occurred] near the Chabad-Lubavitch center run by Rabbi Gavriel and Rivka Holtzberg… One friend of Gavriel Holtzberg reported receiving an e-mail from the Mumbai rabbi at 11:30 p.m. local time. The Israeli Consulate was in touch with Holtzberg, but the line was cut in middle of the conversation… [Link]
There was a massacre at Leopold:
Firing was also reported outside Leopold Café at Colaba. Windscreens of cars were shattered and bloodstains seen all over. Sheikh Pasah, an eyewitness, said: "I was on the other side of the road, going to have dinner when I saw people firing. Then I saw a girl drop on the road. They fired from outside and then went inside and opened fire. They were carrying long rifles, [probably] AK 47." [Link]
More photos of terrorists: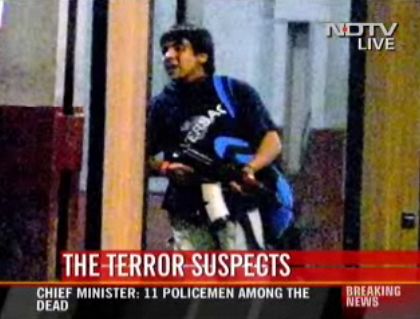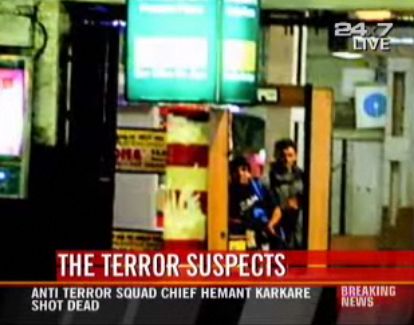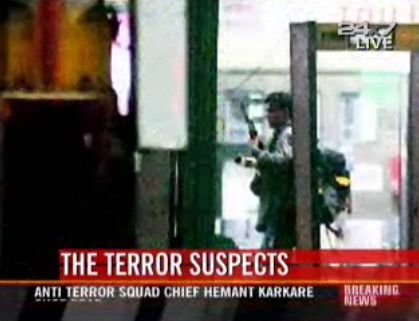 Update 19: Some of the people trapped have been making cell calls:
One woman contacted on her phone by a television channel, said she and around 35 other guests were boarded up inside one of the rooms. 'We were shot at and we have one man who has a bullet wound in his stomach,' she whispered over the phone. 'He's bleeding badly and he needs to go to hospital.'

The woman said the security forces had been in contact with her group during the night. 'They've been telling us to stay quiet and lay low,' she said. 'I think they're waiting for light to break.' [Straits]

Australian Steve Smith called [the press] from a "dingy little room" at the back of the Taj Mahal hotel where he is hiding… [SMH]
An Aussie was briefly trapped at the Taj:
.. Brooke Satchwell was forced to hide in a two-by-three metre storage cupboard in the lobby of a hotel during the attacks in Mumbai while attackers fired machine guns around the room at the Taj hotel… "A couple of the male staff were… reporting that there was a dead body out the front of the bathroom and that they were seeing people getting shot in the hallway… People started locking themselves in to the toilet cubicles…" Hotel staff directed the group into the service cupboard, where Satchwell waited for up to an hour… [SMH]
Just heard Varma calling into Larry King, who identified him as Varman, an unfortunate pronunciation in American English.
Rumors of undetonated grenades along roads and at the Raj. Rumor that the carjacked police van had a captive cop at the wheel.
Update 20: A Turk calling into CNN said his parents at the Taj told the terrorists they were Muslims, prayed in front of them, and were assured they wouldn't be harmed if they stayed in their rooms and locked their doors.
CNN name-checks Vinu's Flickr photos, Global Voices, Mumbai Help, Dina Mehta and Anonandon's update from Bombay.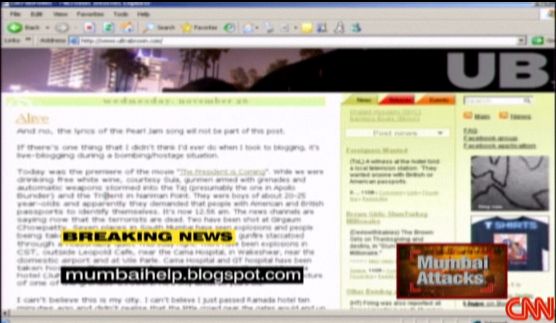 On NDTV, an Indian man trapped in the Taj said 6-7 of the terrorists he saw were foreigners.
One of the boats police say was used by the terrorists: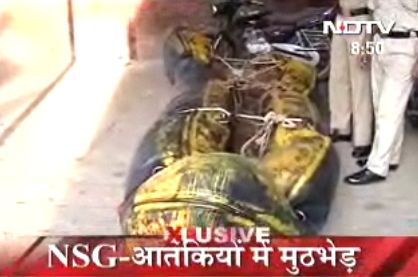 Freed hostages are scampering out of the Taj.
· · · · ·
Nowhere to be found in major U.S. media, of course. Nothing on CNN on air or its front page. A blurb on CNBC on air. A link to a 4-liner from Reuters on the NYT site. 4 lines from the AP at the WaPo, which at least gave it a headline.
3 hours later, CNN's site added a link to the IBN stream.
3.5 hours later: WSJ covers.
4 hours later: CNN covers.
4.5 hours: MSNBC, finally: