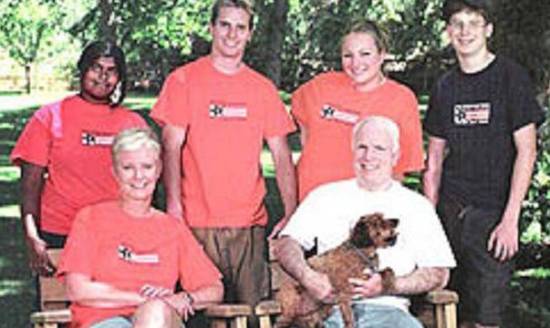 She wanted to know why President Bush hated herIn case you're wondering, John McCain's Bangla daughter is second from right in this photo. Obviously.
John and Cindy's youngest daughter was adopted from an orphanage run by Mother Teresa. Bridget was 10 weeks old when Cindy first met her while doing humanitarian relief work in Bangladesh. [Link]

[John McCain] had recently visited the Carnegie Deli, where, he said, the many Bangladeshi waiters had flocked to have their pictures taken with him. [Link]
Karl Rove the consigliere stole her political innocence:
… a whispering campaign [suggested] that he had fathered an illegitimate child… Just last year, Bridget, who was born in Bangladesh and is now 15, learned about the episode by chance while doing a Google search of her own name, and went to her mother in tears…

"She wanted to know why President Bush hated her. And I had to explain to her that it wasn't the president that hated her, that no one hates her. It was a very maturing process for her. I had to explain to her how nasty campaigns can be… if that were to even bubble its head up again, we'd knock that flat." [Link]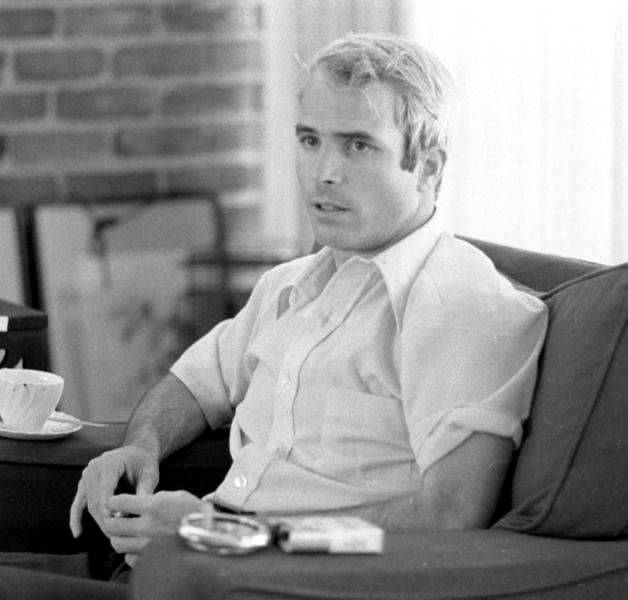 We'd all like to know why Dubya hates us, Bridget. McCain says his wife adopted her without telling him in advance:
McCain: There were two little baby girls there. One had a heart problem the other a severe cleft palate. Cindy was very concerned about their ability to survive and their need for medical treatment, so she decided to bring them here for medical treatment. She fell in love with both of them. We decided to adopt Bridget. Two close friends of ours, adopted Mickey, the other child.

Dadmag: You knew about your wife's decision before hand?

McCain: (laughs) No. She arrived and said, "Say hello to your new little daughter."

Dadmag: A bit of a shock?

McCain: Yes indeed.

Dadmag: And how has it worked out? Are you happy with the decision to adopt Bridget?

McCain: Oh yes! She has enriched our lives. She's a wonderful child, a complete part of our family and we love her.

Dadmag: Your other children accepted her well?

McCain: Oh yeah sure. She's the toughest of the four. The youngest always has to be the toughest.

Dadmag: During your campaign for the Republican Presidential nomination Bridget became something of an issue in South Carolina didn't she?

McCain: Yeah. There were some pretty vile and hurtful things said during the South Carolina primary. It's a really nasty side of politics. We tried to ignore it and I think we shielded her from it. It's just unfortunate that that sort of thing still exists As you know she's Bengali, and very dark skinned. A lot of phone calls were made by people who said we should be very ashamed about her, about the color of her skin. Thousands and thousands of calls from people to voters saying, "You know the McCains have a black baby." I believe that there is a special place in hell for people like those. [Link]
But a couple of years after that interview, McCain was cozying up to those on the Hell Express: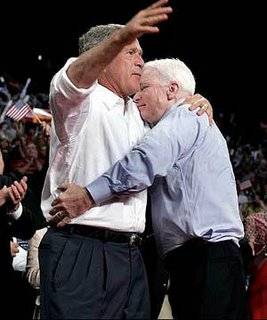 In other desi connections, elder daughter Meghan McCain penned a flattering Newsweek profile of the accused Mr. Jon.
Related: John McCain's "black" child