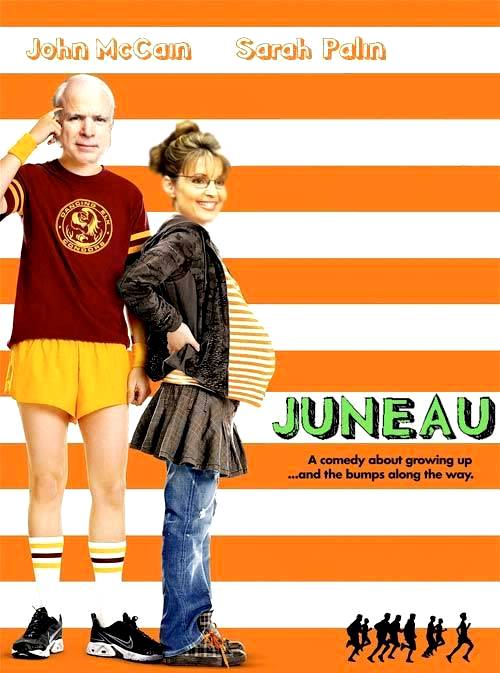 Alaska governor Sarah Palin will be the first female GOP VP nominee, 24 years after the Dems picked Geraldine Ferraro. Her profile has huge overlap with Bobby Jindal's, and she has arguably less government experience.
Palin's the polar opposite of Dick Cheney. Like Jindal, she ran on a clean government agenda. Like Jindal, she's young, just 44. She's far less cosy with oil companies than her predecessor. Though she's backed by religious wingnuts, she vetoed a bill that would have banned benefits for gay state employees' partners.
She's got even less experience than Jindal, having been mayor a town of just 8,000 and then governor for 18 months. Like Saudis, Alaskans get checks from oil and pipeline leases:
Starting in 1982, dividends from the fund's annual growth have been paid out each year to eligible Alaskans… $1963.86 in 2000… one must have lived in the state for a minimum of 11 months and maintain[ed] constant residency. [Link]
Alaskans tend to be constitutionally self-reliant just for physical survival, so the state is not only not a top tier state by political power and population, it's atypical for any state.
At first blush, this looks like a smart pick. In a change election, picking a fresh face is virtually mandatory. With a top of ticket as old as McCain, picking a younger VP balances the ticket. In a year when many HRC voters aren't moving to Obama, picking a woman could peel away those voters. This will be a very interesting election.
But now that we know McCain made an out-of-the-box pick, Jindal missed a huge opportunity. McCain was willing to go north. He was willing to go femme. He wasn't willing to go brown. But picking Jindal could have been even smarter for the McCain campaign. Jindal has fancier degrees than Palin; he's a better speaker and more disciplined attack dog.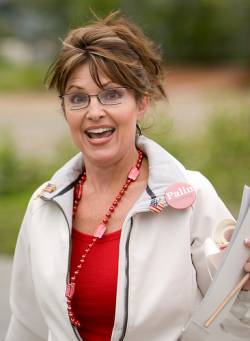 On the other hand, Obama's ceiling-shattering nomination as an ethnic minority opens future doors for Jindal. Staying off a losing ticket in a change election keeps his options open. And being bypassed lets Jindal gets the seasoning he needs to run for the top slot rather than the spittoon position.
Just how many doors has Dubya's incompetence opened for minorities and ex-mavericks now? Three-fourths of the major party tickets now assembled are atypical for their party and for any American presidential election: a multiracial nominee from Hawaii, a former Republican gadfly, and an Alaskan woman who's anti-pork in a state which swims in it. This year, the old, white, male party stalwart is the odd man out. And then there's Jindal's Katrina-fueled governorship to begin with. Dubya has, in his own inimitable way, become a godsend for minority candidates.
Update: In her speech, Palin just explicitly appealed to Hillary Clinton's 18 million primary voters. 'The women of America aren't done yet!' McCain is making just the kind of tribal appeal that Republicans claim to disdain.
His pick is the devout leader of a socialist petrodollar state, the kind of political unit he says is a threat to American security.
Finally, nominees from Hawaii and Alaska, the two continentally discontiguous states and the last two to join the union.
Choosing Palin sets up an interesting parallel with the Dem ticket. Both have one change agent and one establishment figure (McCain has reversed most of his maverick stances). But with the Dems, the change agent is not only at the top of the ticket, he's far more impressive than Palin.
Biden will school Palin on foreign policy in the VP debate, but he'll have to do so respectfully to avoid a backlash.
If McCain were to win, and if he were to pass away prematurely while in office, a very inexperienced hand would be running American foreign policy.
Update 2: Palin apparently named her sons Trig and Track after her favorite high school classes (can't wait to meet Sex Ed), and daughters Piper and Willow after witches on Buffy and Charmed. Remember that Bobby Jindal named his son Slade, because Bo and Cooter were already in use. Palin makes Jindal's æsthetic sense look tame

Willow is a town in Alaska and Piper is for an aircraft. Bristol is also for a place in Alaska and Trig is for a family member. Track is named for where he was conceived. This is the story that has been running around AK for ages. [ Link]
Update 3: Check out the very similar parody image Gawker just ran.
Previously: Masters of disaster, Jindal on my mind