Calcutta's Durga Pujo keeps an army of theatrical propmakers busy for months making pandals. These fabric and plywood temporary shrines remind me of Harbin's ice festival, Buddhist sand mandalas and Francisco D'Anconia's vanishing palace, not to mention the submersible shrines at Haji Ali and Bandra in Bombay.
First impressions of the city itself: barefoot men pulling rickshaws through waterlogged streets. The Ambassador, which has vanished among Delhi civilians, lives on as the standard Calcutta taxi. Wide streets and a low-rise city.
Pujo lighting is distinctly theatrical, cellophane on spots: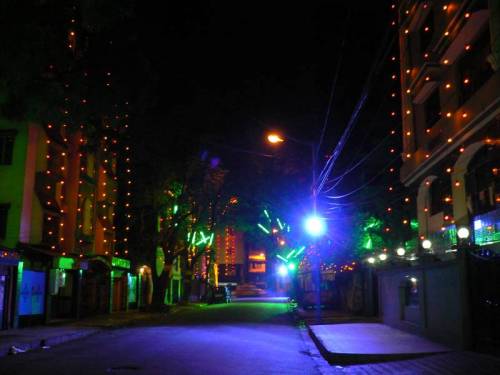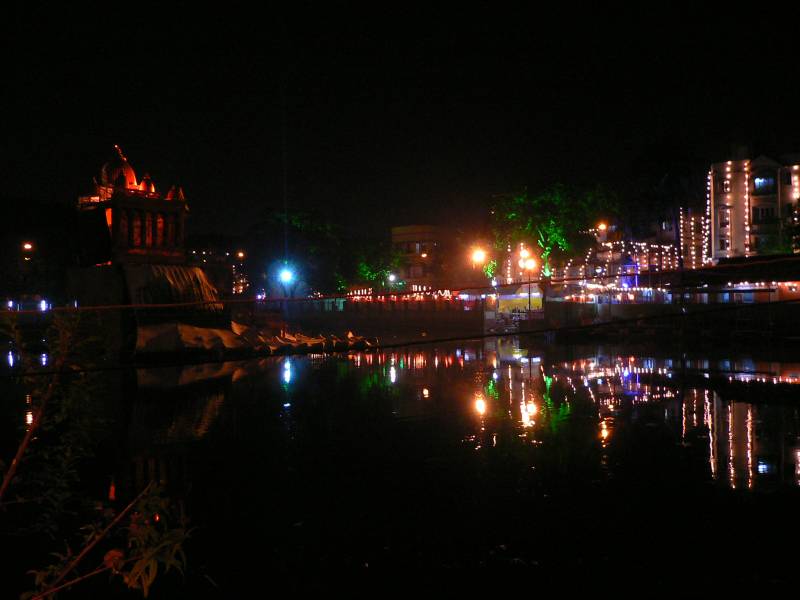 Hand-drawn rickshaws: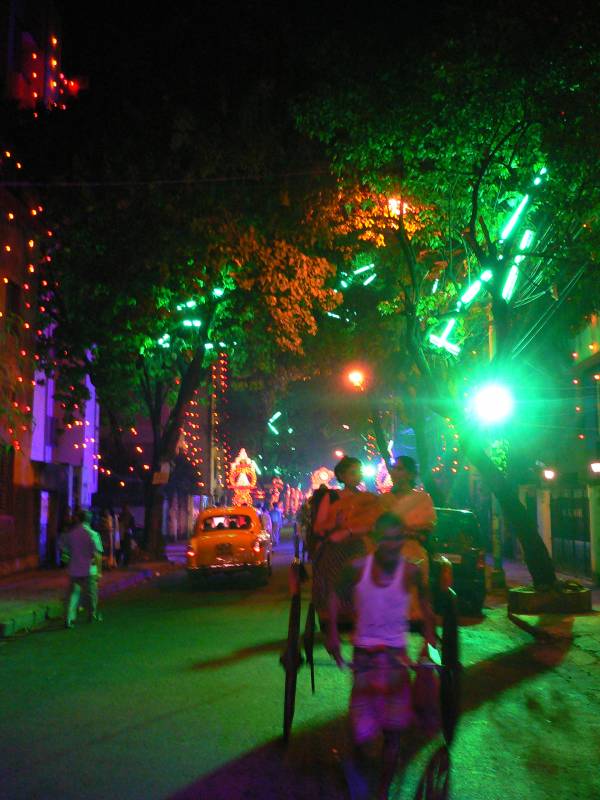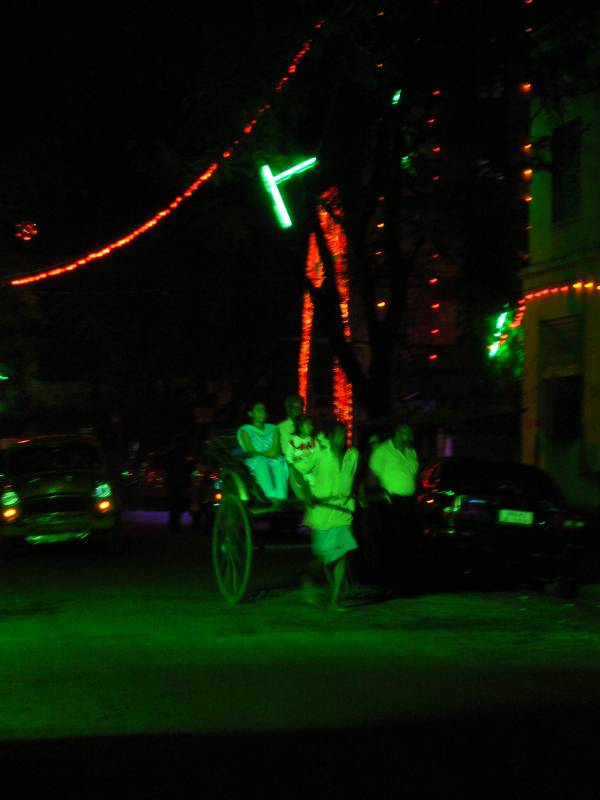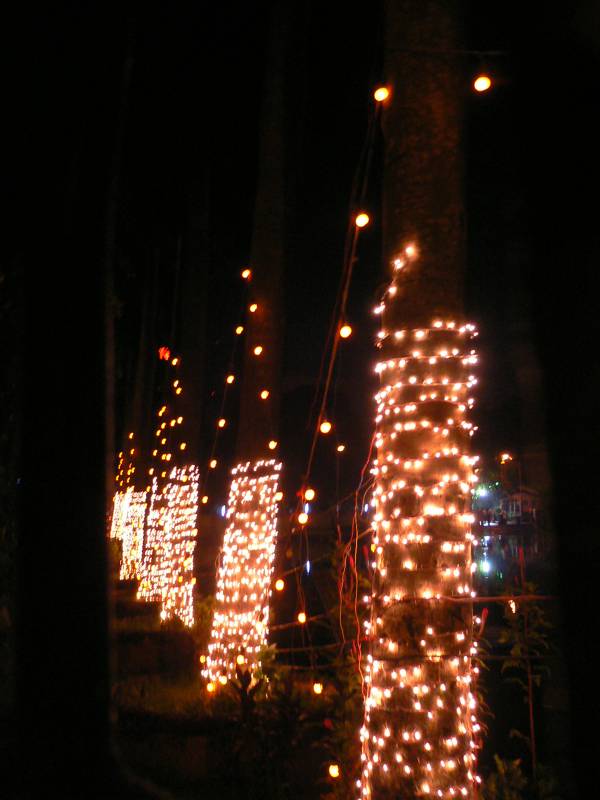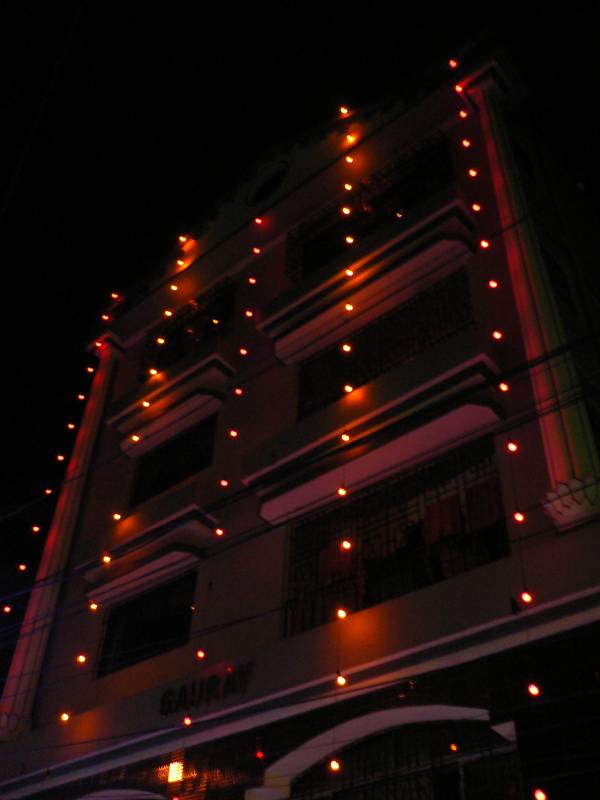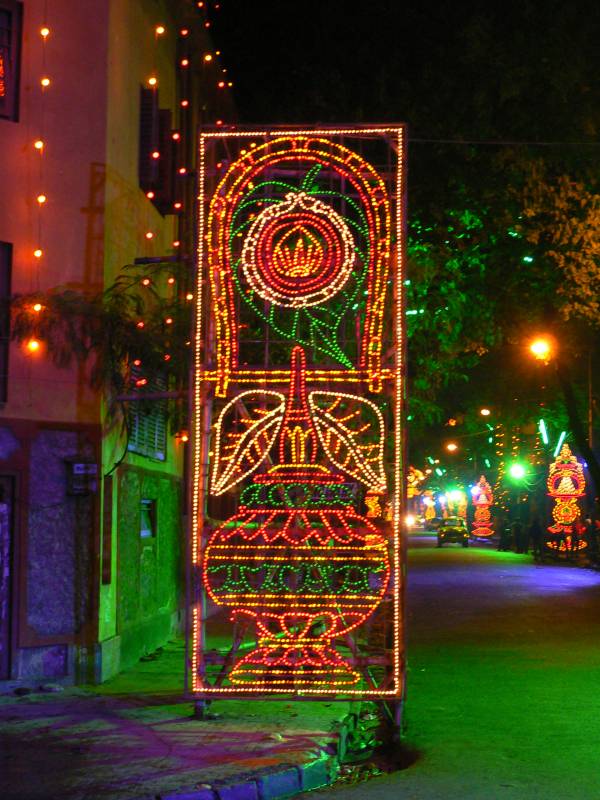 Evening on the Hooghly River: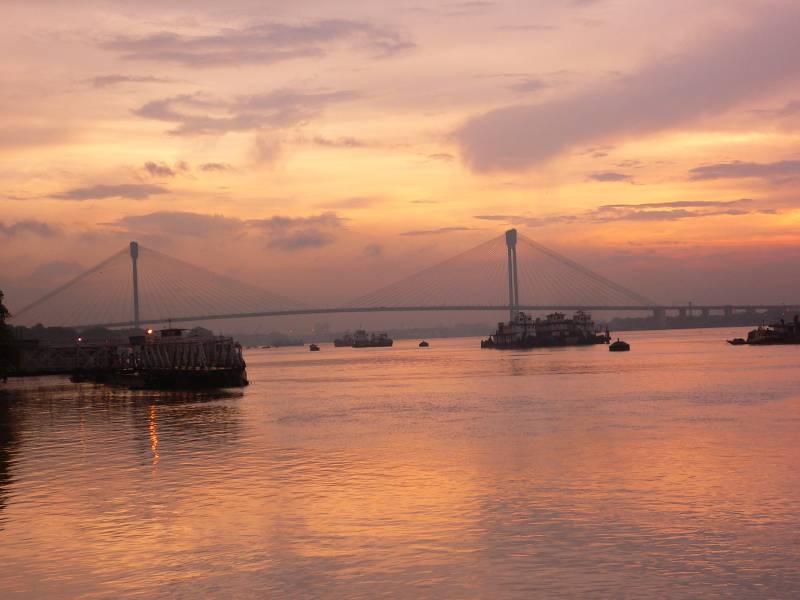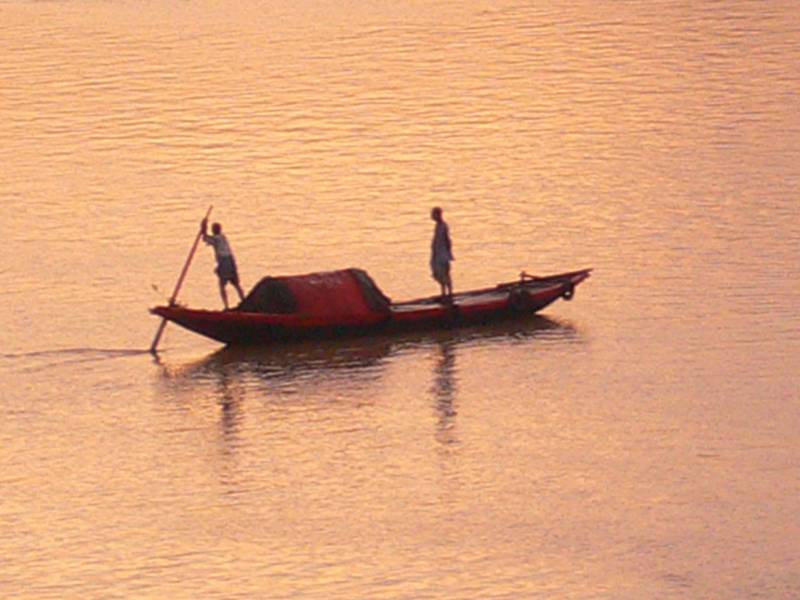 The Floatel, a floating hotel owned by a friend: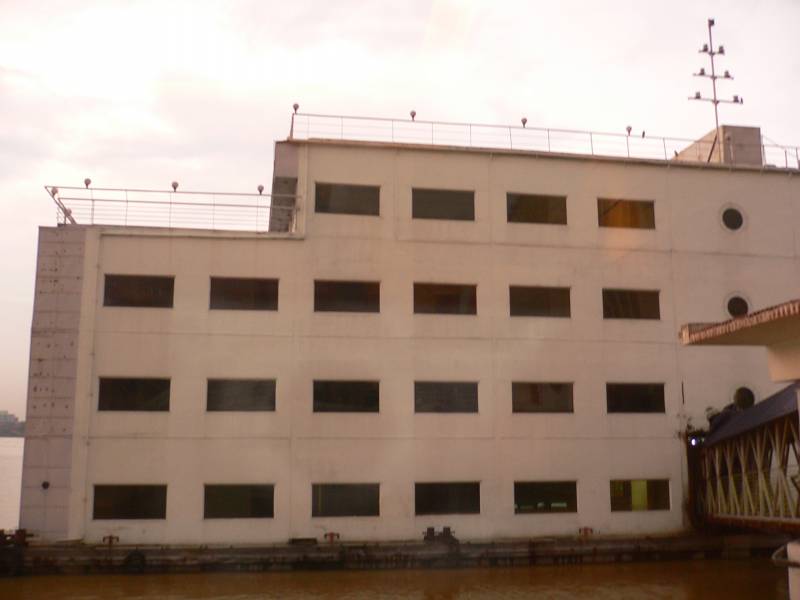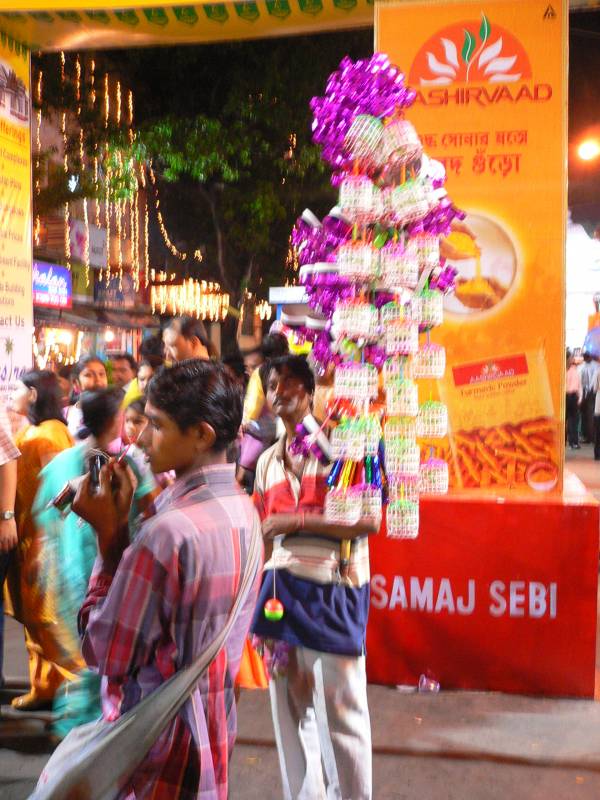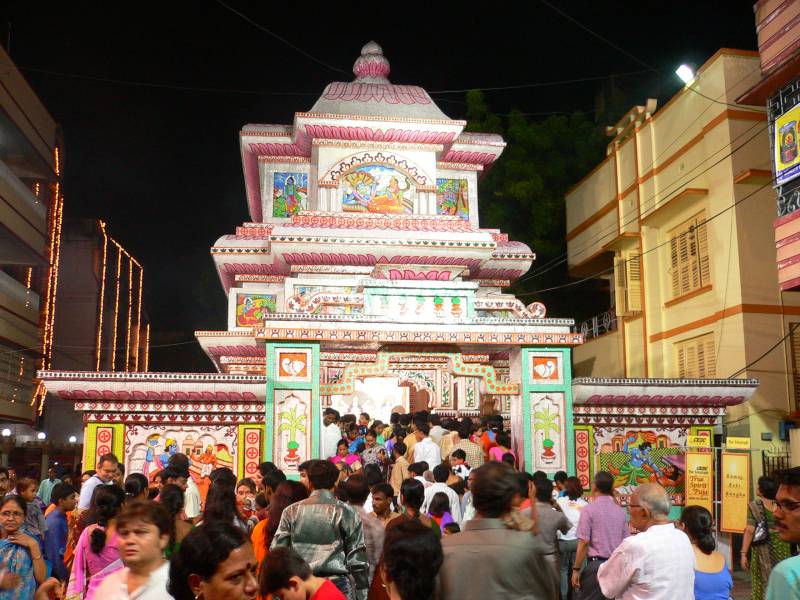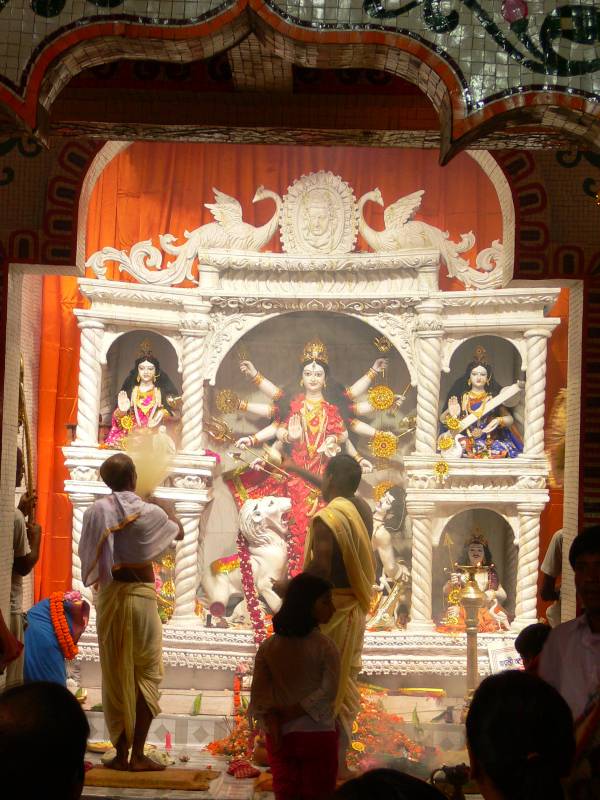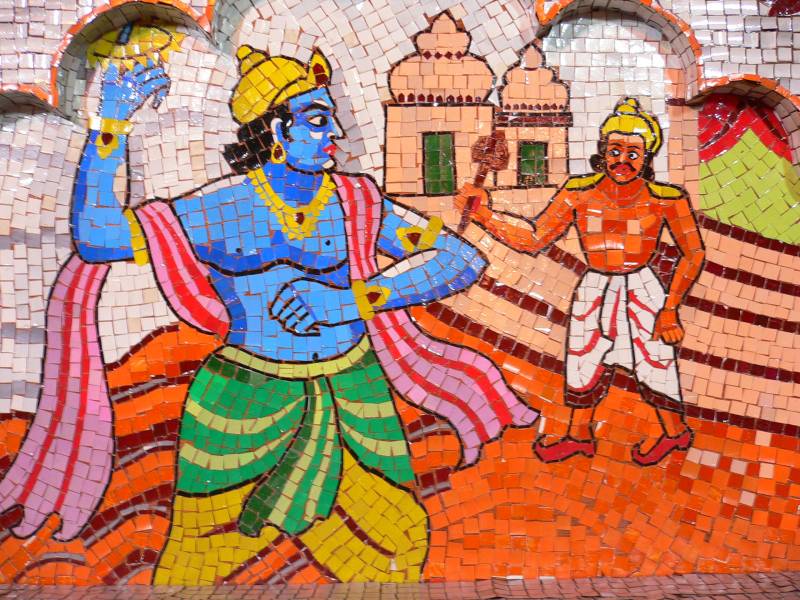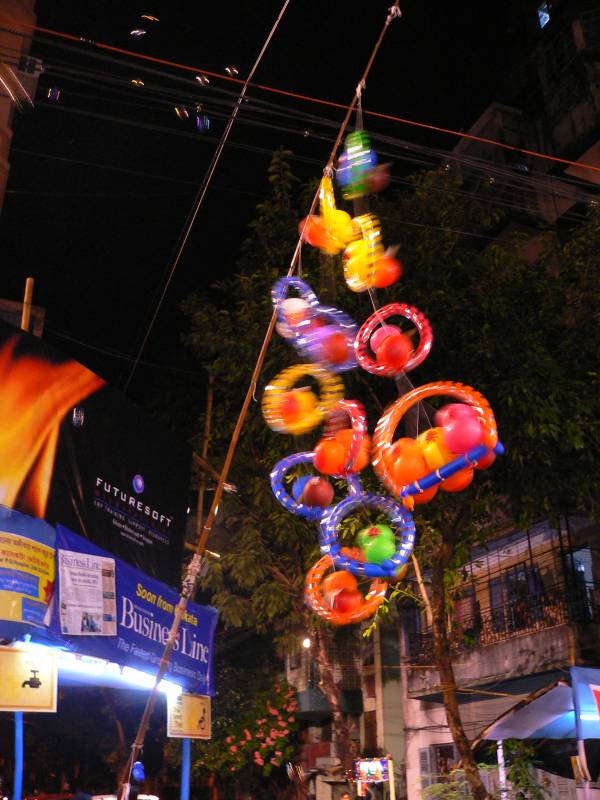 Corporate sponsorship gone mad, as if Gatorade had sponsored a Nativity creche: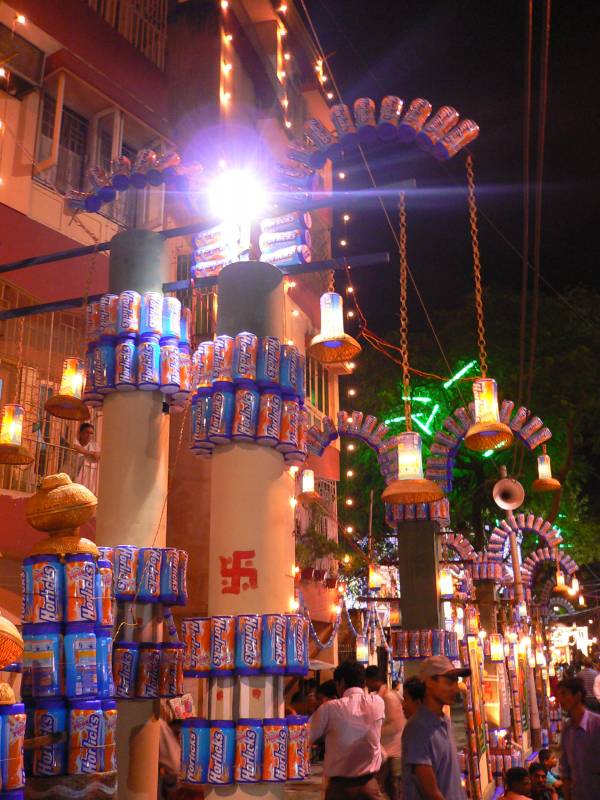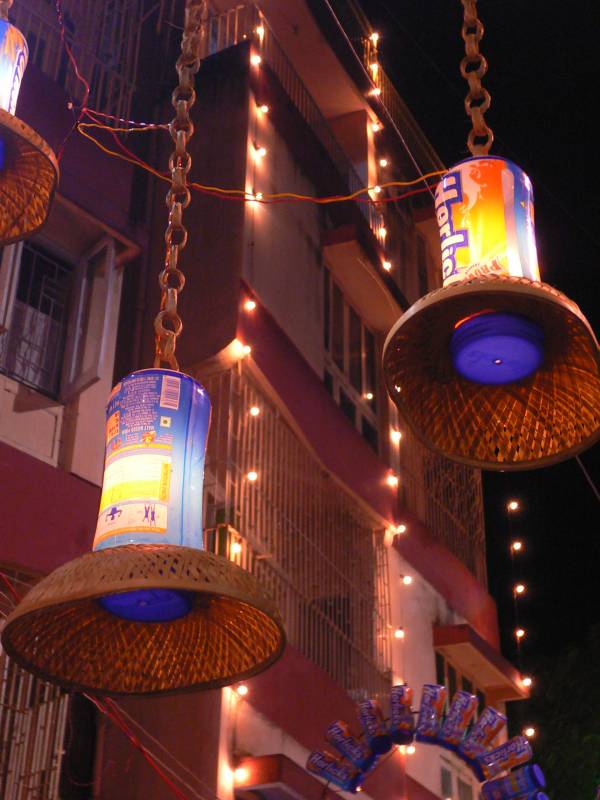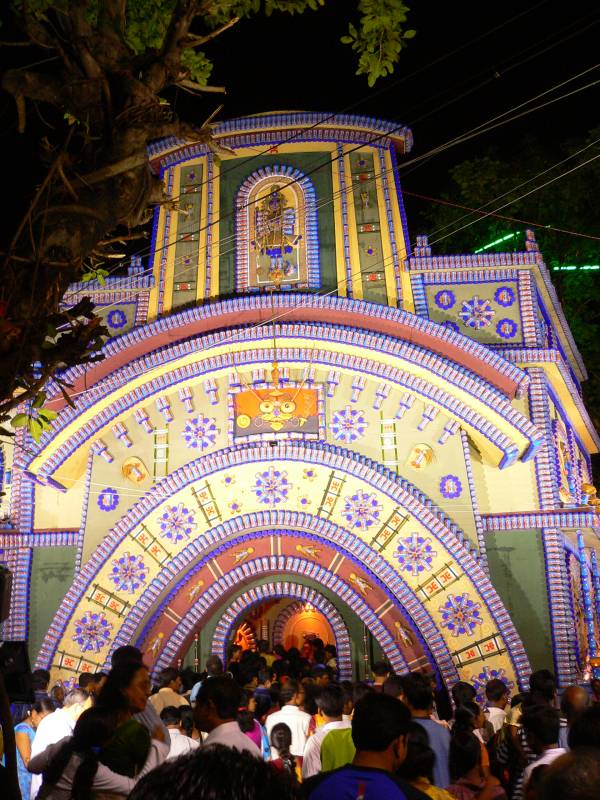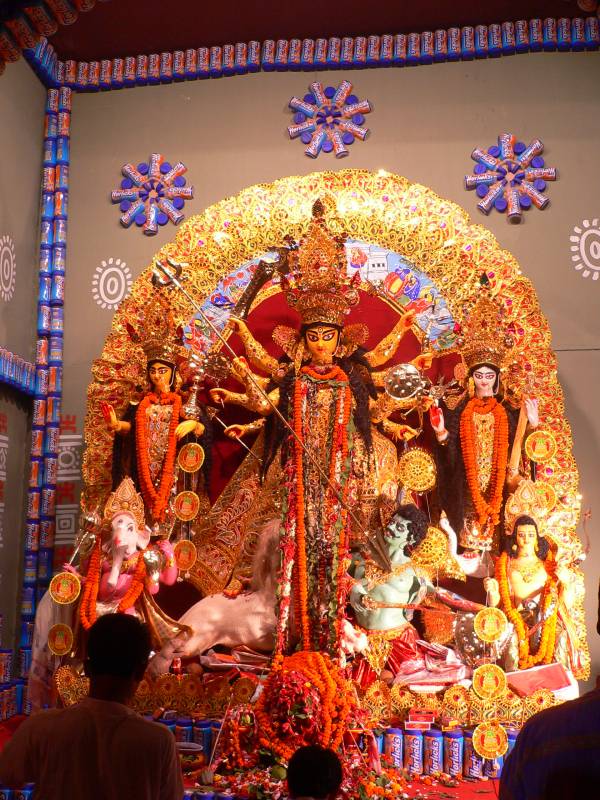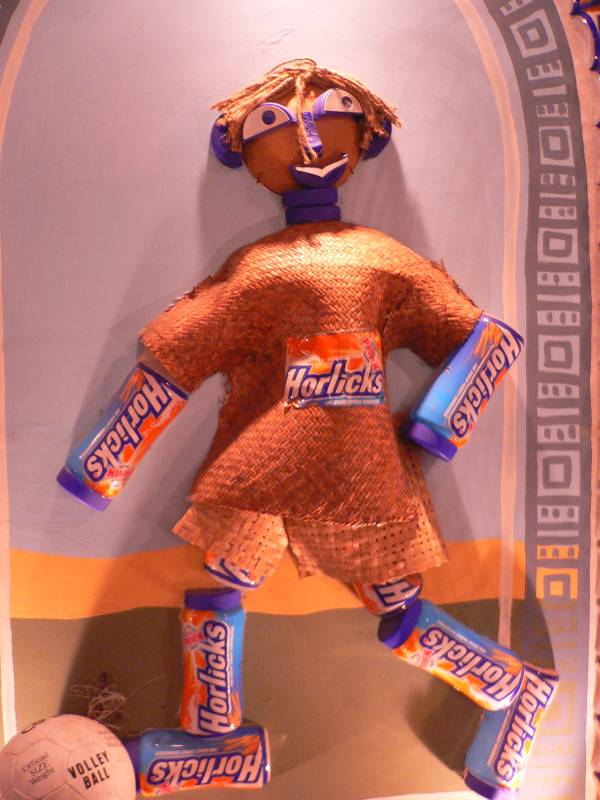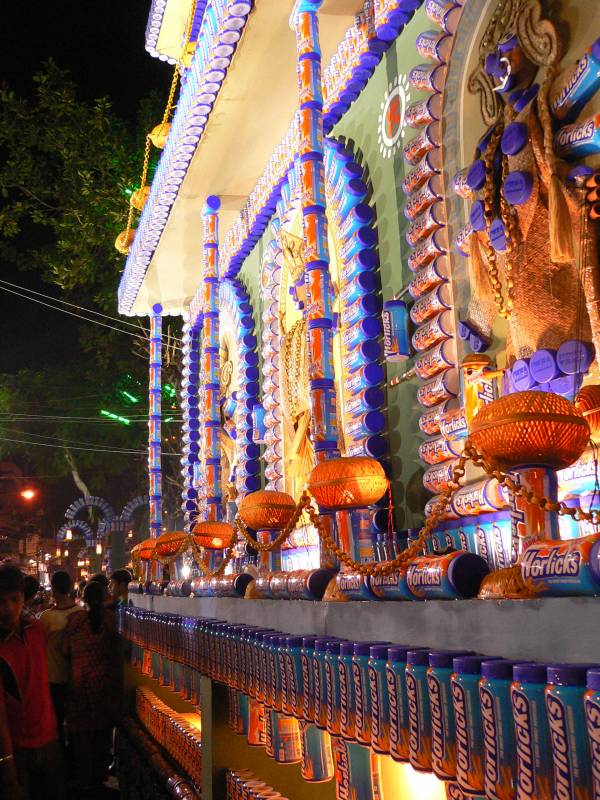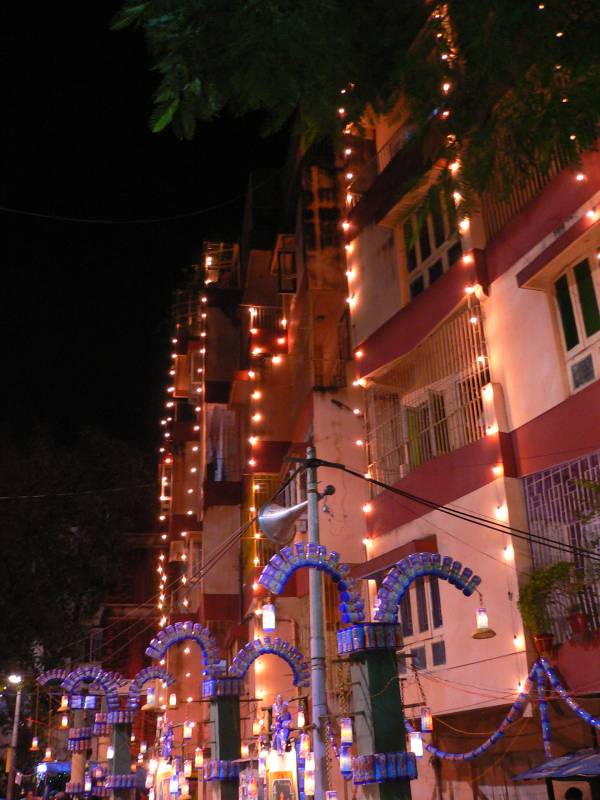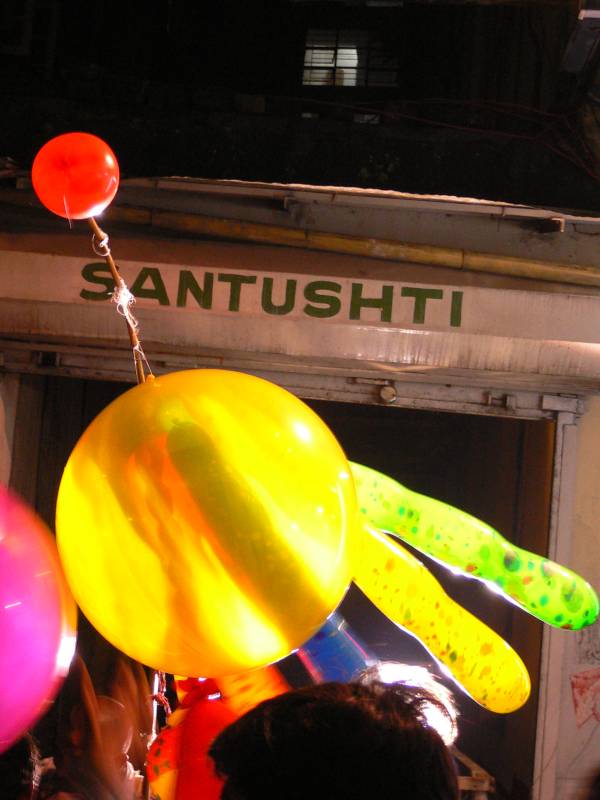 Supporting the chandeliers in the flimsy structures requires a bit of engineering: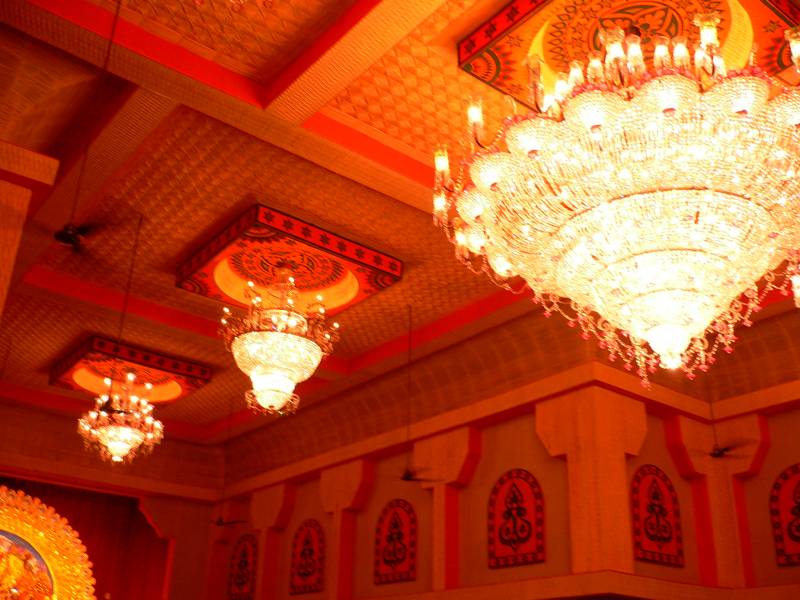 Durga slays Mahishasura. To her side at her children Ganesh, Lakshmi, Saraswati and Karthikeya.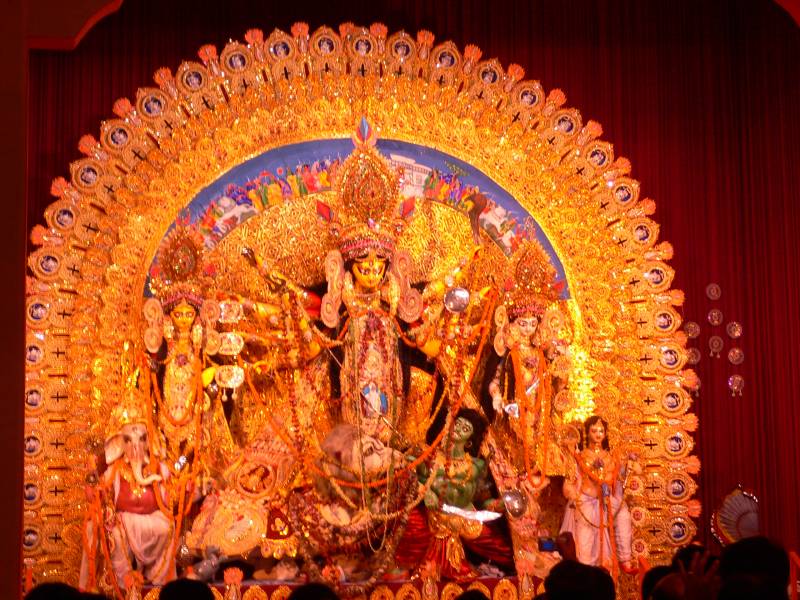 The food courts in Maddox Square: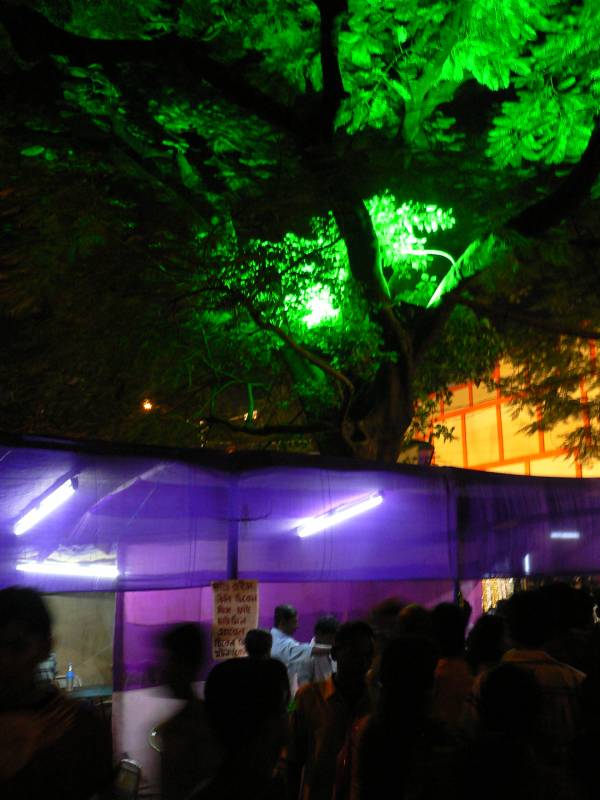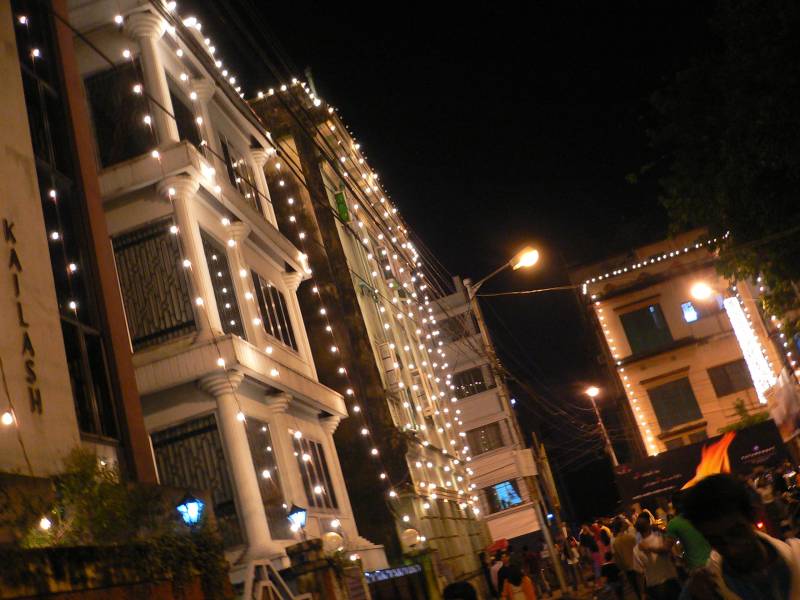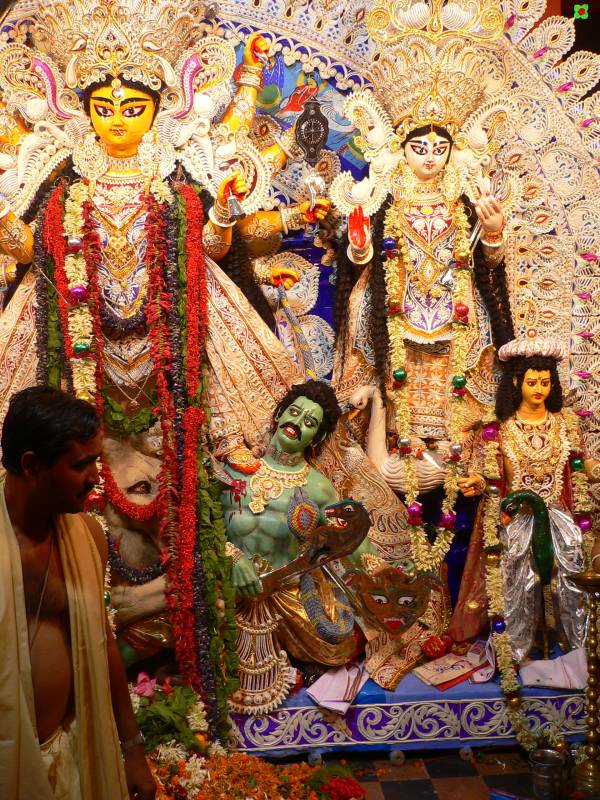 The inspiration for Jar-Jar Binks: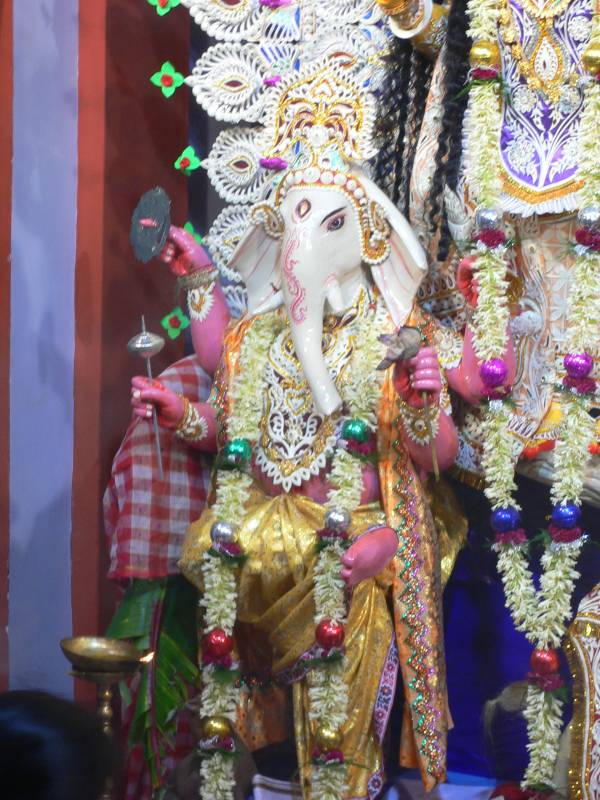 Anuvab puffs a Gold Flake: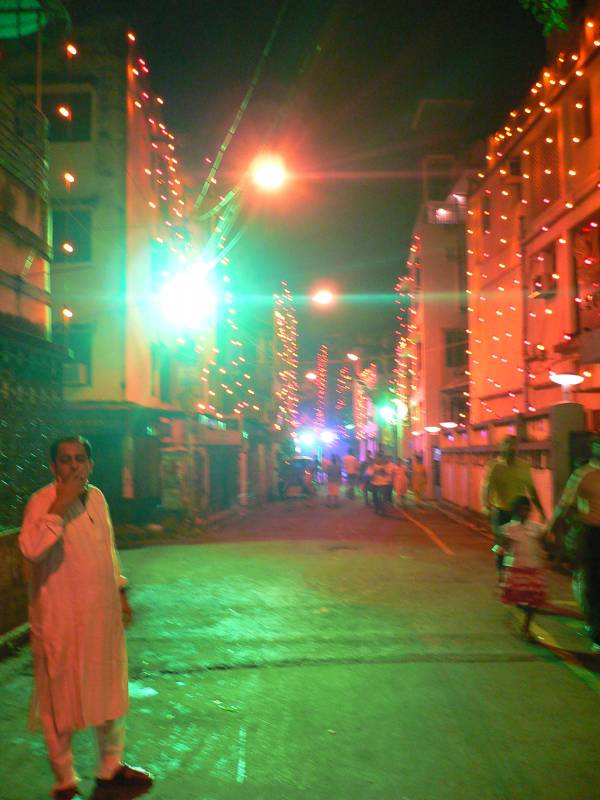 Outside South Point, one of Asia's largest K-12 schools: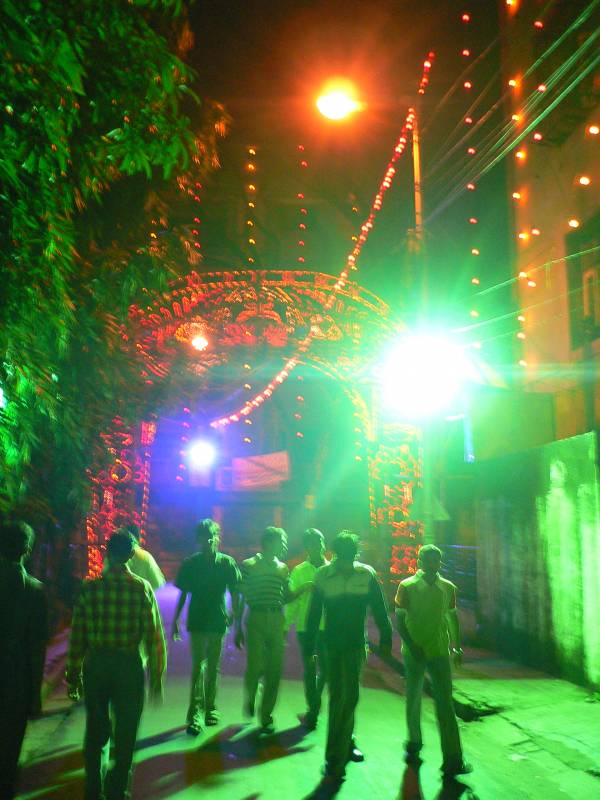 Hand-wired and cellophaned bulbs are strictly low-tech: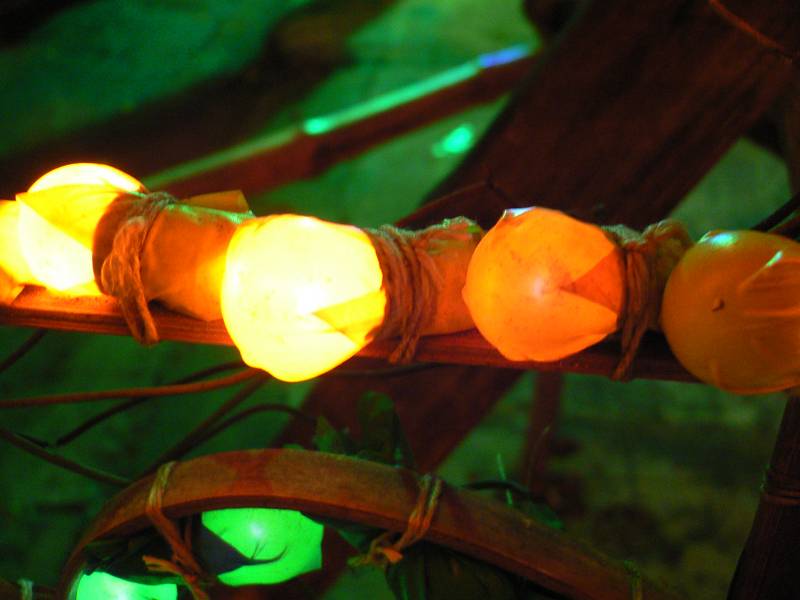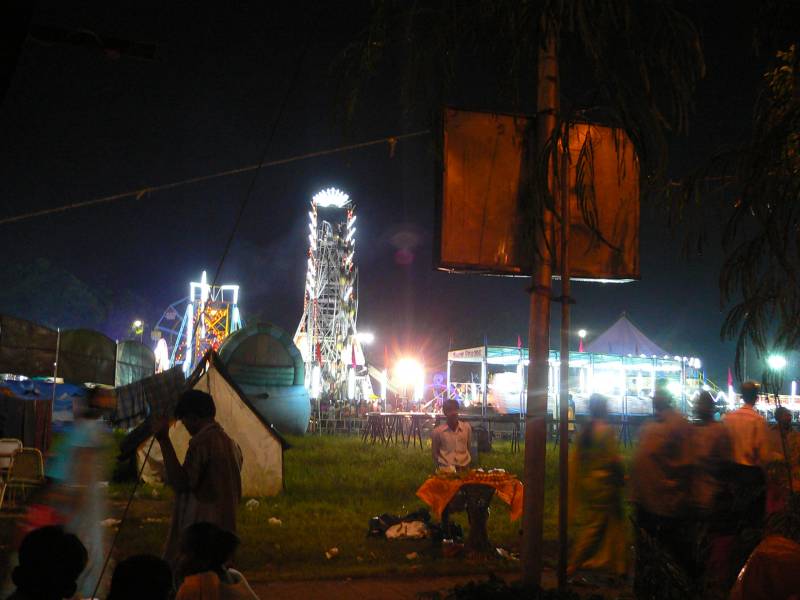 Puchkas (pani puris):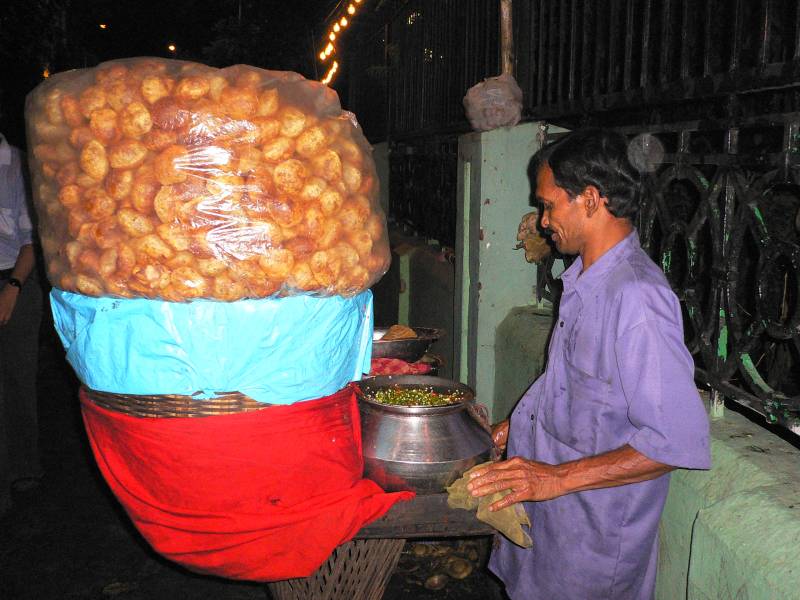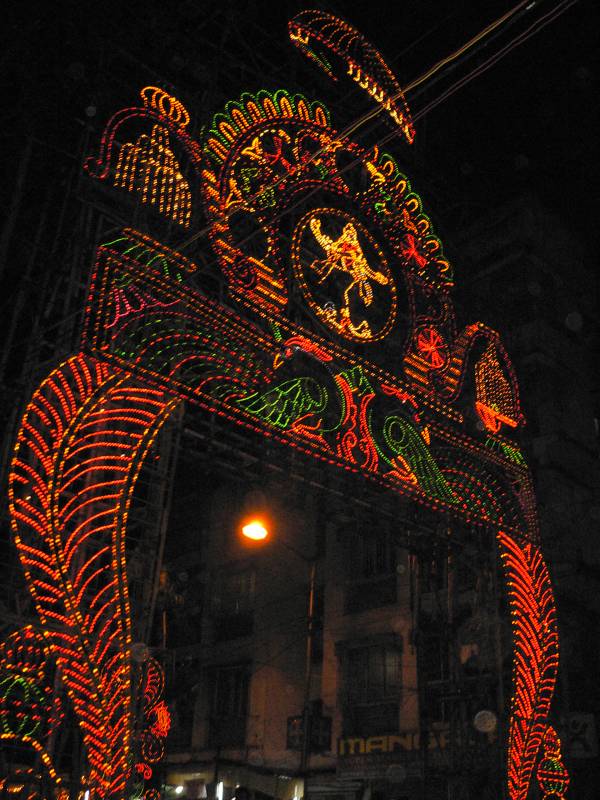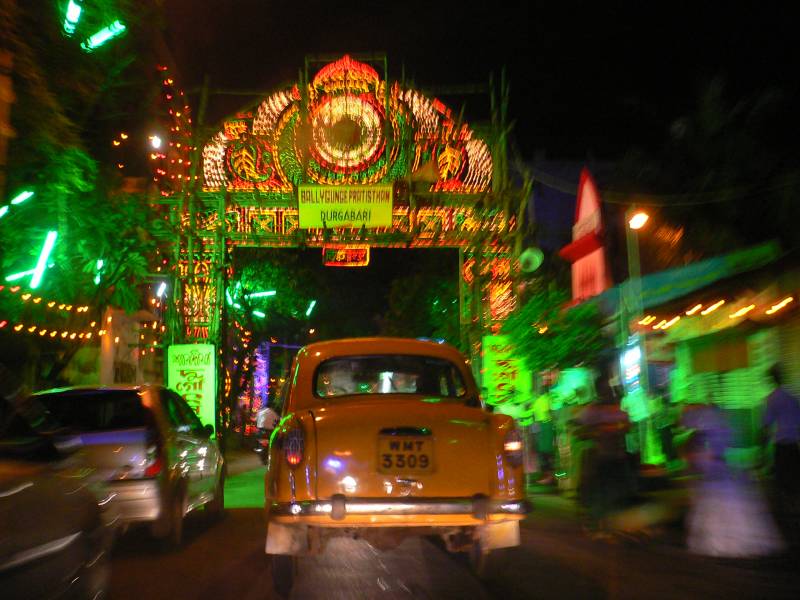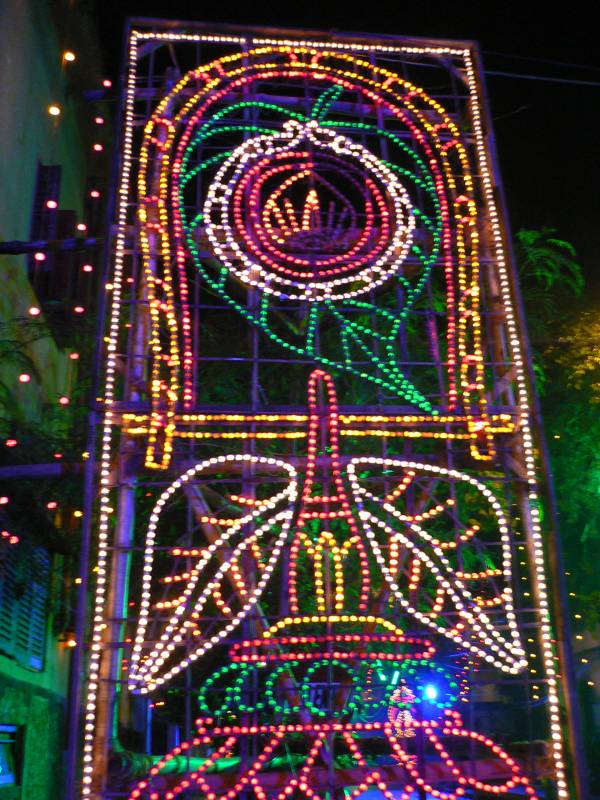 Golf course at the Tollygunge Club, a colonial remnant: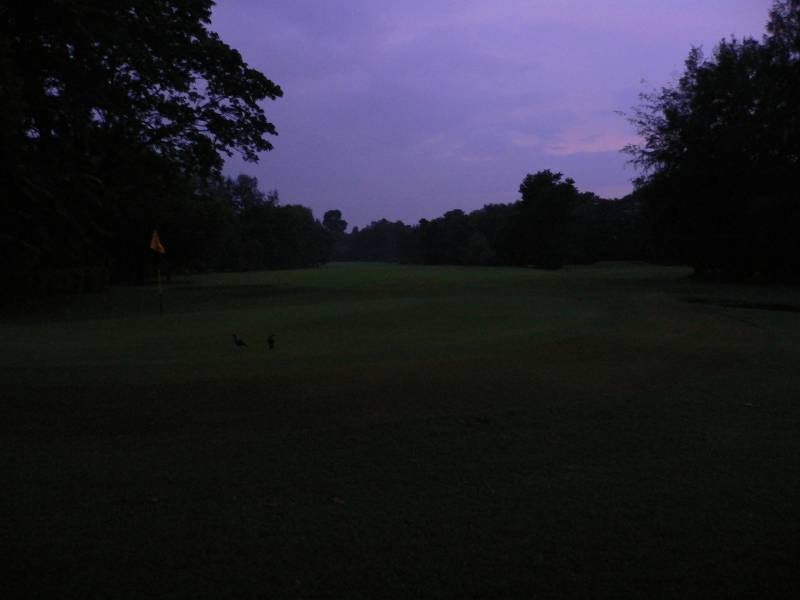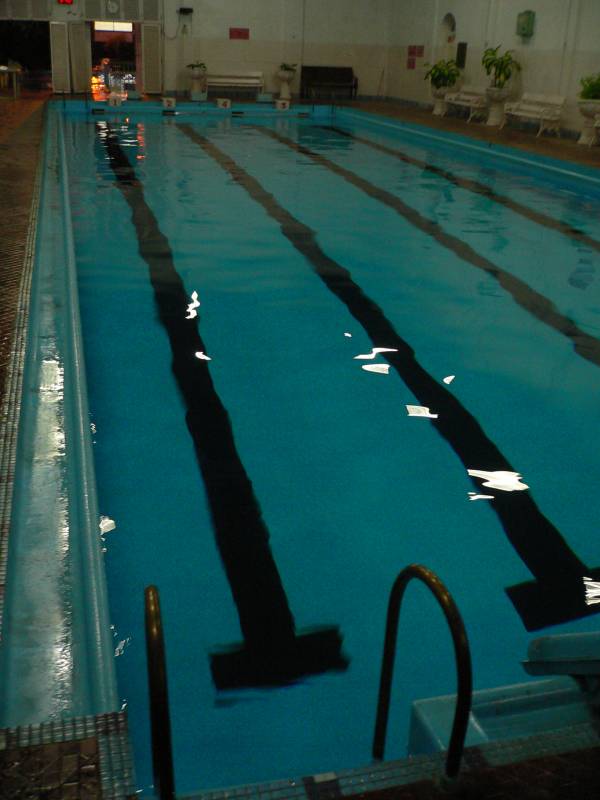 Party laser at a bar called Shisha (Hookah):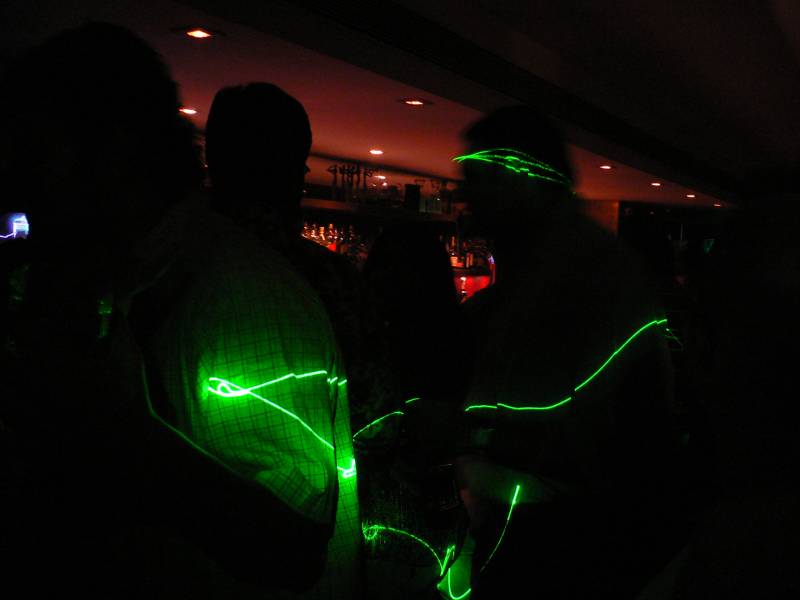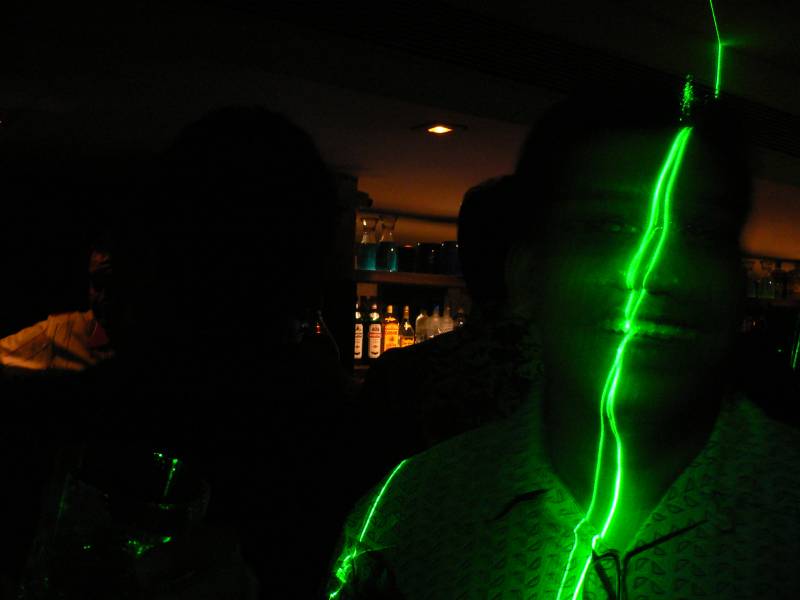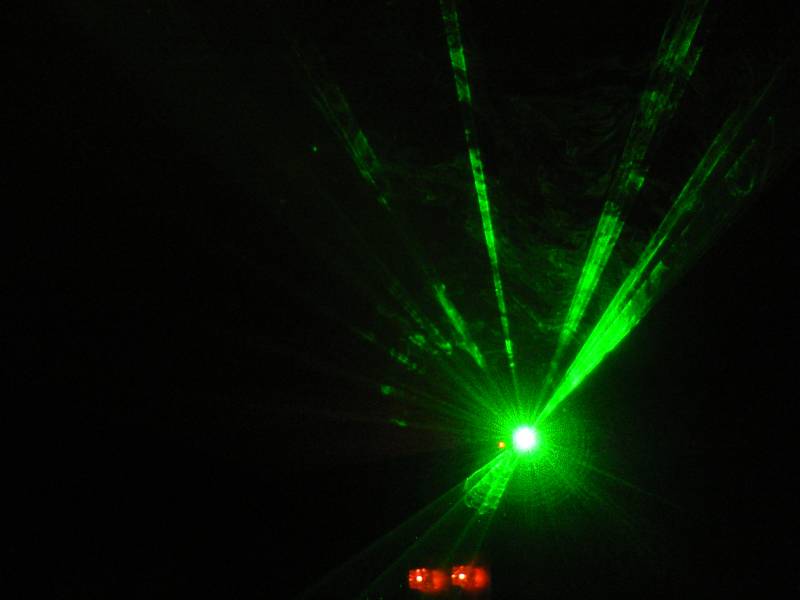 Laser catches a friend's head and nose ring: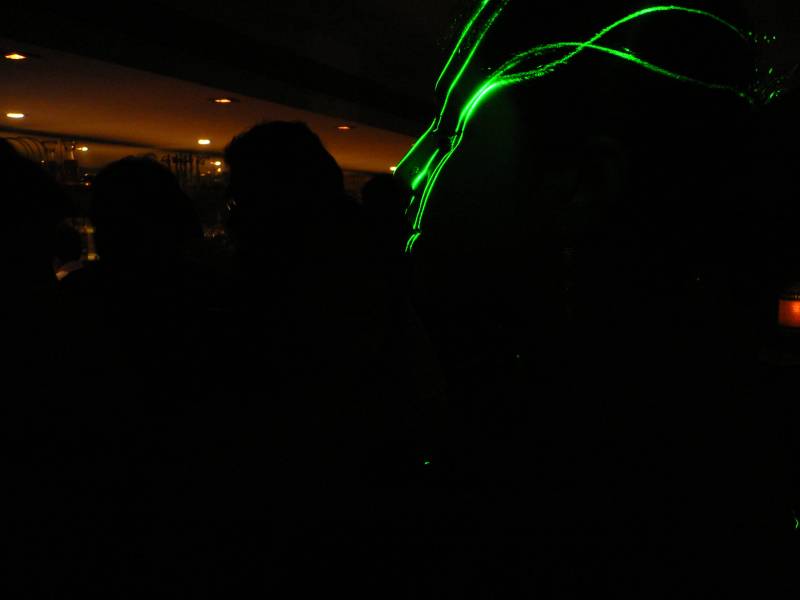 Glass of water: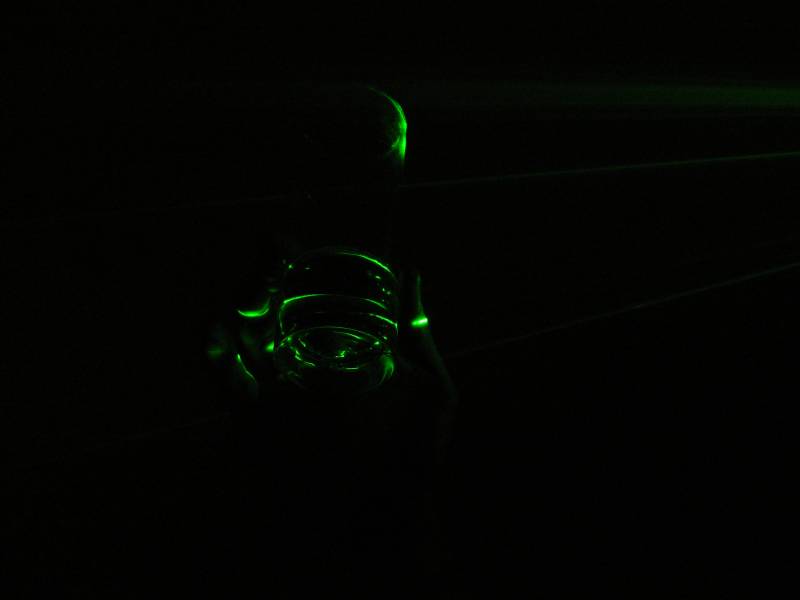 This one was a woman's idea, I swear: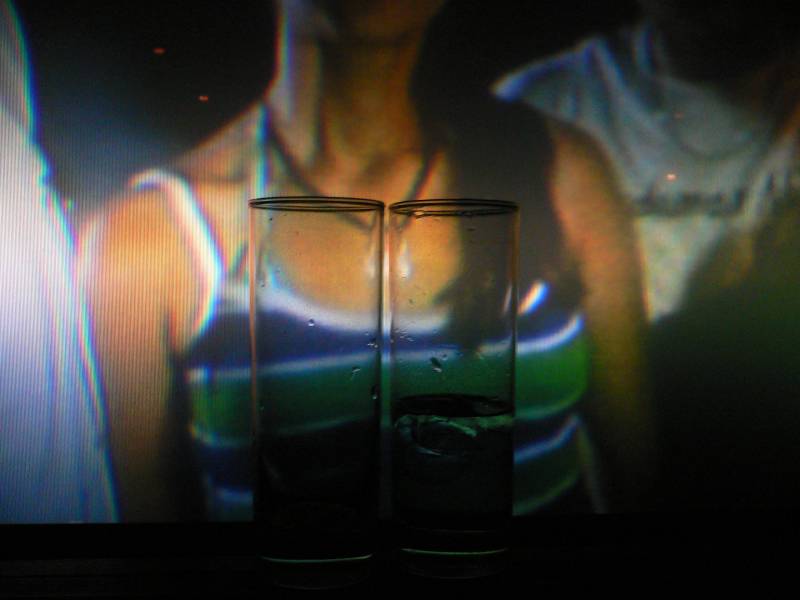 Birla Temple: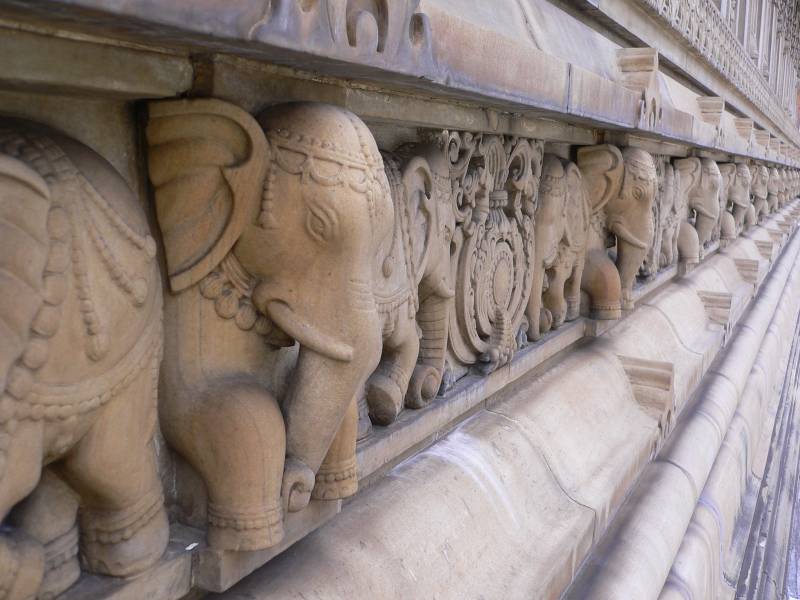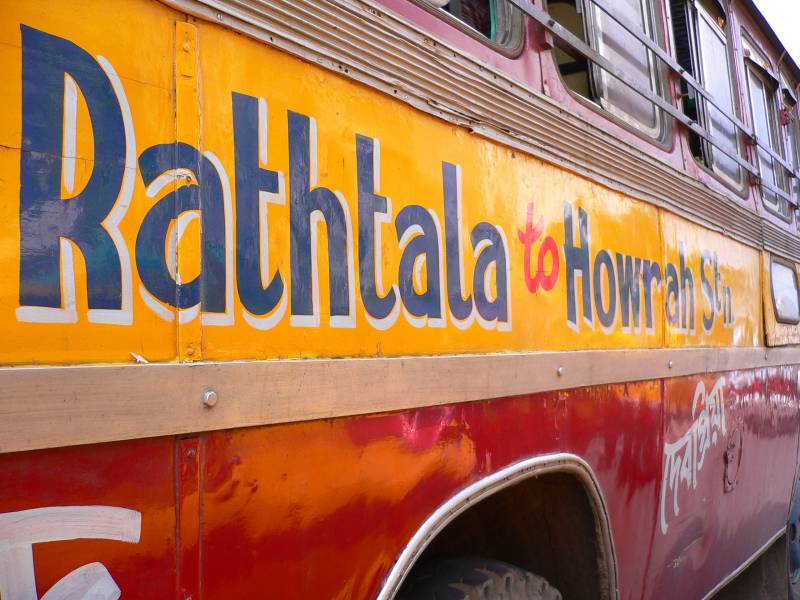 Garden outside the Victoria Memorial: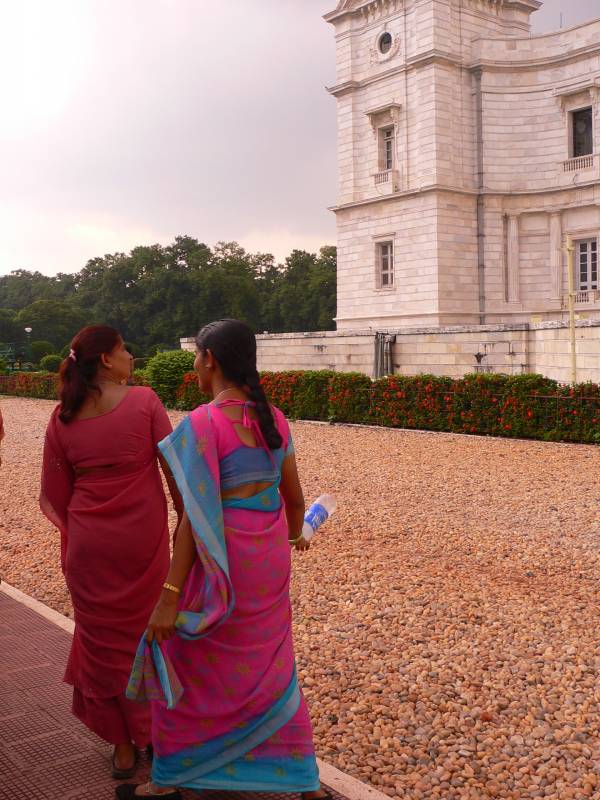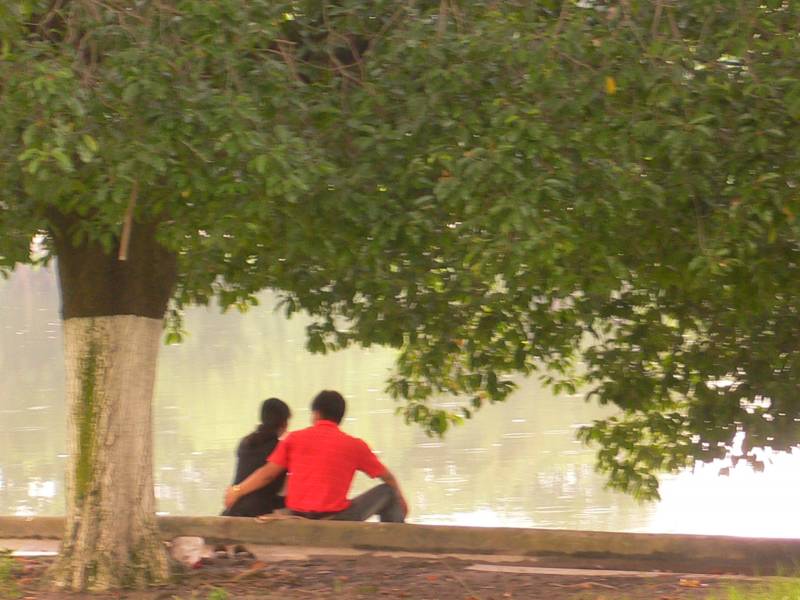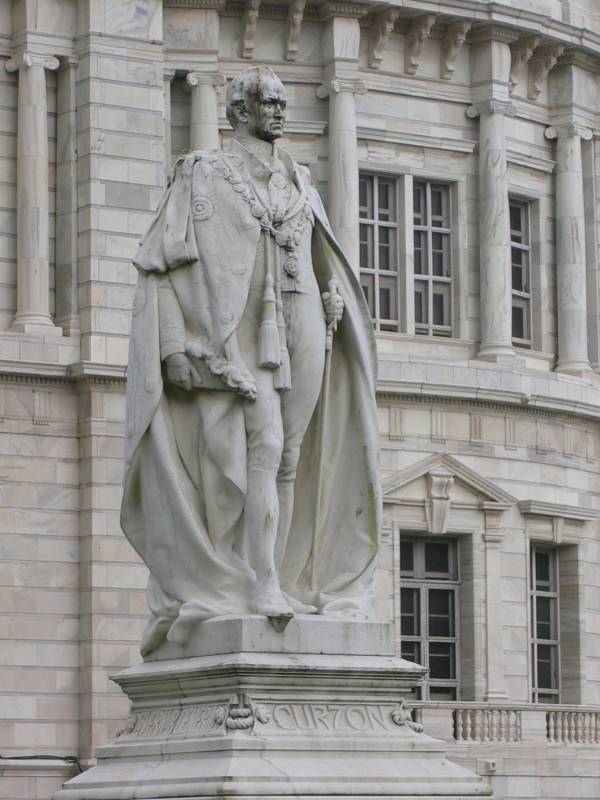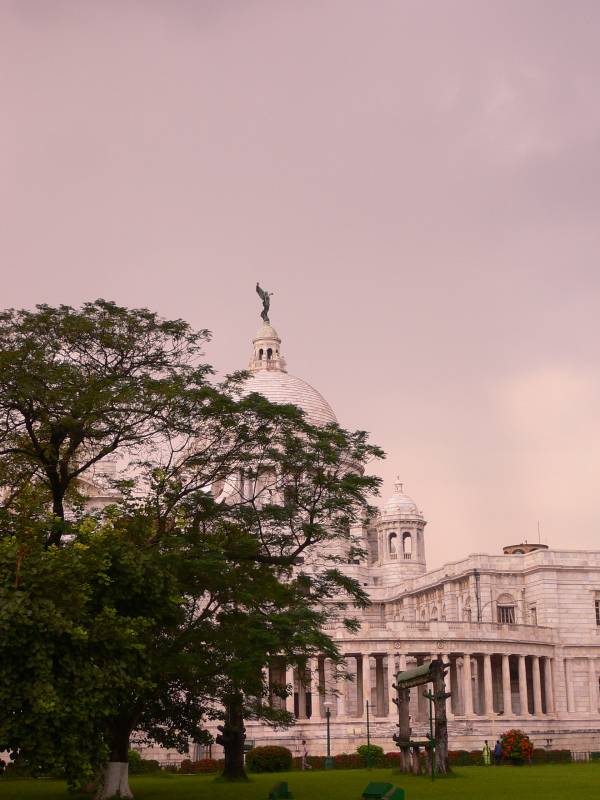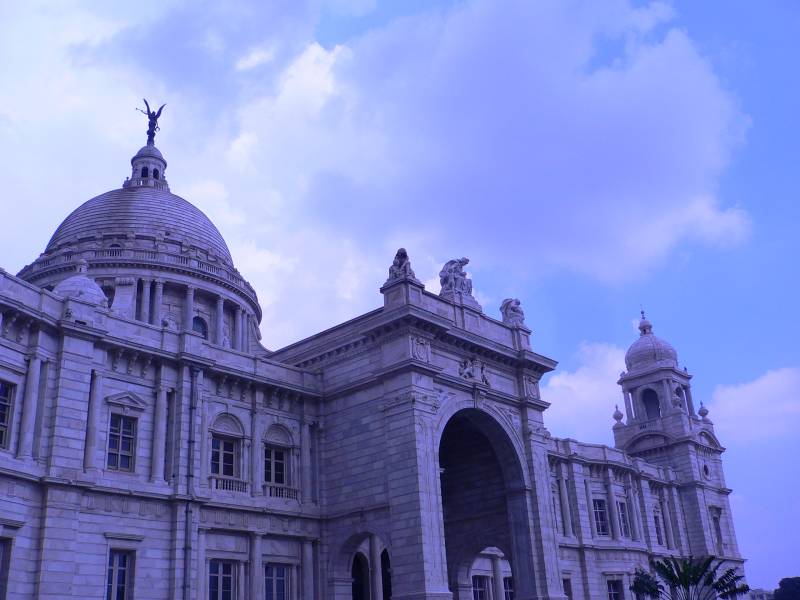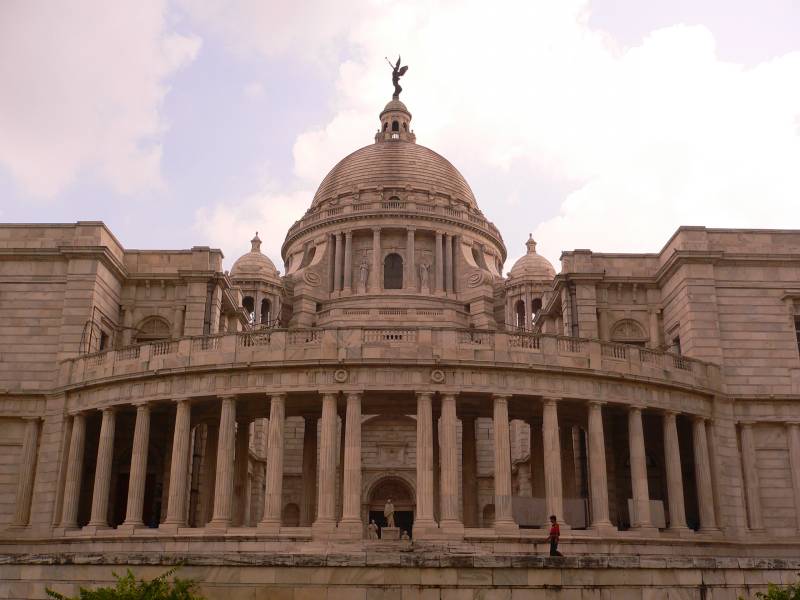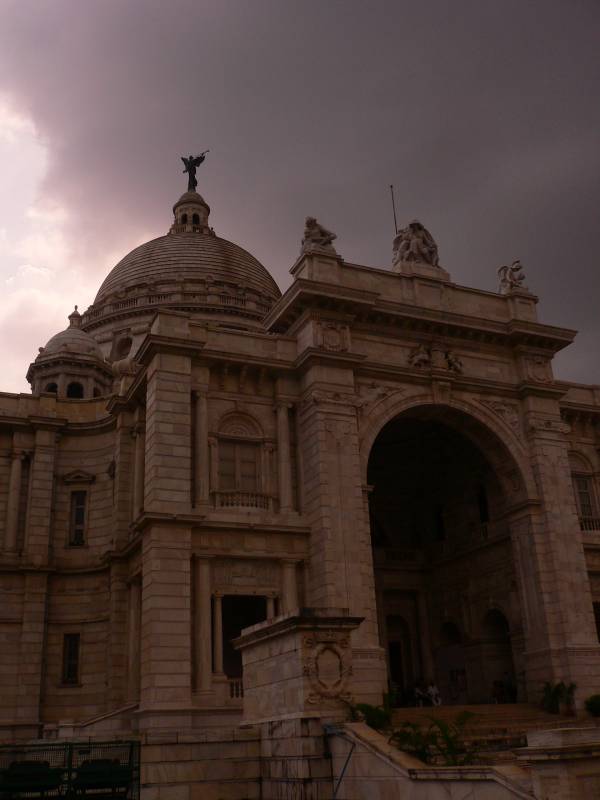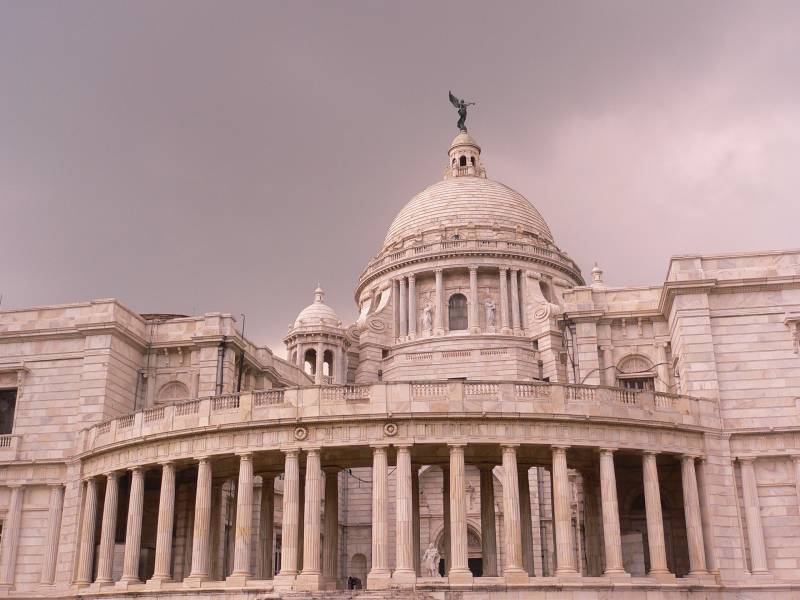 Freaky trash can: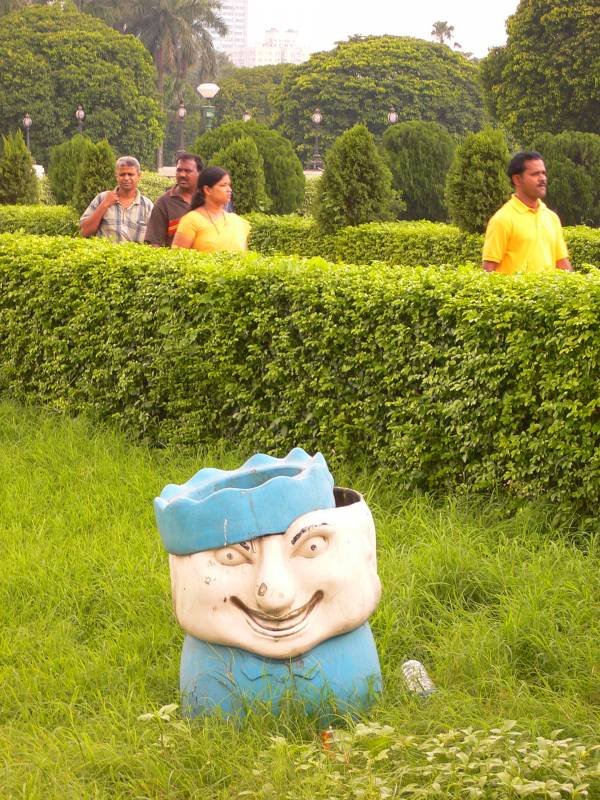 What Indira Gandhi nationalized, Tata rebuilt: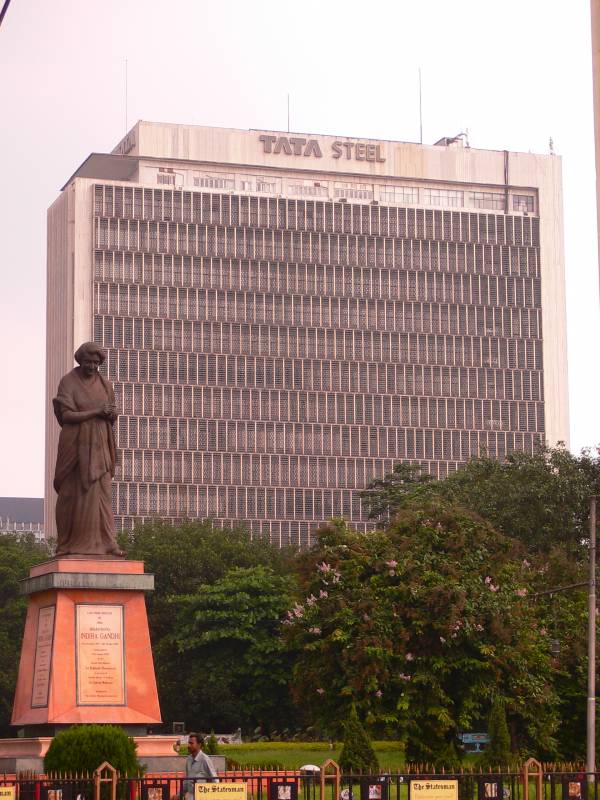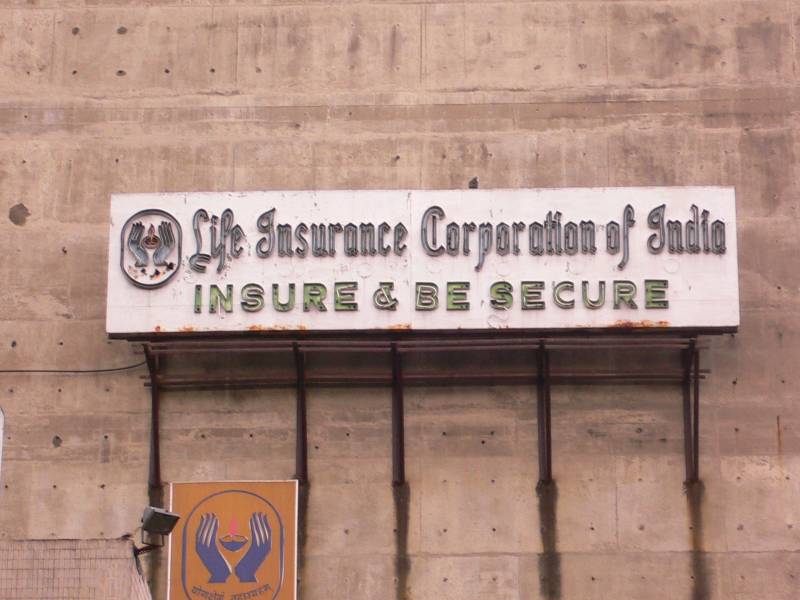 Cabbies choose their own religions:
College Street: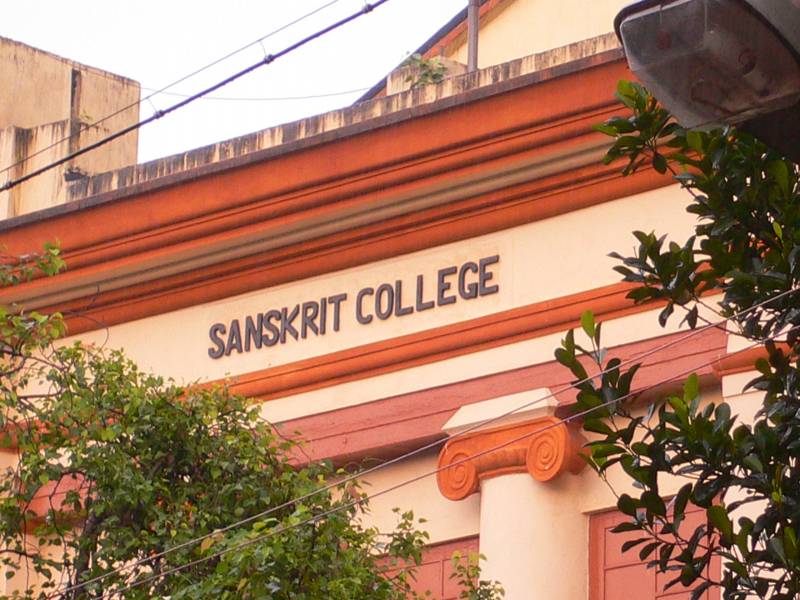 Coffee House: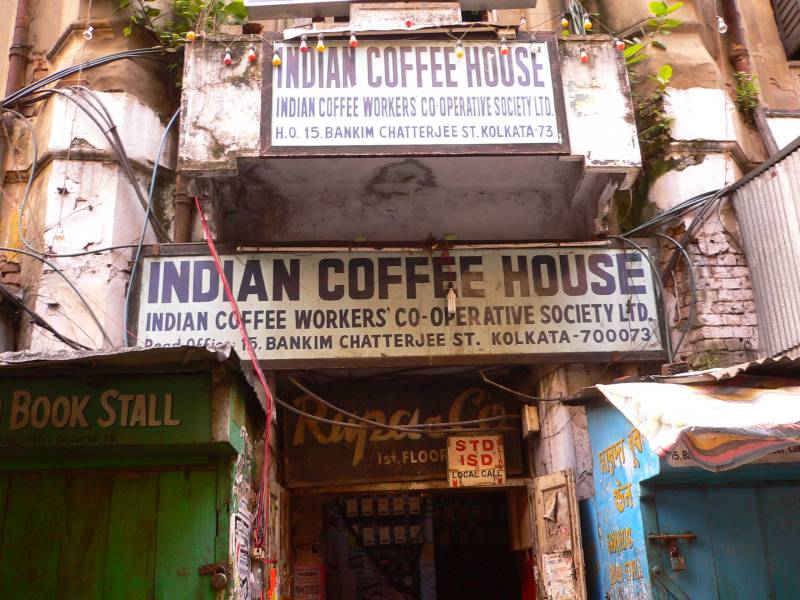 Revolution on the walls: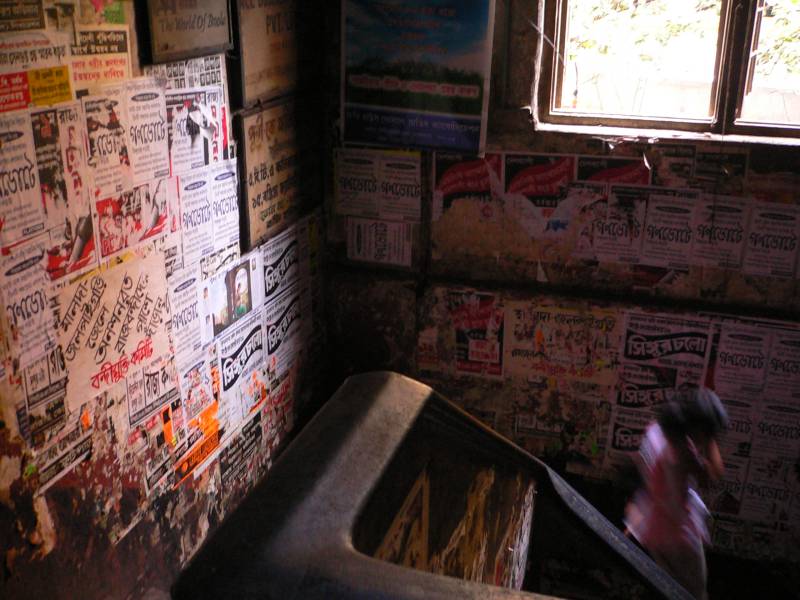 Anglicized spelling: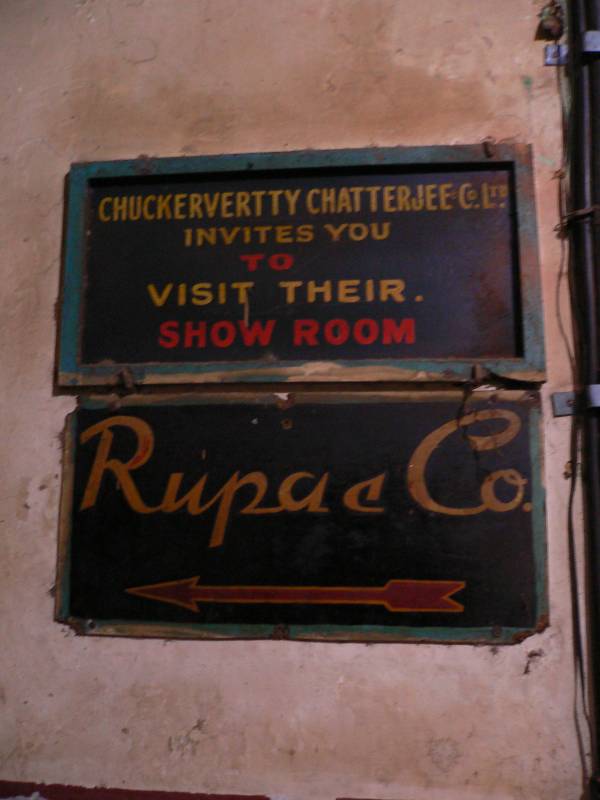 Coffee House reminds me of Bade Miyan in Bombay and Katz's Deli in Manhattan: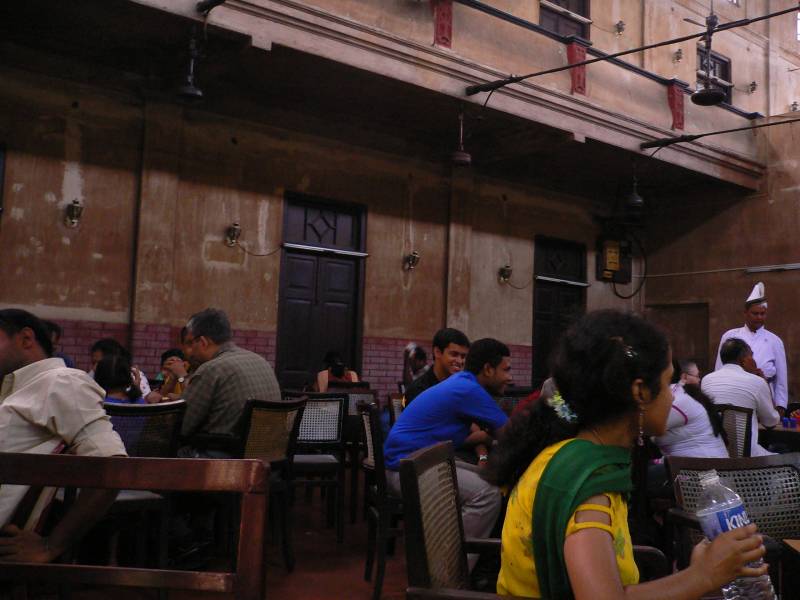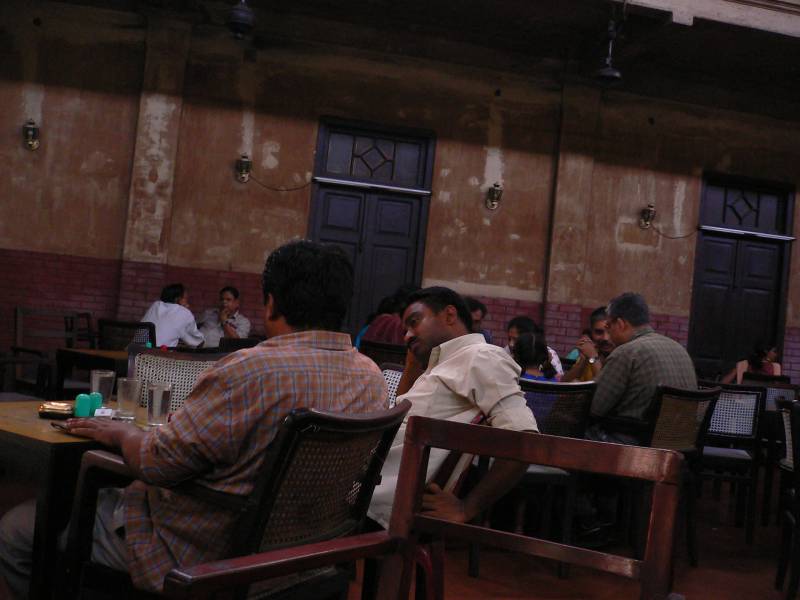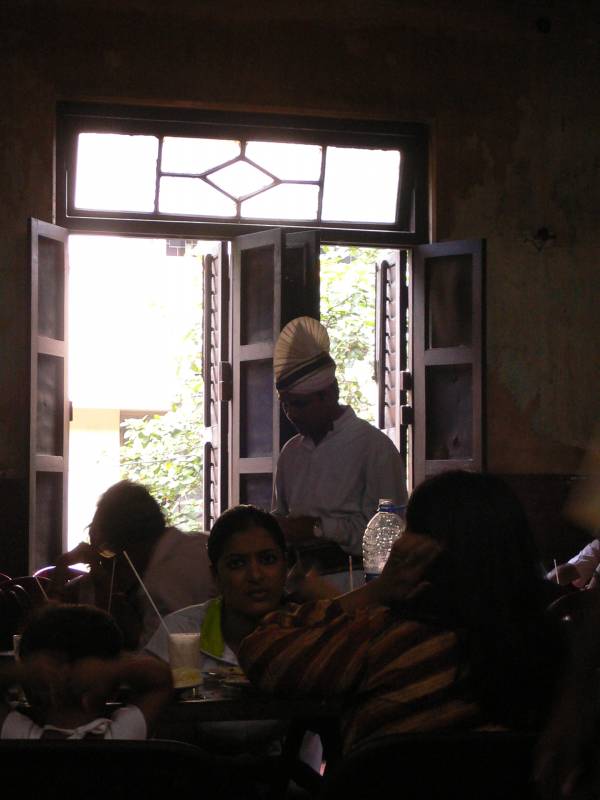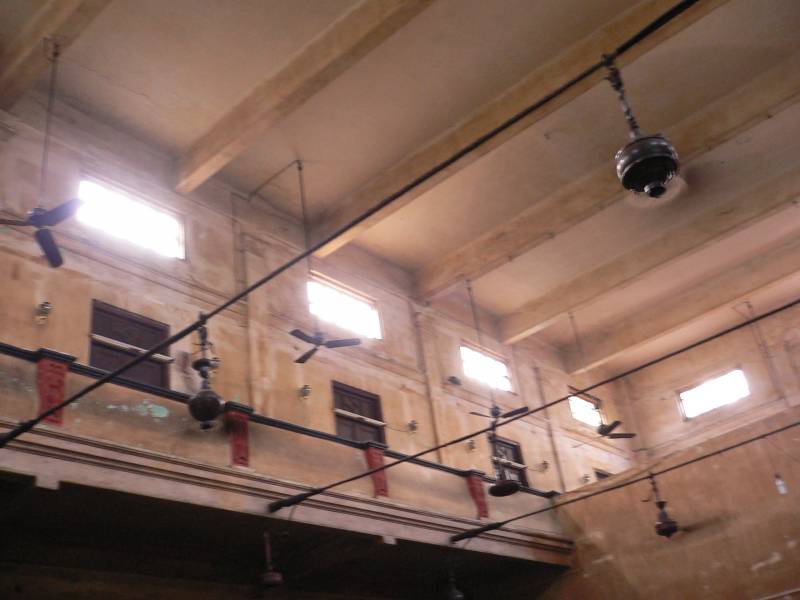 Booksellers: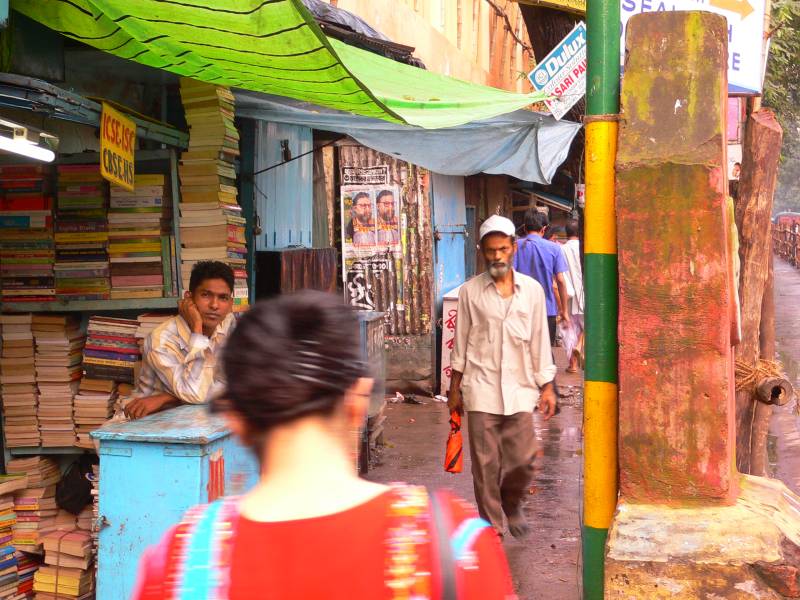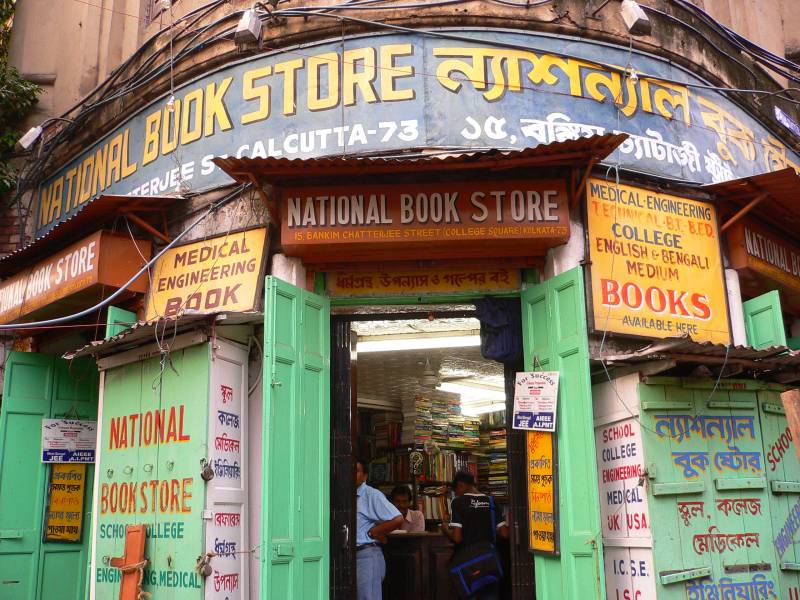 I wouldn't trust the signs: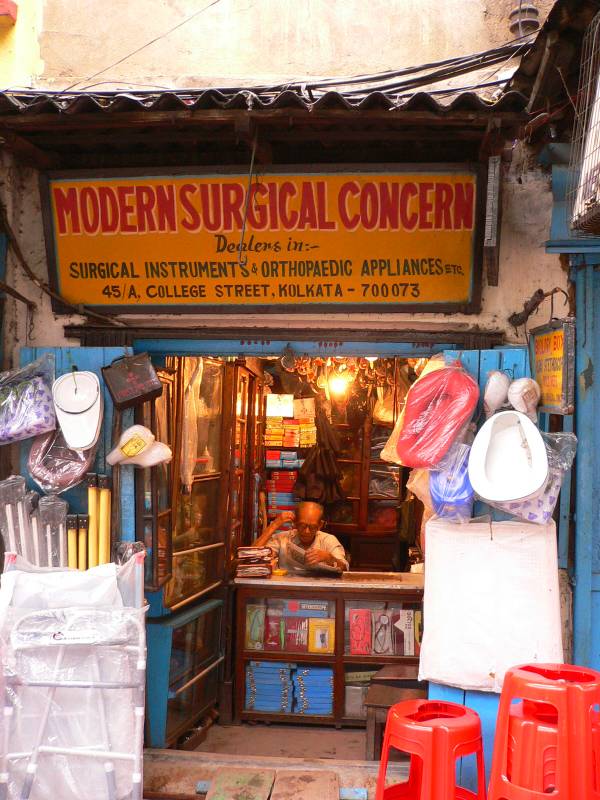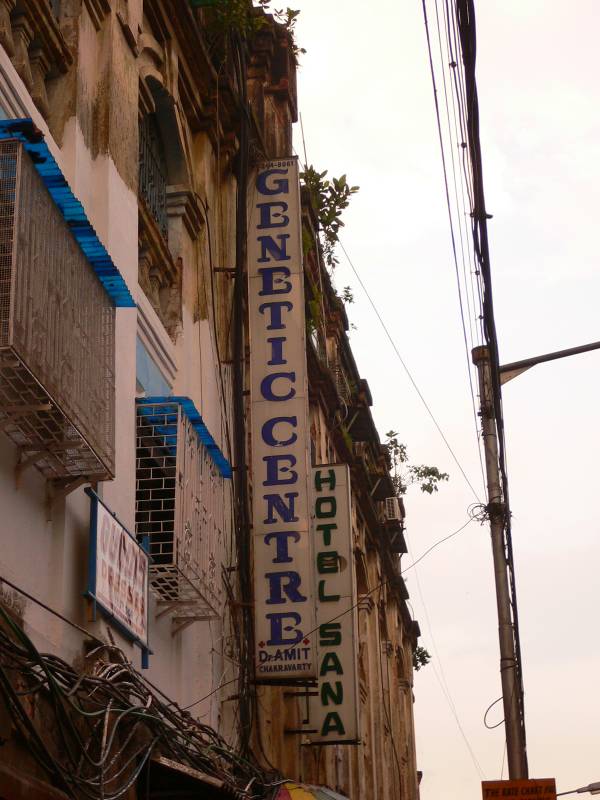 'An Ideal Boy' at College Square: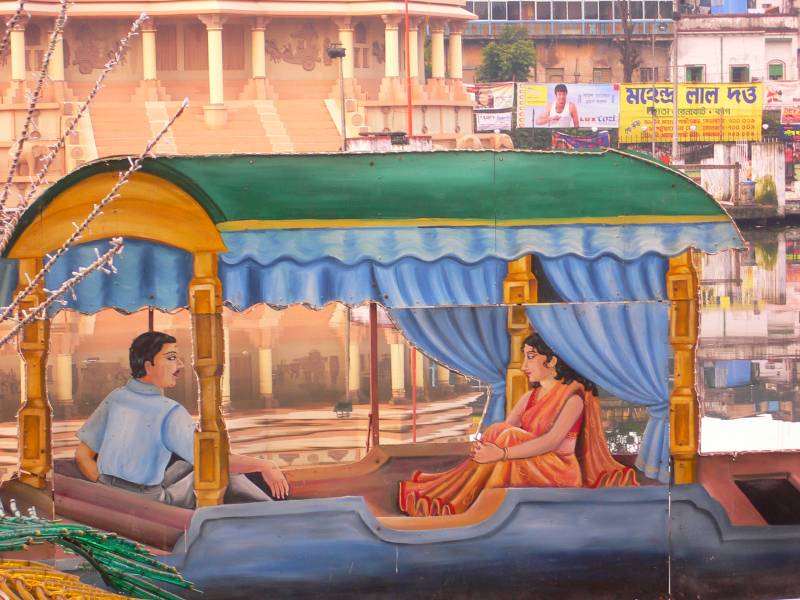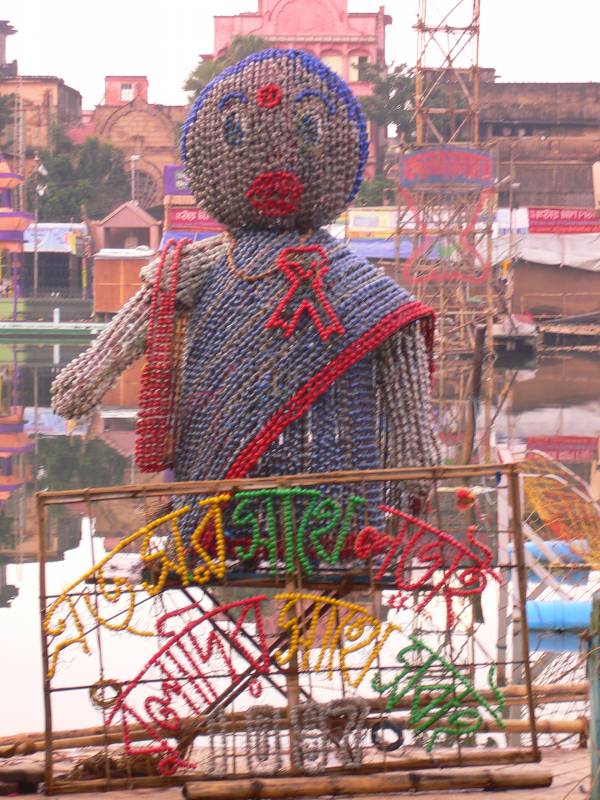 This entire temple is a façade: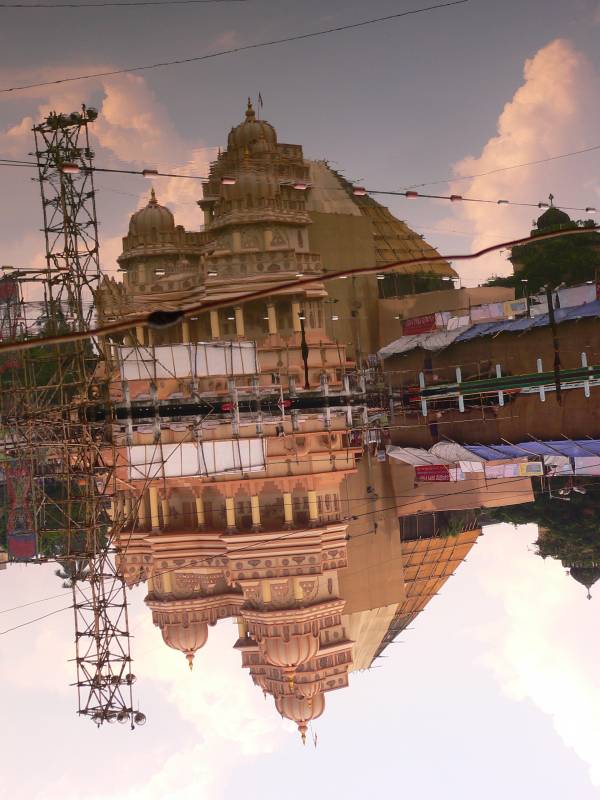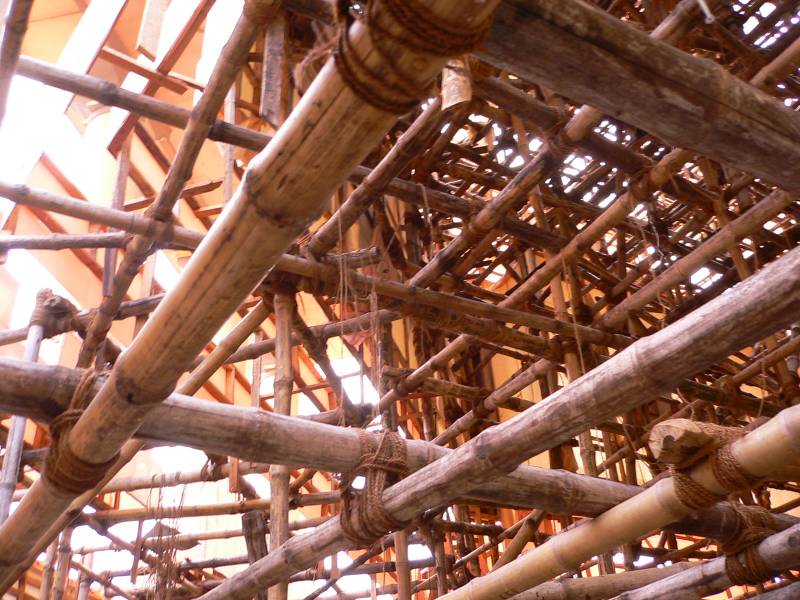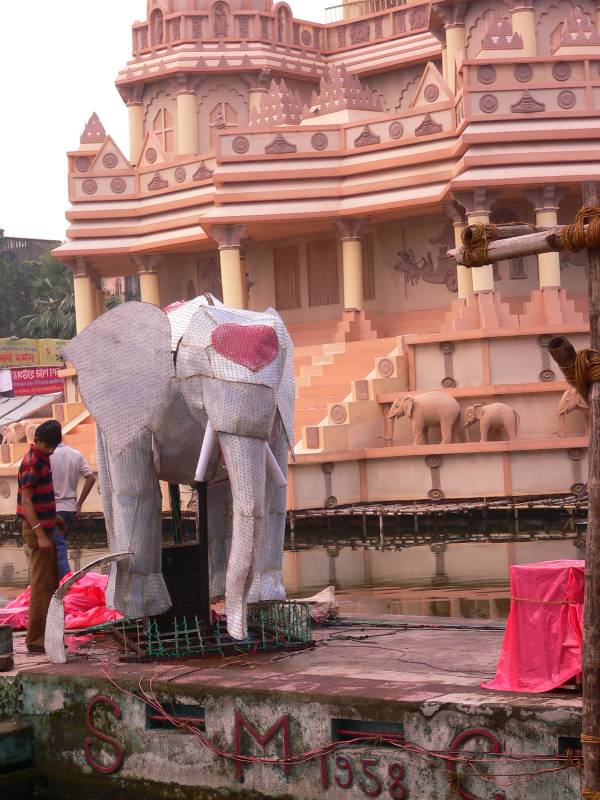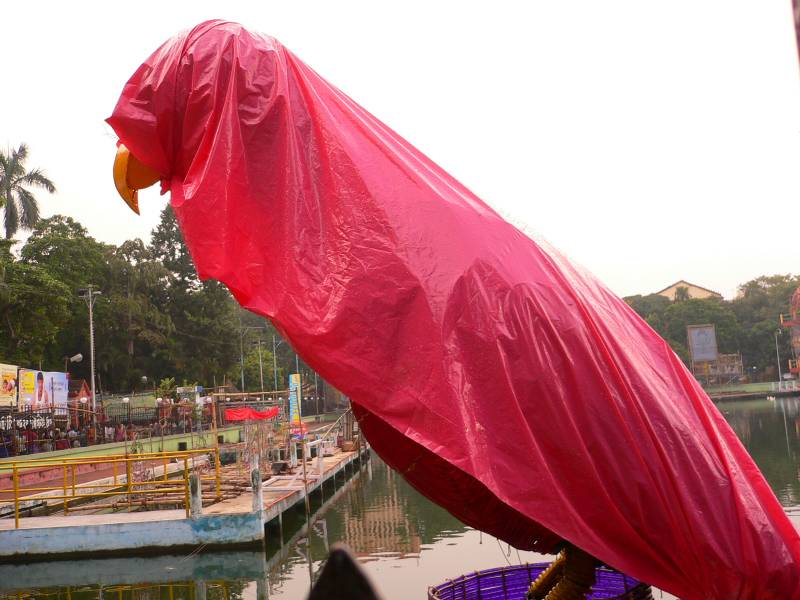 Bamboo crowd barriers for the Durga visarjan (immersion):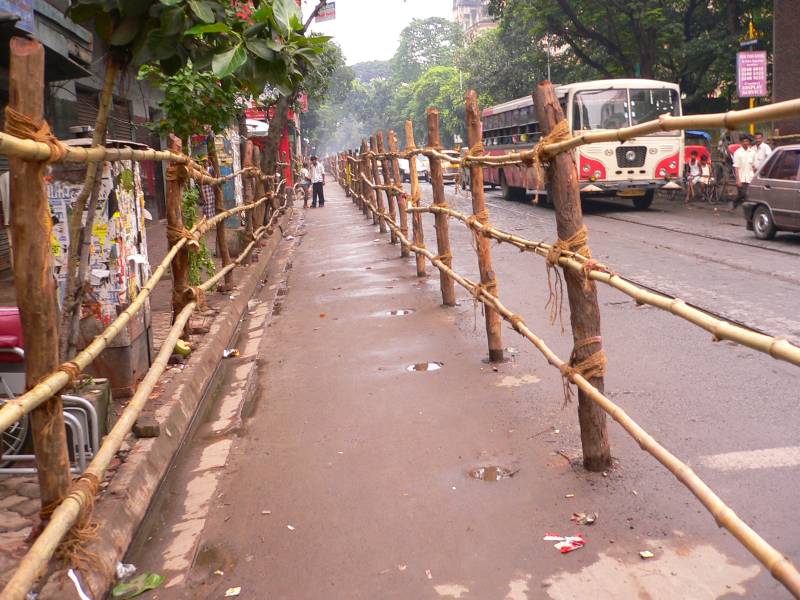 Durga eyes = Cheshire Cat: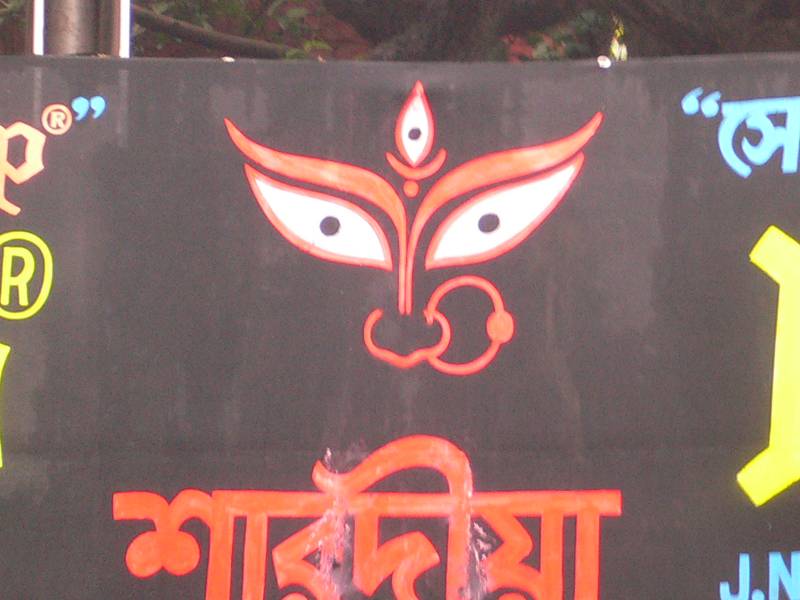 Snakes on a Pujo: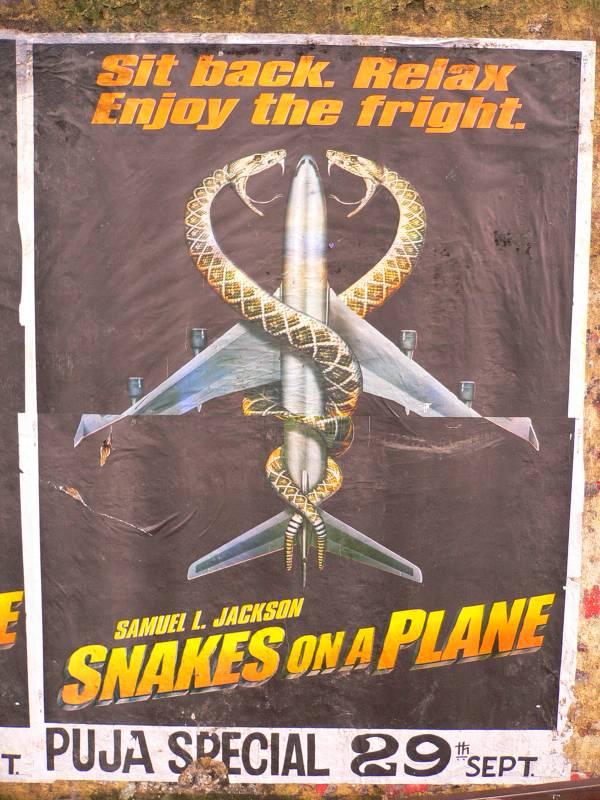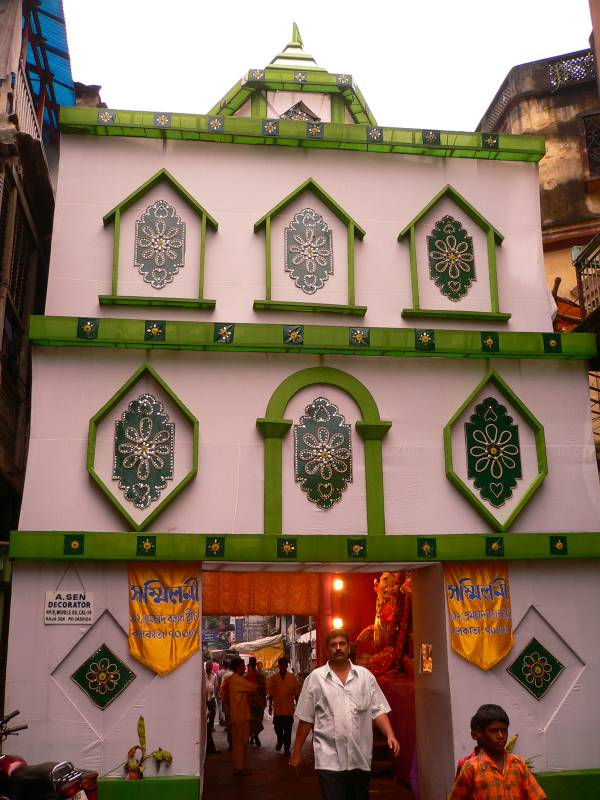 Little Richard called. He wants his wig back: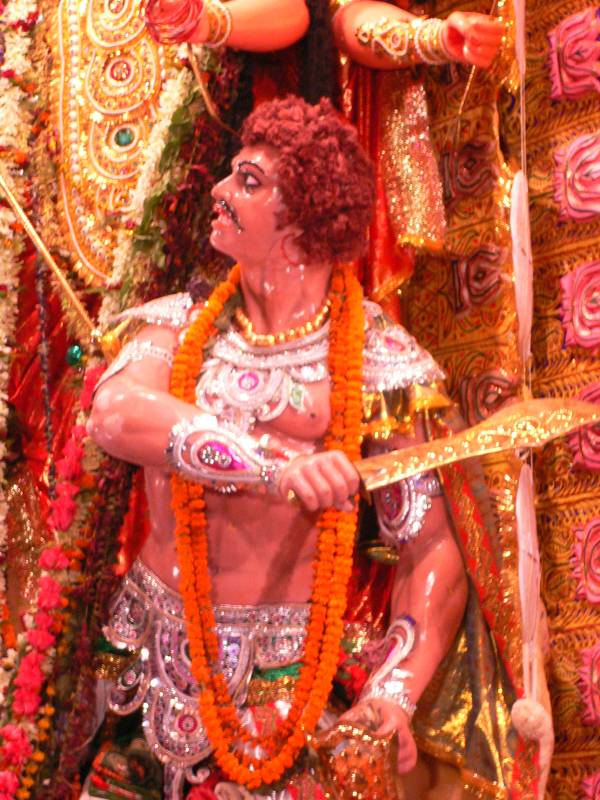 Bahu Bazaar (Bridal Market) is full of wedding bands: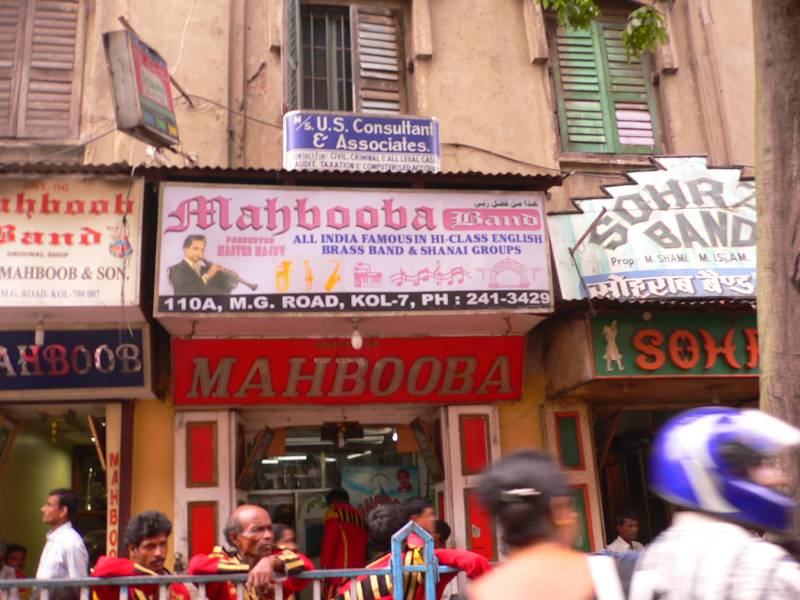 Calcutta has above-ground trams: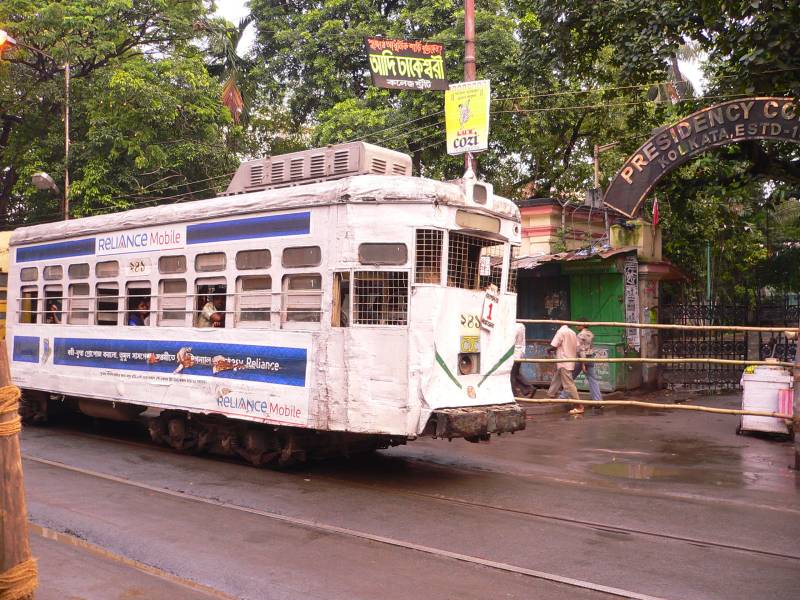 Bus windows shaped Mughal-style, like Air India: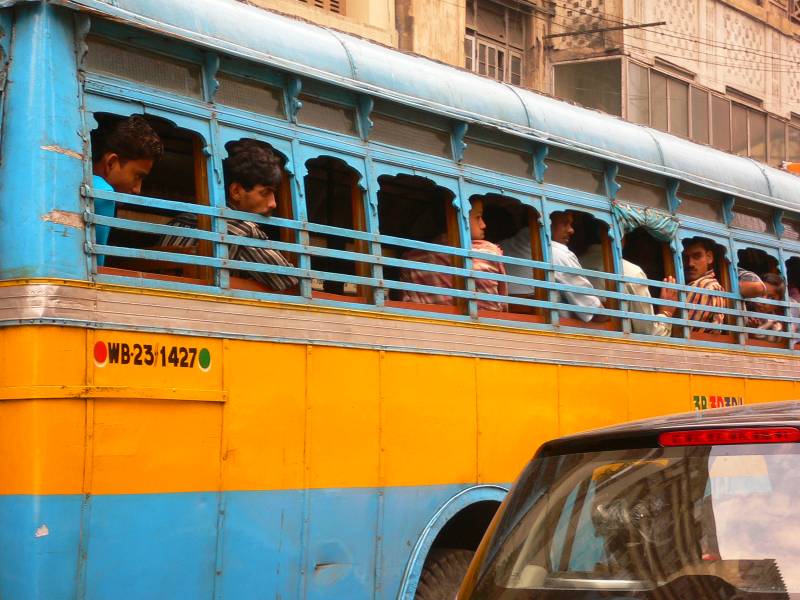 The Calcutta metro seemed fast and efficient, though not as nice as the new Delhi metro: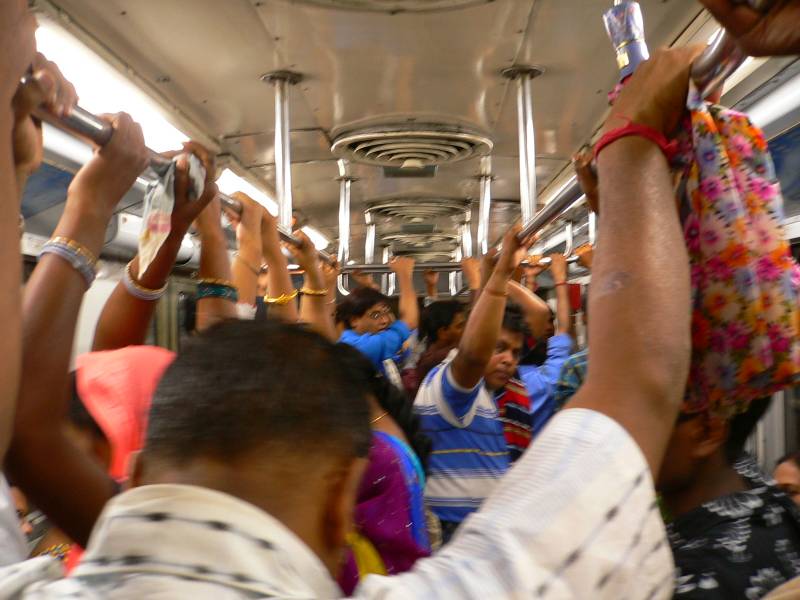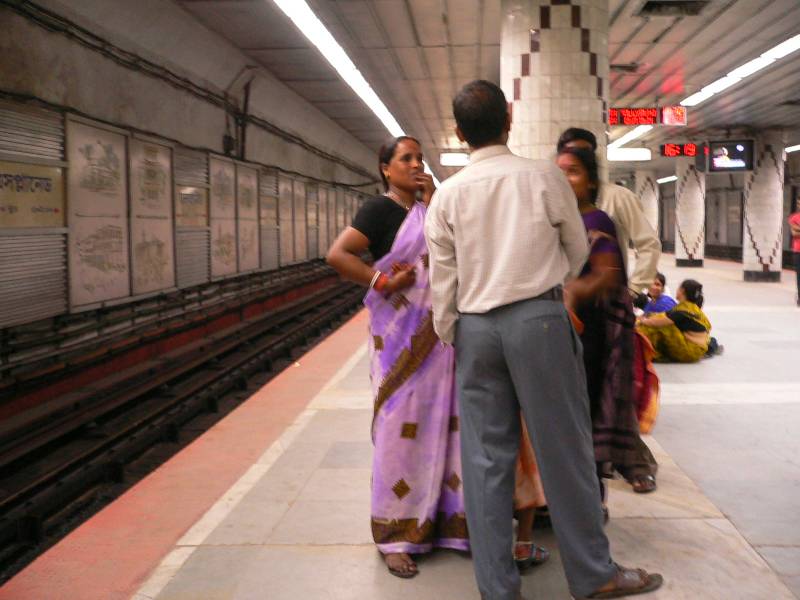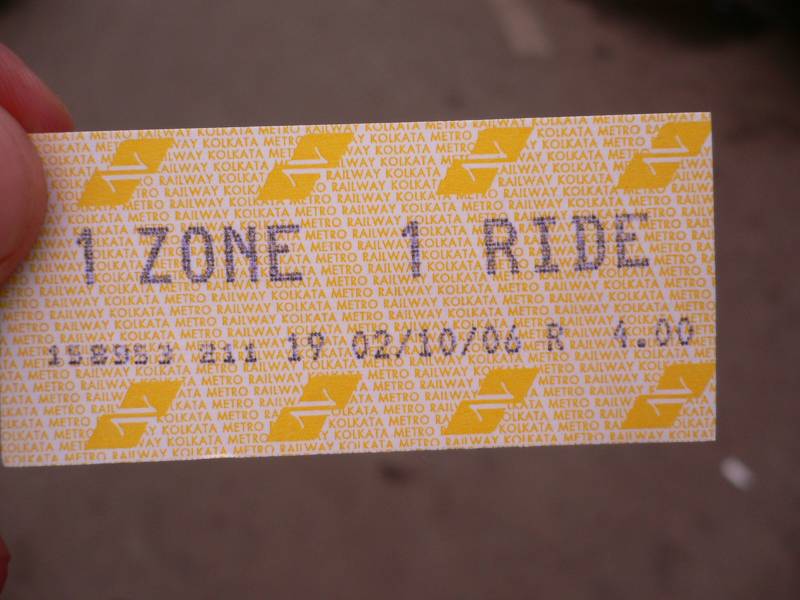 New Market: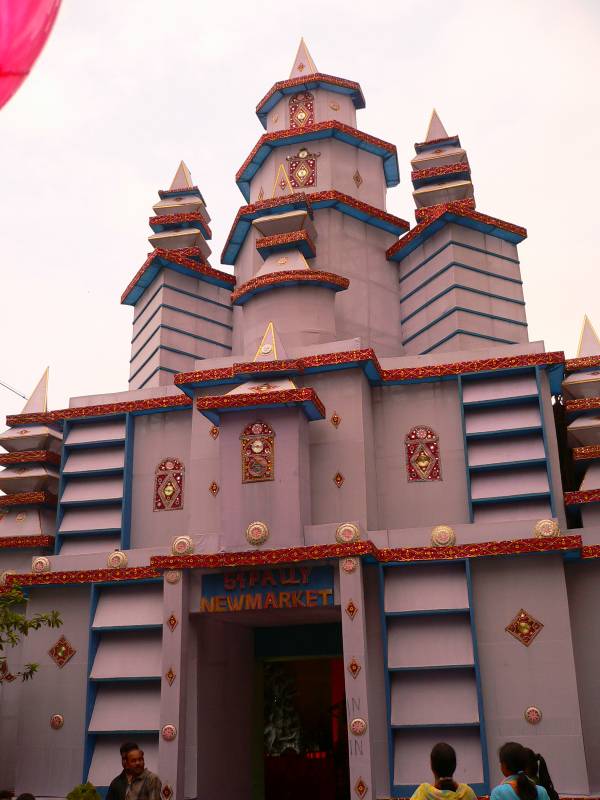 Greco-Roman-style Durga: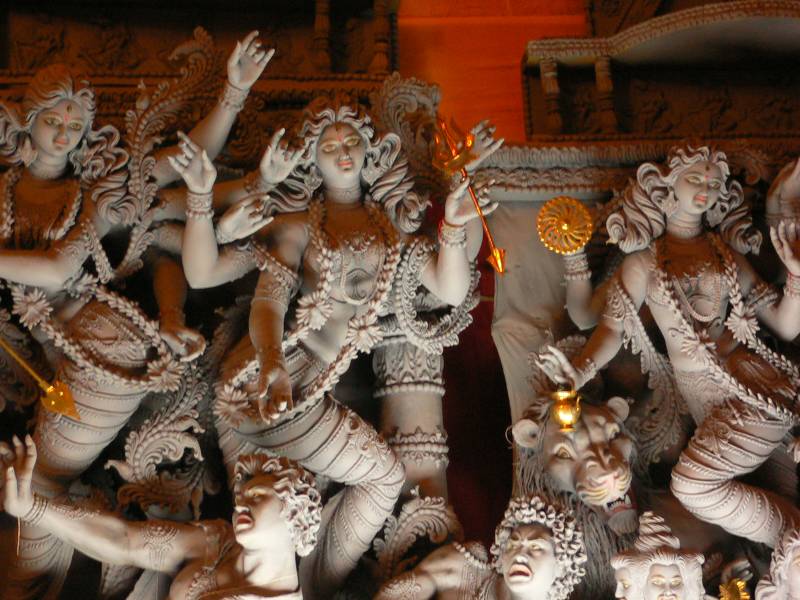 Halloween-style: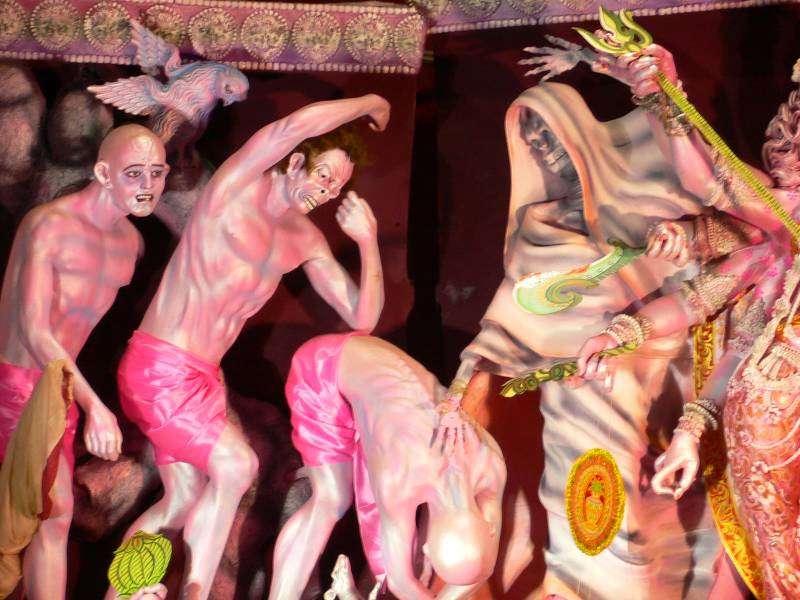 New Market hotels have trees sprouting from the top; remove them and the building crumbles: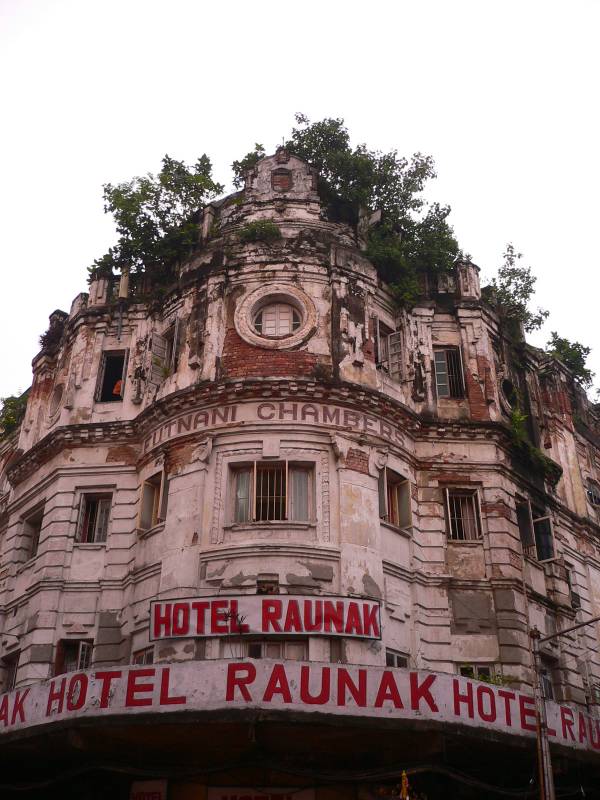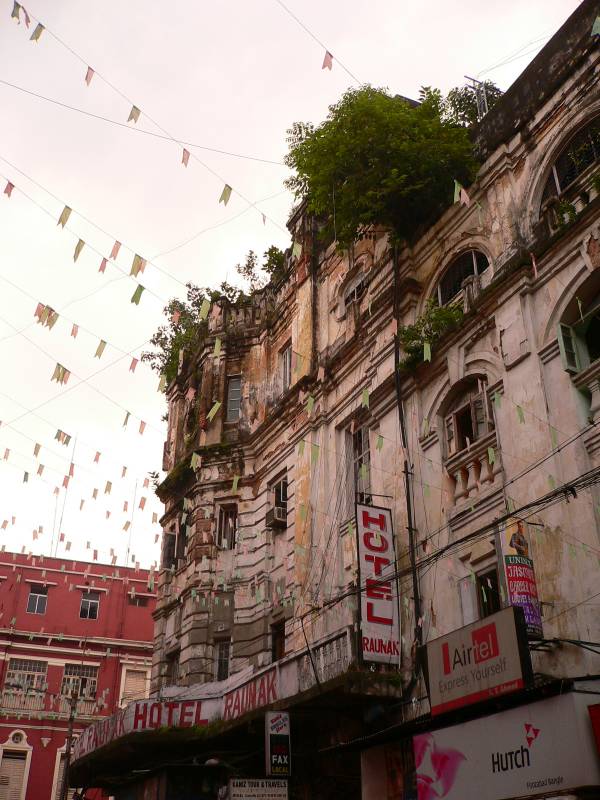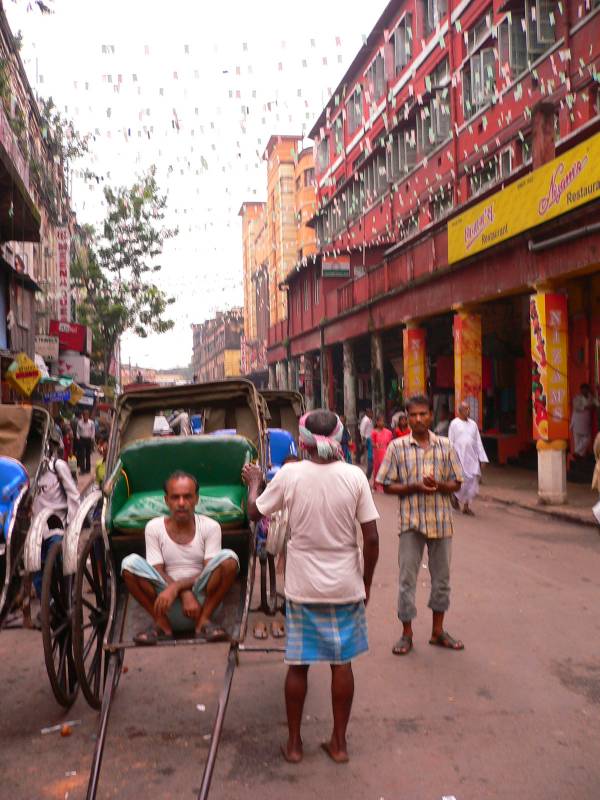 Art Deco cinemas: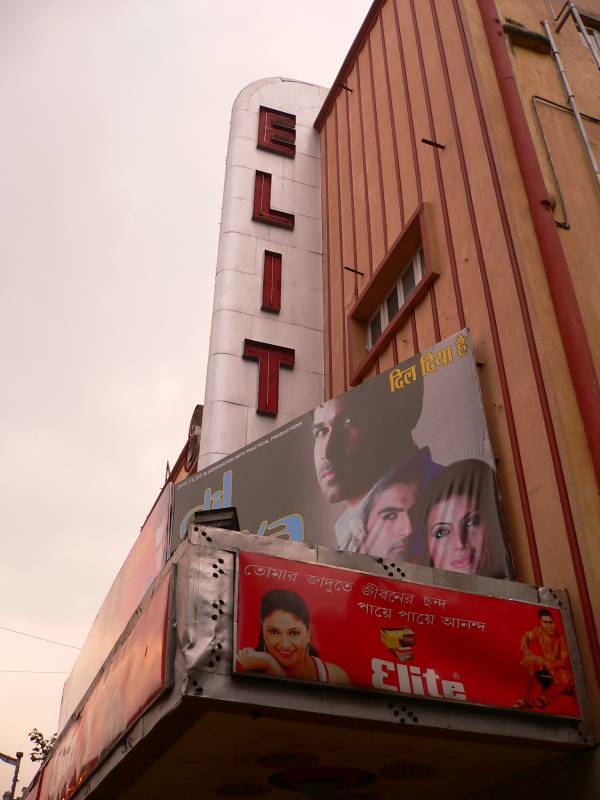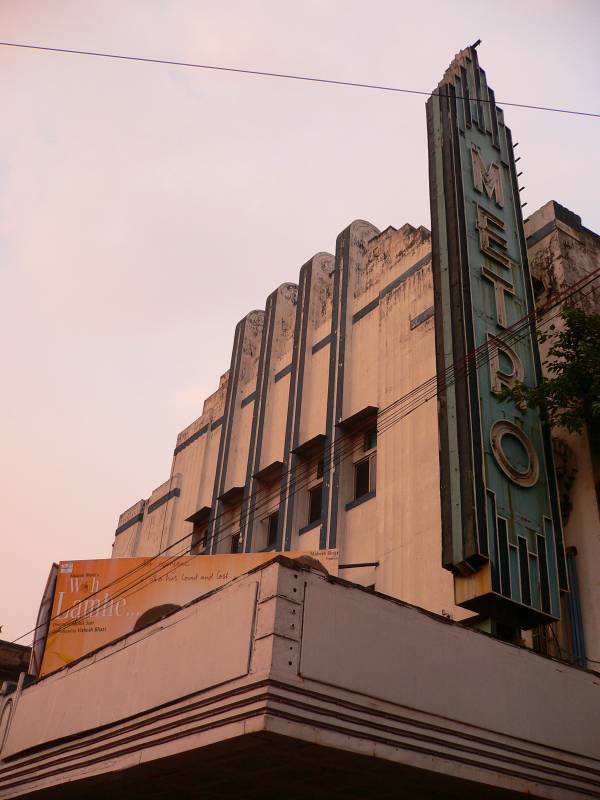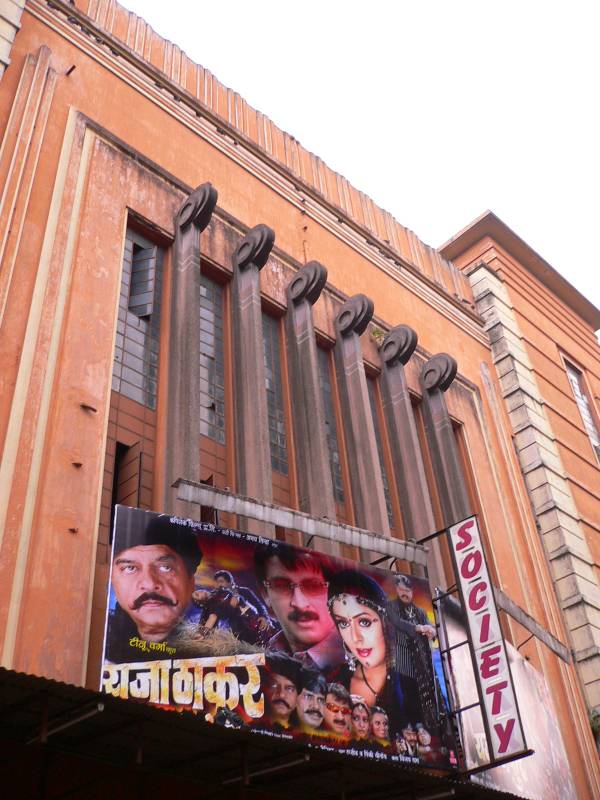 Three-wheeled delivery vans: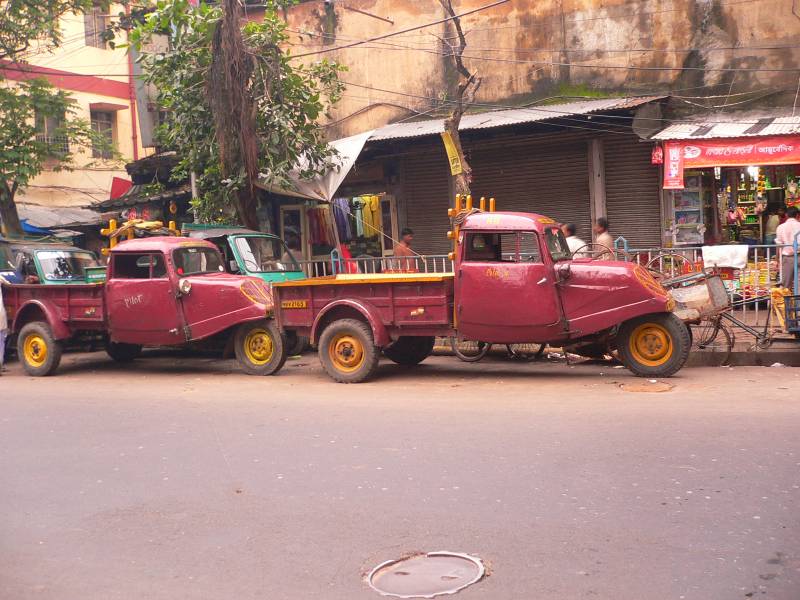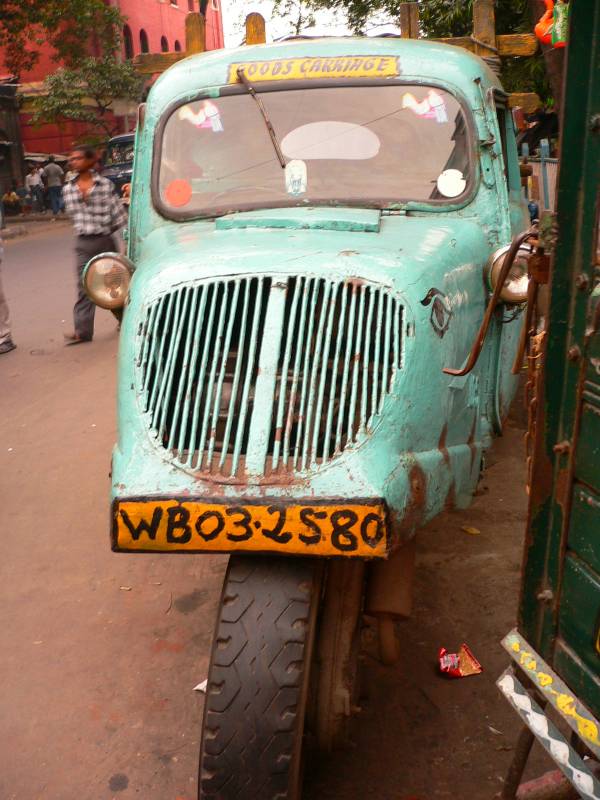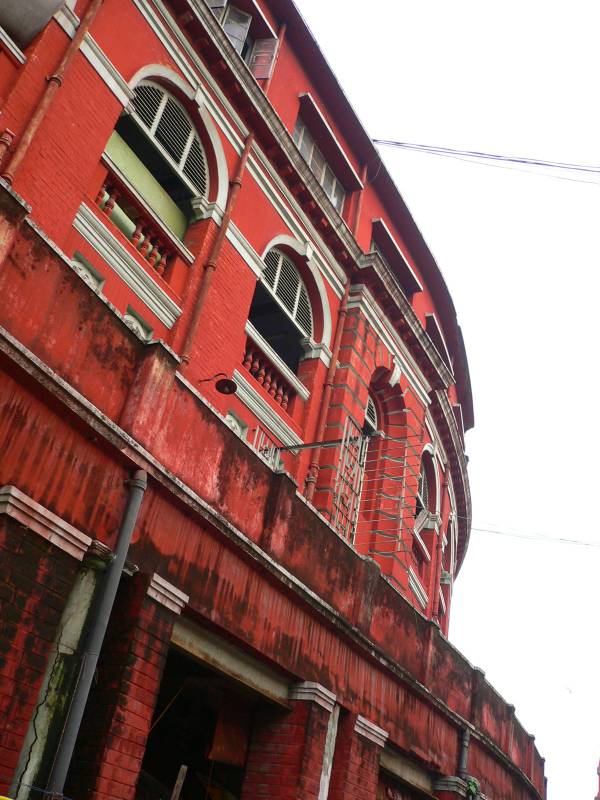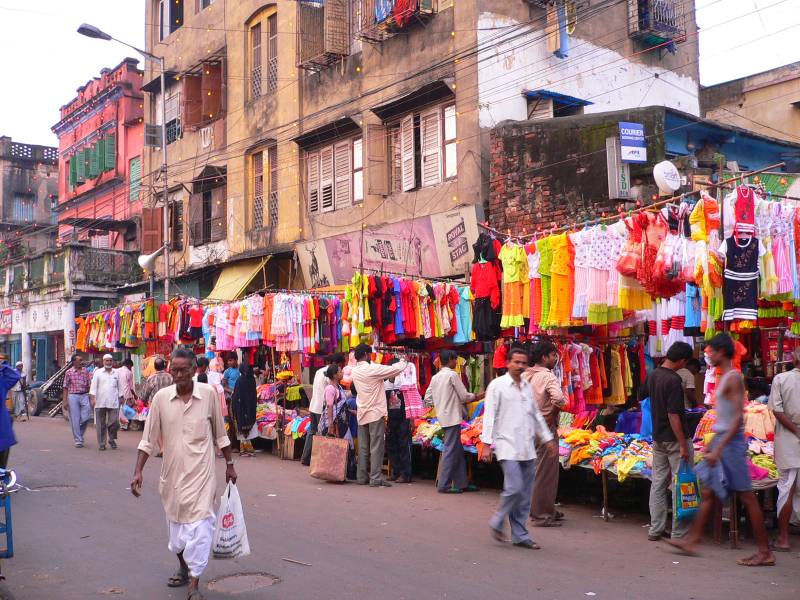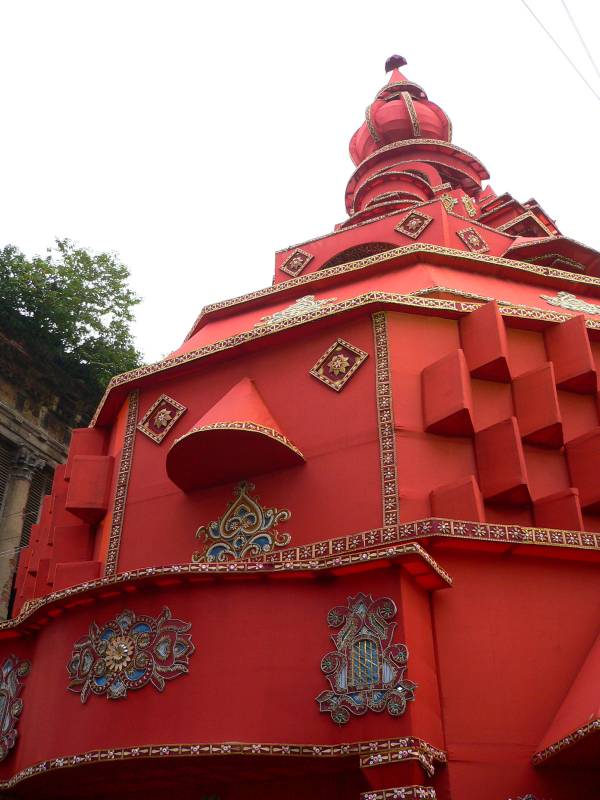 It's not her skin I'm worried about: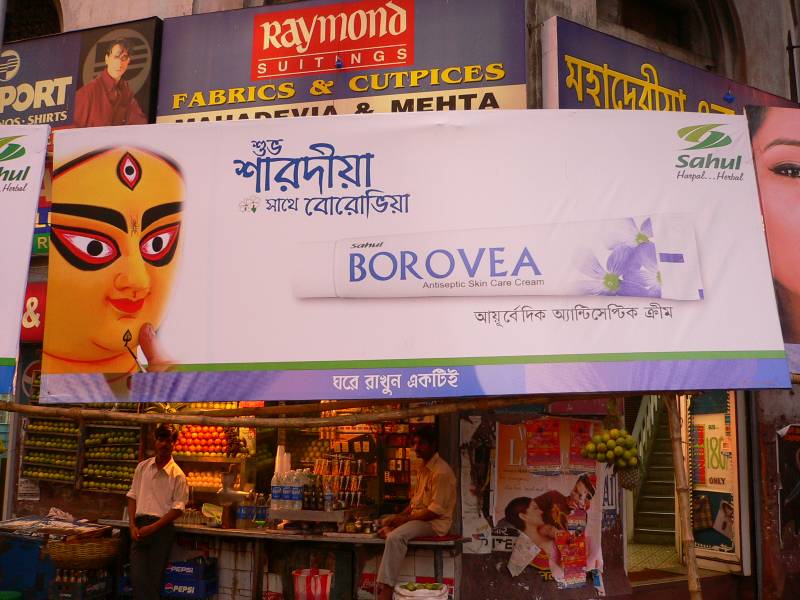 Accidental syncretism on the way to the immersion: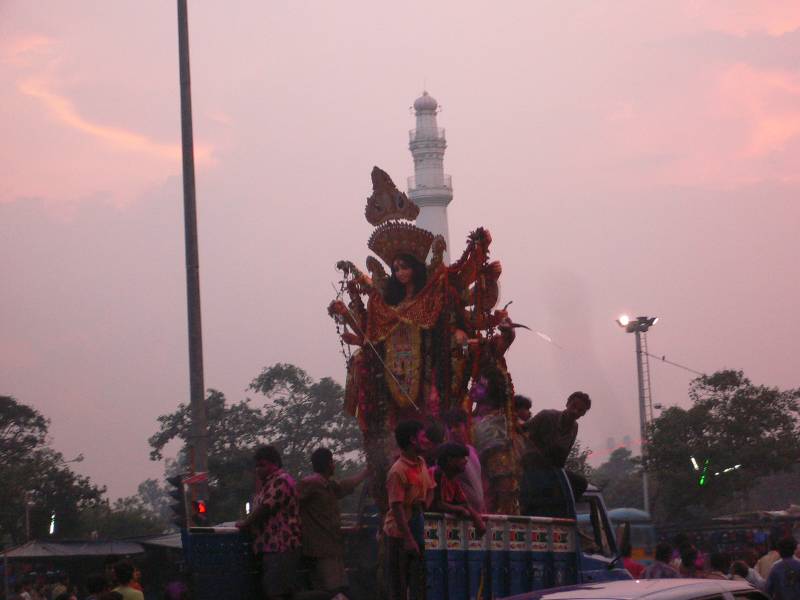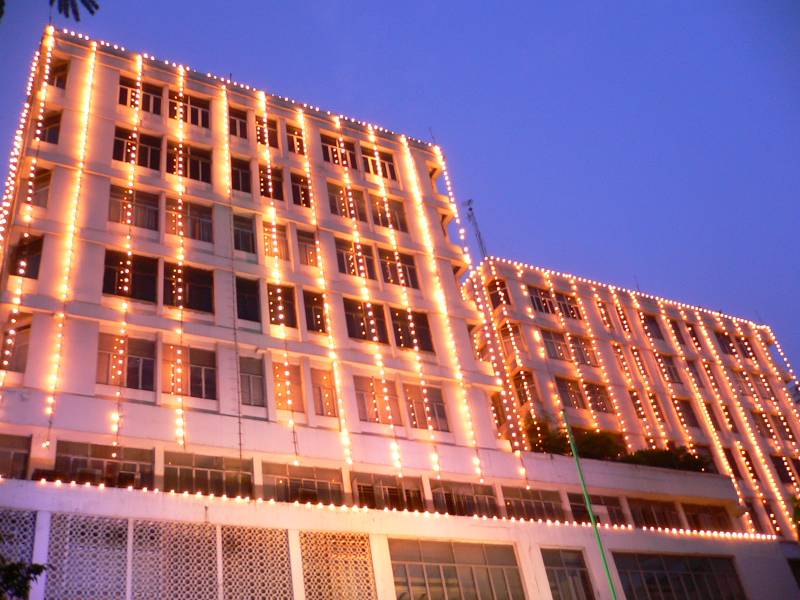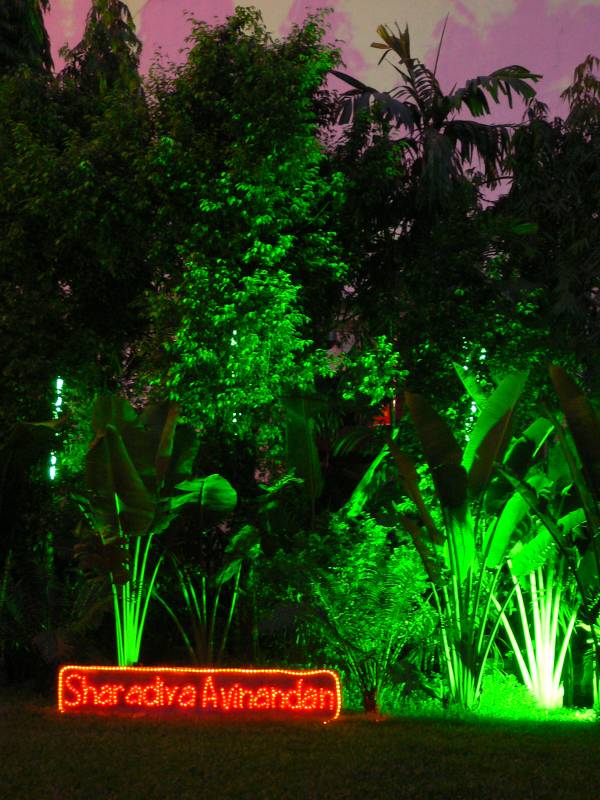 Glucose heaven: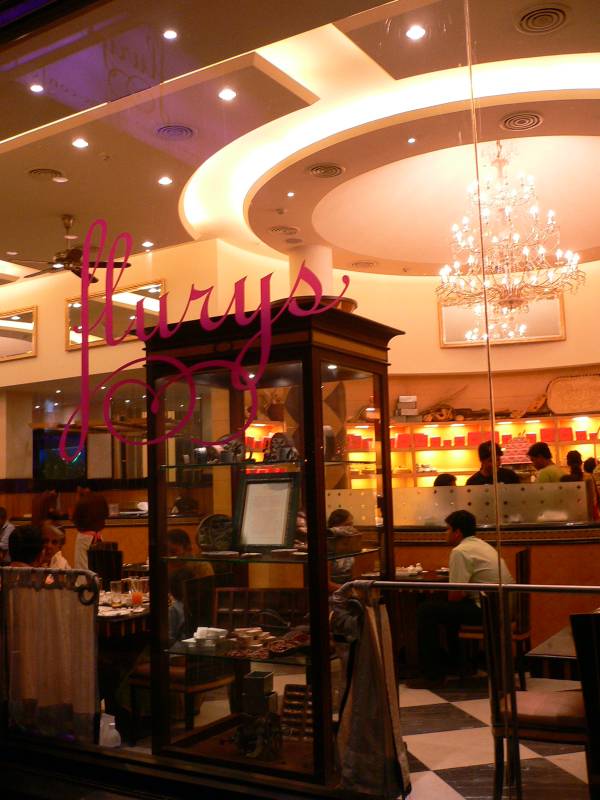 Forum mall: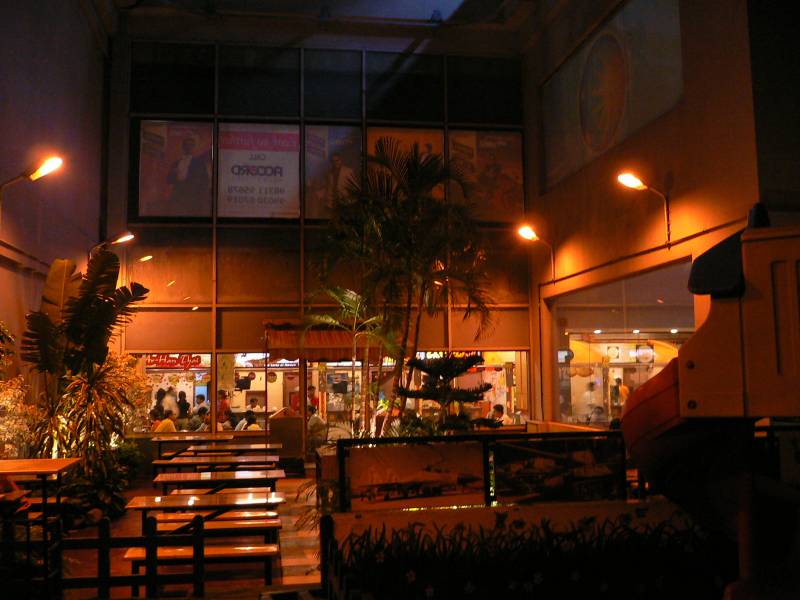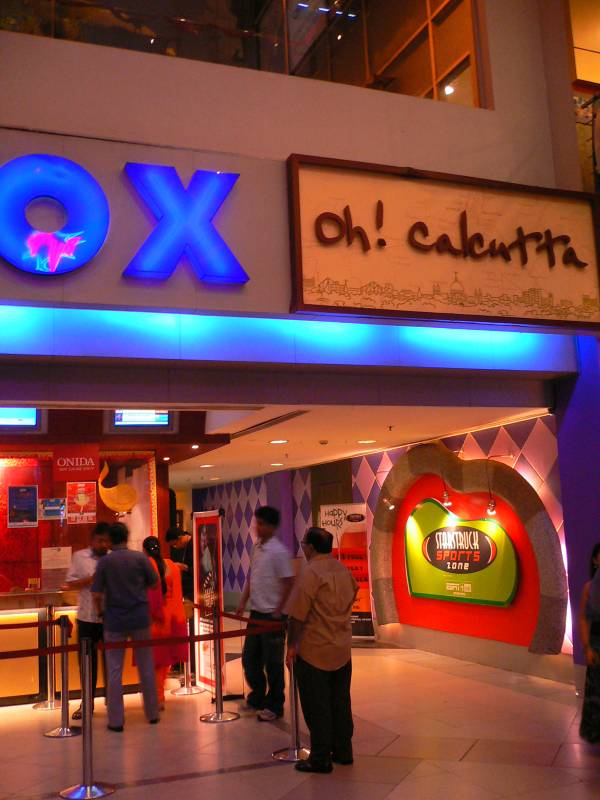 Is this the Osho — a religion store?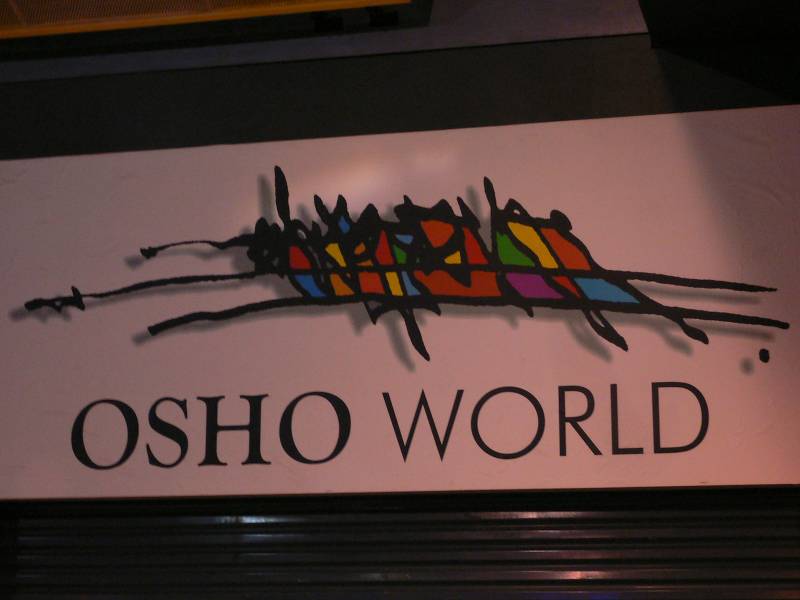 Traditional Gujarati values include Rakhi Sawant, which is sort of like inviting Pamela Anderson to Christmas: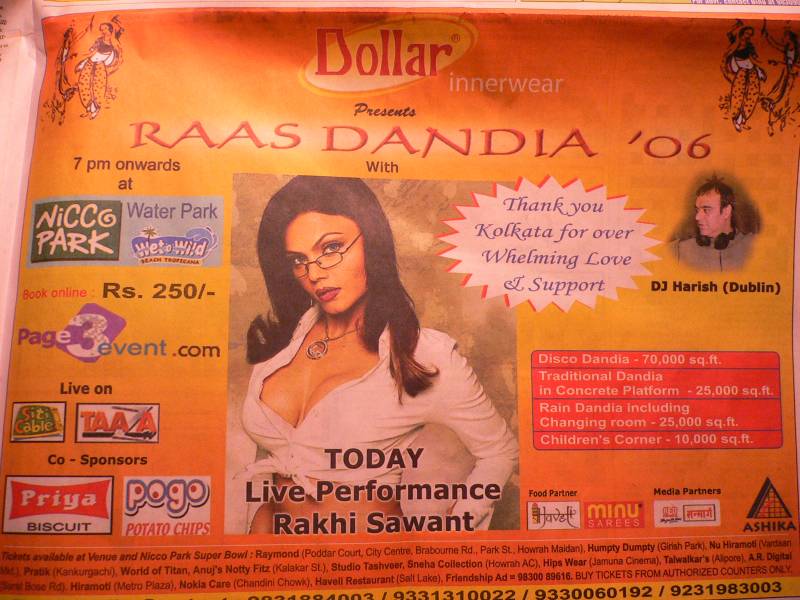 Tiranga at Dum Dum (Bose) airport: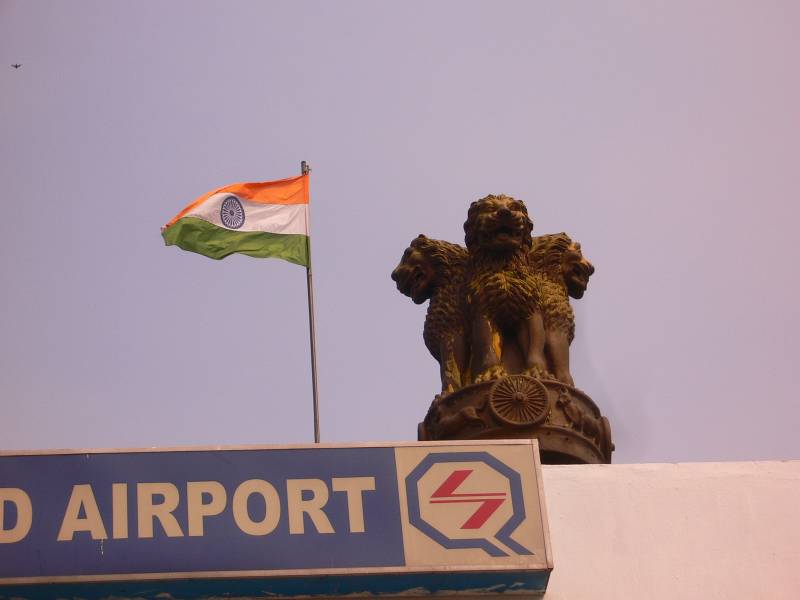 The pandals are actually judged: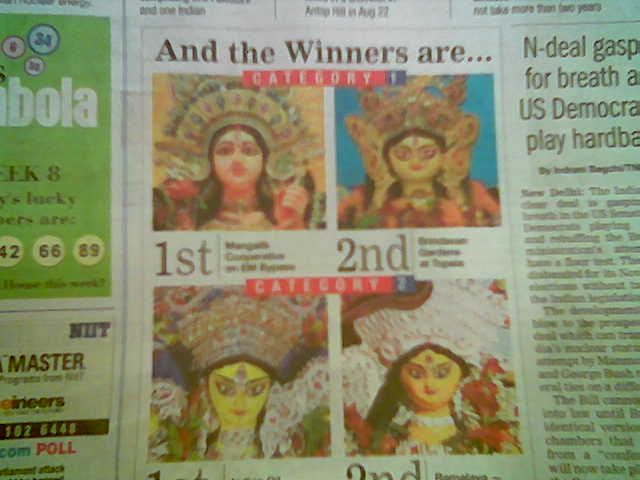 Baba cake, a vertical cupcake at Flurys: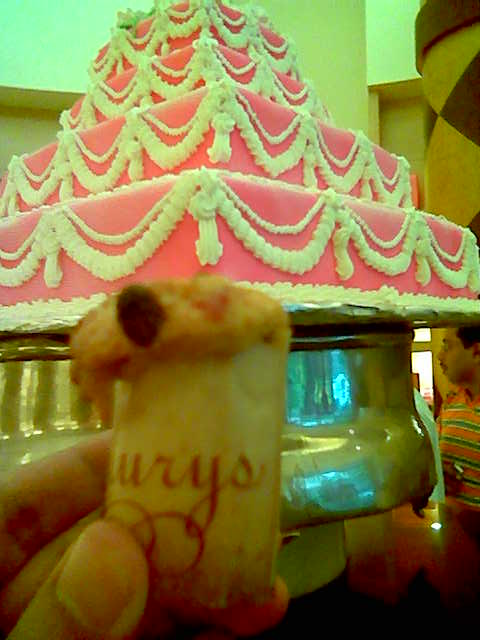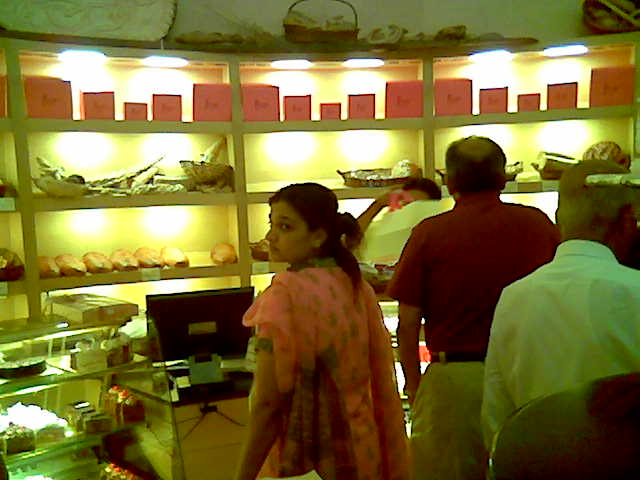 Waterlogging after an hour of rain: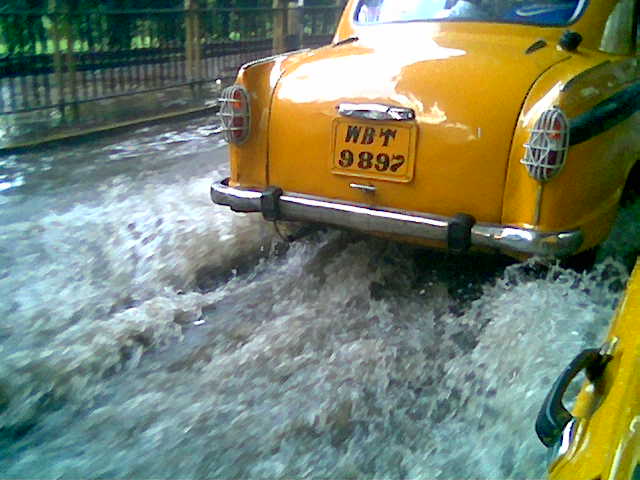 Update: Also check out this video clip of drummers, lights and pandal-hopping.
Related posts: Twelve drummers drumming, Cutta Snark