At least 190 innocents were killed this evening by losers shifting their gimpy sights from downtown Bombay (257 killed in '93 bombings) to the booming suburbs, including my own. 7 bombs exploded after 6:25 pm on the Western rail line during the evening commute:
A series of blasts took place at Matunga, Khar, Santacruz, Jogeshwari, Borivali and Bhayendar suburban railway stations on Tuesday. All the explosions took place in first class compartments of trains at a time when a majority of Mumbaikars were return home from office. Eyewitnesses said a large number of people were seriously injured and all trains on the Western line route had been suspended. [Link]

"I took out at least 35 dead bodies from the trains," a middle-aged man told local TV, weeping uncontrollably. "There were people without hands and limbs and we took them to hospital." A policeman was shown carrying two white, blood-stained bundles of what appeared to be body parts. [Link]
A ToI reporter on BBC World claimed at least one bomb was hidden on a platform rather than a train. The mobile phone network is jammed and working inconsistently. Survivors and those stranded by the rail network shutdown are stuck in heavy rain. Local hospitals are appealing for blood donors. To check on loved ones, try email, SMS and the phone numbers on the Mumbai Help blog.
In method, this recalls the Madrid (192 killed) and London (52 killed) train bombings. India remains the #1 terrorist target in the world.
Update: A CNN/IBN reported says policemen he talked to suspect RDX packed in pipes in the first-class compartments.
Update 2: Musharraf has condemned the attack, calling terrorism 'a bane of our times.' Heh.
Update 3: Whether by design or by happenstance, BBC World coverage is using mostly desi anchors and correspondents, and they're pronouncing names and places correctly.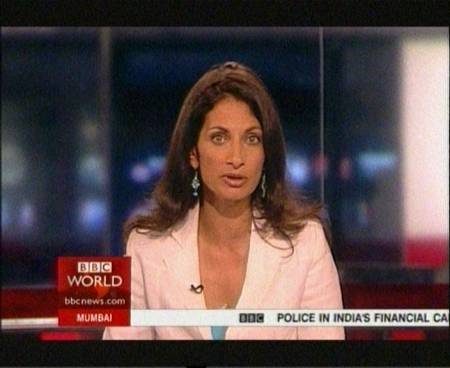 Rail officials are reportedly already looking at restarting trains to get people home. The Central line is still running.
Update 4: The government had some warning or advance intelligence:
Indian Home Minister Shivraj Patil told reporters that authorities had had some information that an attack was coming, "but place and time was not known." [Link]
Update 5: It strikes me that majority-Muslim areas don't seem to have been attacked. Later reports indicate that Mahim, a majority Muslim area, was attacked (thanks, Dilip). Interesting.
Commuters have been complaining on TV that the police didn't show up at some stations even an hour after the bombings.
Update 6: First-person account from a reporter who was on one of the bombed trains:

Update 7: An unexploded bomb was reportedly defused.
Bomb found at Borivali station and defused (CNN IBN reports on TV) Bomb found in box of nuts and bolts, RDX kind of bomb used. [Link]
The NYPD did some saber-rattling in New York City:
Because of the coordinated bombings of commuter trains in Mumbai, India, the New York Police Department increased security today… transit officers from a morning shift will remain on duty through at least the evening rush, effectively doubling the police presence; officers will increase bag searches in the subway; police boats will escort the Staten Island ferry; and swarms of police vehicles will patrol transit centers, as they did after previous high-profile attacks overseas. [Link]
Update 8: Another first-person account:
At around 6.20 pm, Shah was on a Western Railway foot over-bridge, crossing from Mahim West to the East, when he heard a loud bang. He looked down to see a train moving quickly beneath the bridge, coming to a halt a few seconds later.

At first, he assumed it was a short circuit that led to the halt. When he took a second look, he saw dead bodies flying out of the Borivali-bound fast train. Blood was flowing like a river all around… he ran down to the tracks to help people trapped in the train. The first class compartment, where the bomb was placed, had been reduced to a tangled mass of metal in seconds…

Locals were seen consoling unknown passengers who couldn't believe their near and dear ones were no more. Some women couldn't bear the sight and started vomiting on account of the bloodstains on their bodies… "We stopped many cars and Tempos to take the bodies…" [Link]
Update 9: Some Indian intelligence analysts reportedly finger the LeT and Students Islamic Movement of India:
The terror attack on Mumbai trains was carried out by Lashkar-e-Toiba and local Students Islamic Movement of India (SIMI) activists and was designed to trigger communal conflagration in the country's financial capital, intelligence sources said… SIMI… boasts of strong pockets of influence across Maharashtra.

The estimate of intelligence agencies here is derived from the scale of the attack, as well as precise information about the Lashkar's sleeper cells that have proliferated in Maharashtra. [Link]
Update 10: What it would take to solve the bombs-on-trains problem: money, lots of money. Indian Railways needs to run more frequent trains so they're not jammed all the time. The stations need to be fully enclosed so entrance can be precisely controlled. And, like on Eurostar high-speed trains, every passenger needs to be scanned for explosives.
Though in India, you might save more lives by spending the same amount on clean water.
Update 11: A list of some of the injured (XLS), via Desicritics.
Update 12: U.S.-listed Indian shares fall:
Indian companies listed in U.S. markets took a sharp dive, with automaker, Tata Motors losing 5.2 percent to $16.09, HDFC Bank slipping 3.6 percent to $51.12, and telecommunications equipment company Videsh Sanchar Nigam falling 5.5 percent to $16.32 as the market still trades.

Two major mutual funds based in the United States were also the target of a sell-off, India Fund lost 4 percent to $41.28, and the Morgan Stanley India Investment Fund fell 4.4 percent to $41.11. [Link]
Update 13: Curious Gawker shreds an American conservative posting wildly inaccurate analysis about terrorism in India:
Here is [Captain Ed's] erudite commentary:

It's almost as if Captain Ed woke up today, discovered the existence of a country called India… and decided it was time he graced us with his expert opinion…

… Tourist season in mid-monsoon? [Link]
Update 14: Maximum City author Suketu Mehta weighs in:
It is almost impossible to secure those trains, because there are multiple entrances to the stations; people often board the trains right on the railway tracks. Everybody is carrying packages: fishwerwomen with baskets of fish, laborers with crates, people selling everything from toys to underwear… they are the great social laboratory of that city. And today, they became a charnel-house. [Link]
Update 15: A witness believes he overheard some of the bombers:
"Parcel train mey chhodke sab Malad mey milengey." [After leaving the parcel on the train, let's all meet in Malad, a northern Bombay suburb.] Sandeep Singh, a Ghatkopar resident in his mid-20s, overheard this seemingly innocuous piece of conversation between three men outside the Churchgate station at 5.30 pm on Tuesday… According to Singh's statement, two of the three men had been bearded and were wearing Pathan suits. All three were carrying similar-looking parcels which looked like gift boxes. [Link]
The trains are already running again on the line attacked:
Western Railway resumed its suburban services almost four hours after the serial bomb blasts in its trains on Tuesday. [Link]
100K commuters were stranded earlier:
Thousands of commuters were stranded on Tuesday after Western Railway officials (WR) evacuated all stations along the route as a precautionary measure… A Western Railway source said, "Nearly 1 lakh [100,000] people who travel after 6pm on the western route were stranded on Tuesday." [Link]
Taxiwallas pitch in:
On Tuesday, the cabbies of Mumbai rose to the occasion after seven serial blasts rocked the city. They pooled in the victims, kept their cool and braved the traffic and rain and made their way to the nearest hospitals. And, they did not put down their meter…

"Innocent people are killed. It's unfair. Nobody will gain by this bloodshed," said an emotionally charged Santosh Jadhav who spent his day's earnings of Rs. 200 to buy water and snacks for the relatives of the injured and the dead. [Link]
Update 16: Dilip D'Souza was at Bandra station shortly after the bombs went off:
Suketu Mehta wrote once, and famously, of hands unfurling from a packed Bombay train compartment like petals, reaching out to grab that one more commuter and whisk him on board. Here the metal of the compartment is unfurled like some grotesque petals, side and top.
Link]

One runs a cold storage. One works for a film producer. One is a pharmacist. One has a mutton shop. One's a student. All of us, here together on a topsy-turvy rainy tragic Bombay night, waiting to donate blood for our fellow Bombayites hit by this madness… they won't take our blood. Both of us have donated within the last three months. [Link]

… two young men press glasses of water into my hands… Please, help yourself, they say. And if you've got a long way to go, please come in and have some food before you walk on… It's not even 2 hours since the bombs went off, and these guys are already organized with food, water, tables and shelter. [Link]

… they are trying to get rides for these people. But they won't force the private cars, they are only asking the taxis. Yet as we watch the men stop a grey Maruti Alto, even push it backwards a few feet, surround it and yell into the windows. [Link]
People posted photos of the carnage on Flickr.
Update 17: Biswanath Ghosh says that Bombay is to Hindi film what New York is to American novels: we're all Mumbaikars.
Immediately after I landed in the afternoon, I went to the Juhu Chowpatty. I instantly recognised it! — so many memorable songs have been shot there… That's the thing about Bombay: you don't have to go to the city to see it. Those into Hindi movies have grown up in it without even setting foot on it. That's why it hurts even a Bihari or a Bengali when tragedy strikes far-off Bombay. It is the surrogate hometown of every Hindi movie-watcher. [Link]
Update 18: Schools in Bombay remain open today. Trains are back to normal, with some delays on the Western line. speculates on a link to the G-8 summit:
And the timing of the Mumbai attack, just days before the G-8 summit of leading economic powers, parallels the London subway bombings which occurred on the day of last year's G-8 meeting. [Link]
Somini Sengupta et al update the coverage:
Kalpana Gosalia, 53, a homemaker, rushed out to her balcony when she heard the blast. The sight before her was ghastly: the roof of the train had been blown off and bodies lay strewn on the railroad tracks. As evening fell, she strung a bright halogen lamp to a tree outside her balcony, to help the rescue efforts. Her daughter rushed down to help carry the wounded. [Link]
Naresh Fernandes of Time Out Mumbai pens a opinion piece:
As she jumped out of her compartment, she saw streams of slum dwellers from the bleak shanties along the tracks rushing toward the train with bed sheets. They knew that there would be no stretchers to be found and were offering their threadbare cottons to be used as hammocks to carry victims away. [Link]
The Sensex is up in Wednesday trading:
Indian stocks rose 1.3 percent in morning trading Wednesday, recovering from an early drop, following a series of train bombings that rocked the country's financial capital. Upbeat earnings from software company Infosys Technologies helped lift the market. [Link]
As of last night, the silence on large American political blogs was deafening: nothing on Washington Monthly, Talking Points Memo, DailyKos or Andrew Sullivan; one pretty good post on Instapundit; some predictable yet ill-informed condemnations of Islamic terrorism on right-wing blogs.
[The Japan earthquake] elicited two weeks of glossy, sympathetic, eight-page stories across American media. It was reported in a manner usually reserved for American disasters, and never accorded to similar earthquakes in India… the real change was in our perception of the Japanese. They had earned our respect as civilized, First World, developed — rich — and we were willing to share in their misfortunes. [Link]
Update 19: A rash of gruesome first-person accounts:
One man, under two dead bodies, raised his head, looked at my lens then died. Another was sitting on the ground, side of his face totally punched inwards, teeth protruding outwards awkwardly and bleeding. He was so emotionless. Totally shocked. Another lay on the tracks, his innards came out through a big cut in his stomach and was just rolling his head… One guy, was in the same position as he was from the beginning of the journey. Sitting, hands supporting head and sleeping. He died in his sleep. [Link]

1) a body with three legs. reason-one limb from some other body got fused to this corpse because of the heat of the blast.
2) beggars looking around to see if they could get their hands on some valuables that must have been blown a li'l further away from the blast site.
3) some bodies lying totally unclaimed because they are so mutilated that you dont know how to collect them together.
4) cement bags being used to carry people's bodies. reason- lack of stretchers
5) inability to find out the identity of people simply because the identiity cards have melted and the faces are totally disfigured. in some cases there are no faces…

… absolutely nobody took to the first class coach. i got in, left my bag at one seat n went arounnd to examine the entire bogey for any unclaimed baggage. apparently a few people got in but on seeing the bag they got out immediately. [Link]

'From the window of my house I saw limbs hanging from a ripped-apart coach," said a witness of the Jogeshwari blast. "When we came closer we found many other mangled bodies inside the ripped-apart coaches. Some injured were crying for help. Lumps of flesh and blood were stuck on the wall of the [train]. . . . It is a horrible scene…"

… the bombs were hidden inside bags and suitcases that were stored on luggage racks. Many panic-stricken passengers jumped off as soon as they heard the deafening explosions, and a few of those died when they were run over by moving trains…

At one blast site, a policeman was found carrying two white bags apparently stuffed with human limbs collected from the railway track. [Link]

Suddenly, after the train left Dadar, the most crowded suburban station in the city, there was a huge noise. I felt that large stones were pelting down on the roof of the train. I could smell smoke too…. whatever bags and things that must have belonged to the commuters in there were scattered everywhere, the sides of that compartment were ripped out like an opened tin can. [Link]

… some kind of gunda volunteers, maybe some party workers along with the policemen were just forcing people into cabs or cars to get them home… [Link]

My friend says commuters standing on the crowded platform were hit as well, by the force of the blast as well as by flying iron sharpnel…. the blasts were so powerful his ears were ringing even four hours later… Between Worli and Bandra (where I live), I must have been offered water and chips by at least 50 people. [Link]
See also: Death Ends Fun, India Uncut, Gaurav Sabnis, Sepia Mutiny, SAJA Mumbai Blasts, Mumbai Train Blasts, Varnam, Metroblogging Mumbai, Global Voices, Flickr photos
Related posts: Bombs bay in Delhi, Madrid on the march, The profiling myth