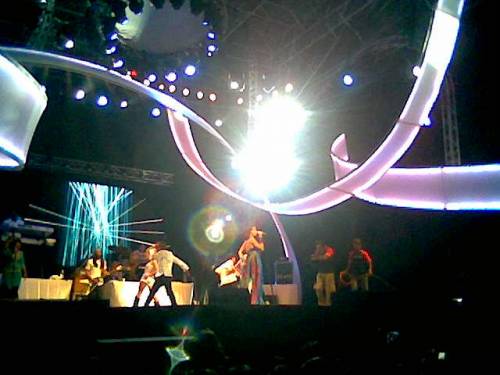 Nelly Furtado emerged in Bombay last night wearing red and blue bangles, a bindi and an unfortunate dress looking like she was stuck through the bottom of a Chinese lantern. It was her first Indian concert. She admitted to nerves and then belted a great show tune version of 'Kabhi Kabhi':

She followed up with 'Yeh Sama, Sama Hai Yeh Pyaar Ka':

Endearing! This made her very popular with the crowd. It was a very Bollywood New Year's Eve. At the stroke of midnight I was chowing down on hot veg Manchurian over fried rice, an Appy Fizz in hand, fireworks across the sky, Josh, Furtado, Priyanka Chopra on stage and A.R. Rahman in song. I tell you, you have not lived until you've seen dancers in Rajasthani duds doing the Robot. 'Twas full sensory gangbang.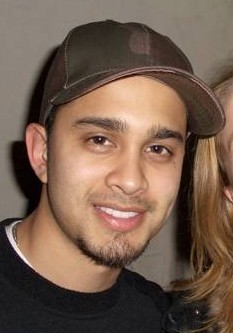 Furtado's daughter Nevis is 1/4 Punjabi. Her ex, producer Lil' Jaz (Jasper Gahunia), is Punjabi and Filipino.
Culturally she's a quarter Filipino, a quarter East Indian and half Portuguese… [Link]
She's down with the Bolly and the brown:
… the reason why I started studying acting was that I was supposed to do this film in India, this Hindi film that never came to fruition. I studied for it and I was supposed to fly to India and do it. I was taking crash courses in acting and then I discovered I really liked it. [Link]

We'd always fight over Chilli. I was T-Boz one time and Left Eye another. My cousin with the best hair always got to be Chilli. And you know how they'd wear condoms on their outfits? We had a joke store that actually sold colored, large-size condoms. So we'd get dressed and be like, "Bye, Mom!" Then we'd put the condoms on before we got to the dance. [Link]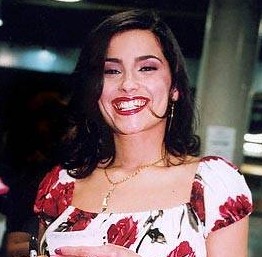 A local paper cracked, 'Nelly Furtado — isn't she that nice Christian girl from Bandra?' Everyone digs Furtado, but can anyone be a rabid fan? She holds back on stage. Young singers like her and M.I.A. don't own the stage, don't prowl the stage like Jill Scott, are generous with the spotlight unlike divas. It still feels like they fell into their professions, they're not fully adapted yet.
Josh jumped in with Furtado on 'Powerless,' 'Promiscuous' and 'Maneater.' I dug their layer. D-fro'd Q and Rup seem pretty fluent in Punjabi. Surprisingly, Furtado was not the headliner. Rahman's short, listless set began with what looked like a Canadian marching band left over from the Toronto production of Lord of the Rings. Canada entertaining India seems backward

The b-fug backup dancers did not disappoint: men in black rayon shrugs and white tees looking like emaciated penguins, women in flaccid flesh-toned midriff covers, gold and black striped leggings, cornrows and hair extensions, Chopra in a tiger stripe bustier and a salwar made of beaten gold foil, Koena Mitra in silicone, perm and major dromedary. Gay icon Shahid Kapur, less boyish in person and looking like David Duchovny, waxes his arms and pits. The screaming females were oblivious.
The beautiful but restrained Chopra doesn't love dance. She'd carefully cantilevered curve into corset. The beauty queen years polished the Punjabi all out of her even during the bhangra.
Fergie from the Black Eyed Peas yammered on video link about her New Year's resolution. The nerve of appearing on screen in Bombay. Pay the royalties you owe to Kalyanji-Anandji, you rippers. There's a resolution for ya.
Happy New Year.
Related posts: Guns, Cars and Sitars, '1001 Auditions', The 'Maneater' of Malgudi, Força Furtado, The latest Portuguese-Punjabi collaboration, What's the samachar, yo?, 'If I spoke Punjabi', Everyone recycles (updated), Nelly Furtado's desi connection, Portuguesa flips the 'Bird'