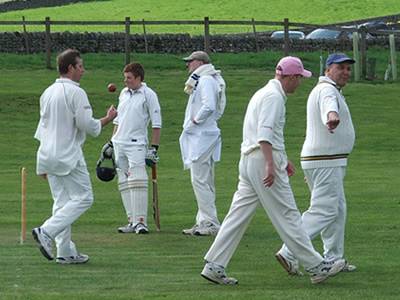 Tunku Varadarajan penned a column in the WSJ yesterday about why cricket is manly. He says cricket is more than just 'sticky wickets' between afternoon tea (via Amitava Kumar):
… cricket isn't played by a bunch of petunias… a virile, even brutal game in which a rock-hard ball is bowled at speeds that can approach 100 miles per hour at batsmen who stand no more than 22 yards away… Scorching hits must be stopped with a wall of nothing more than flesh, bone and epidermis, and fingers are often broken, and webbing split, in the process…. there is an almost primitive grace to the unadorned way in which the ball is fielded that sets cricket on a higher plane, as a game, than its American cousin… [Link]
And that's it. That's his defense: ball speed and no gloves. Now I'll be the first to admit that after a few months of living in India, being force-fed cricket nationalism on every channel (why the focus on the national team and not, say, Delhi vs. Bombay? Why do MPs waste taxpayer money debating the national team's performance on the Parliament floor?), after seeing kids batting and bowling on hot sand beaches and shabby streets, you start to get the idea that hey, this actually looks like fun.
Fun though it may be to play, it's less interesting to watch than its later refinement, baseball:
Long matches. Those interminable overs are brought to you by the nation which invented modern red tape. Don't trust any sporting event which lasts longer than a Bollywood movie.
Bunting, not hitting. Bunting is the wussiest thing you can do in baseball, yet you rarely see cricketers taking full swings at the ball. It's all about bunting. And those aren't bats, those are dhobi sticks. Hey genius, if I wanted you to show me a framed picture I'd have asked you. No, I want to see you take a crack at the ball as hard as you can.
No gloves. Gloves are bionic enhancements which let players do dazzling, diving catches of balls batted at high speed.
Less emphasis on catchers. A pitcher and a catcher are a conspiracy against the batter, a human drama. A wicket is just a badly-leveled table.
Balls usually bounce. On the bounce, the ball loses speed. The result is that the ball is hit shorter distances. When was the last time you saw a steroid-pumped Barry Bonds type loft a cricket ball 450 feet to hit the top of an upper deck light tower before exiting the stadium?
No hurling. In cricket, you're not allowed to bend your elbow to throw with spring-loaded force. That's why bowlers need to run, while pitchers make do with a standing windup. (Though maximum speeds end up about the same: Shoaib Akhtar and Nolan Ryan were both clocked at around 100 mph.)
Pokey runners. Batters neither run flat-out nor slide dramatically into wickets. The bouncing ball makes them wear thick shinguards, and having two batters mean each has to carry his bat as he waddles between wickets.
Those ridiculous dress whites. White V-neck sweaters and blazers — what is this, Eton? Is cricket just a slower, shorter version of golf? Are you being ragged in your Oxbridge chambers while reading history for your trials, or are you playing a sport?
I think I just figured out why Lagaan moved so slowly. Taxes and cricket, what a combination. There's a reason why basketball is so popular worldwide. So do what the 'muricans did to rugby: shorten the matches, goose the speeds, add aerial maneuvers, sex up the uniforms, sign cheerleaders and watch the rupees roll in.
Baseball isn't actually all that interesting to watch either. As this brilliant cricket ad says, just turn off the TV, get out there and play.


Hoarding